Vista Chinesa - A Chinese Pavilion and one of the best views Rio has to offer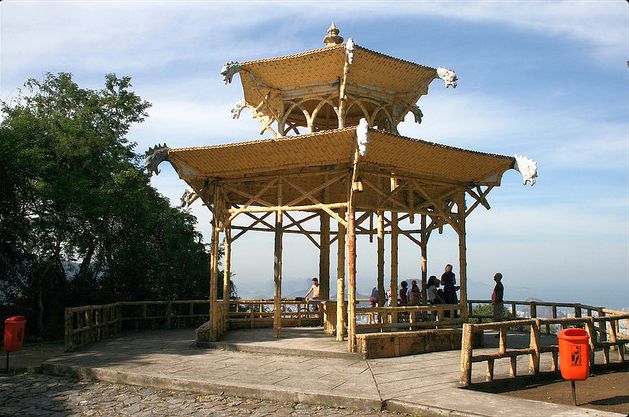 If you want to enjoy what many consider one of the best views of Rio, head on up to the Vista Chinesa where you'll get to enjoy spectacular views of the city and mountains without the high cost involved in getting to some of the other vantage points. You will also get a taste of Chinese culture as it was represented in Brazil.
Vista Chinesa is a lookout featuring a Chinese style pavilion located in the Tijuca Forest of Rio de Janeiro. It was inaugurated in 1903 by the mayor of Rio Periera Passos and was restored in 2013 after 110 years of existence. The restoration included a new paint job and manual restoration to maintain the style of the monument. It is thought the monument was built to commemorate the arrival of Chinese in Rio de Janeiro bringing tea to the Portuguese. Unfortunately, the tea plantations were not overly successful though it is not certain whether this was due to incompetence on the part of the plantation managers or due to an incompatible environment.
The Vista Chinesa is situated at 380 meters above sea level and presents beautiful views of the South Zone of Rio, the Christ the Redeemer statue, Sugarloaf mountain and the Rodrigo de Freitas Lagoon. The view alone is enough to make this hike worth your while.
Since 1961 the Tijuca rainforest has been designated as a national park and is home to a wide variety of plant and wildlife. This rainforest has approximately 30 waterfalls including the Cascatinha Waterfall and is a very popular place to visit if you are in Rio de Janeiro, not only for its attractions, vistas, and nature, but also for the opportunities to engage in hiking, running, cycling and even longboarding.
This is more of an uphill walk on a paved road than a hike. From where the bus drops you off to the lookout is a tad under 4 kilometres. It should take you about one hour to walk at a modest pace, however, with stops to enjoy the surroundings along the way you should count on it taking longer. Going back it's all downhill and therefore a little faster. We recommend that you allow a minimum of 2 hours for the round trip from the bus stop; but 2½ hours is probably more ideal.