Come and discover Stanley Park — the top rated urban park in the world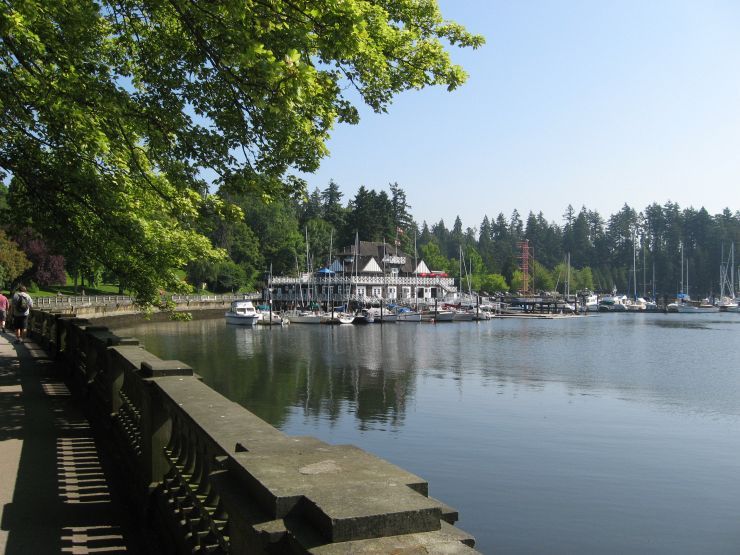 At 1001 acres, Stanley Park, located immediately north of downtown Vancouver, is one of the largest urban parks in the world. Attracting more than 8 million visitors every year it has been rated the number one urban park in the world.
Largely surrounded by seawater, Stanley Park is famous for its 8 km seawall which you can walk, cycle or rollerblade around. As you make your way around the seawall you will enjoy superb views of different parts of the city including the north shore mountains and the impressive Lions Gate Bridge. I would highly recommend walking or cycling at least a portion of the seawall. Bicycle rentals are available near the Georgia Street entrance to the park.
At the south end of the park where it meets up with Vancouver's West End highrises you will find Lost lagoon which is home to an extensive variety of waterfowl. You can enjoy a pleasant walk around the lagoon on the walking path. On nice days you can find local artists displaying their paintings at the 'Painters Circle' just south of the Aquarium. There are many wilderness trails winding throughout the interior forests where you will find Beaver Lake, a large pond with a rich ecosystem. There is a large outdoor salt water swimming pool overlooking the ocean at second beach. Families with children will love going for a ride on the Miniature Railroad. Stanley Park is also home to the renowned Vancouver Aquarium, one of Vancouvers top attractions. Other attractions in the park include the beautiful Rose Gardens, an 18 hole pitch and putt golf course, and tennis courts.
Several restaurants in the park provide awesome food and a great atmosphere in a variety of settings including The Fish House in Stanley Park located just east of Second Beach near the park entrance which offers a variety of west coast cuisine with an emphasis on seafood, The Prospect Point Cafe where you can enjoy seafood, burgers, and pasta with unbeatable views of the Lions Gate Bridge and the North Shore mountains and The Teahouse, a romantic location where you can enjoy fresh west coast cuisine along with spectacular ocean and mountain views.
Facts For Your Visit
Fee: No
Open Now: No
Hours This Week:
Monday: 9:00 am – 5:00 pm
Tuesday: 9:00 am – 5:00 pm
Wednesday: 9:00 am – 5:00 pm
Thursday: 9:00 am – 5:00 pm
Friday: 9:00 am – 5:00 pm
Saturday: 9:00 am – 5:00 pm
Sunday: 9:00 am – 5:00 pm
Address: Vancouver, BC V6G 1Z4, Canada
Phone: (604) 681-6728
Official Website: Stanley Park