Enjoy a visit Buckingham Palace - home to the British Monarchy in London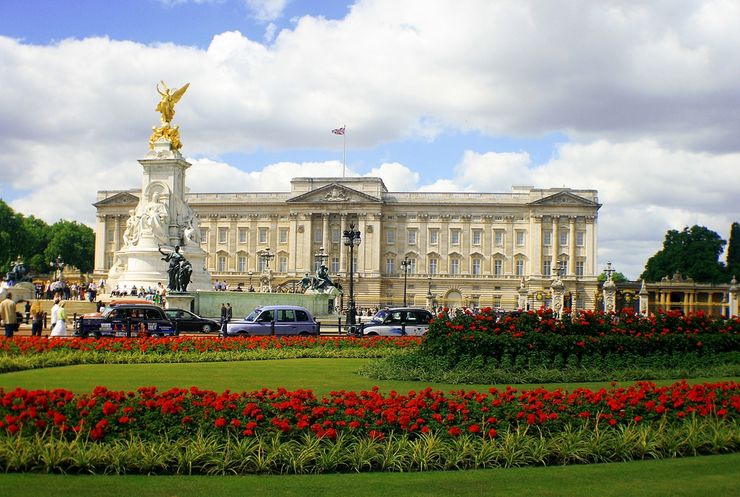 Buckingham Palace has been the official residence in London for the British monarch since 1837. It also serves as the headquarters of the administration for the Monarchy.
This massive royal residence contains 775 different rooms including nineteen State rooms which are often used by the Royal Family to host and entertain Heads of State and other officials. The Palace houses many highly valued works of art that make up a portion of the Royal Collection, one of the world's major art collections.
During your visit to Buckingham Palace you can enjoy viewing and photographing the impressive facades and the Victoria Memorial. Arrive in the morning and witness the famous Changing of the Guard Ceremony which occurs daily at 11:30am during the summer and every second day at 11:30am the rest of the year.
During August and September you can tour The State Rooms - A tour that includes the lavish State Rooms decorated with paintings and priceless scupltures by the masters as well as the Palace Garden, a private sanctuary that is home to at least 30 species of birds and over 350 varieties of wild flowers, and also a special exhibition of collectibles and/or The Royal Mews - Where the State vehicles and horses that transport the Royal Family are kept and maintained. These include motor cars and spectacular carriages including the Gold State Coach that is featured in Coronations.
Throughout the year you can also visit The Queens Gallery where you can view and exhibition of fine art items that are rotated from the Royal Collection. Admission Charges apply to the above tours and can be purchased indivually or as a package. Each of the above links will give you all the information you need.
There are many other attractions within easy walking distance of Buckingham Palace. Some of these include Saint James's Park, Hyde Park, Westminster Abbey, Westminster Cathedral and the Houses of Parliament and Big Ben. These attractions can be nicely combined into a memorable one or two day walking tour.
For more information about the Buckingham Palace and the various options for tours and hours visit their official website linked below.
Facts For Your Visit
Fee: For inside tours only
Open Now: No
Hours This Week:
Monday: 9:30 AM – 6:30 PM
Tuesday: 9:30 AM – 6:30 PM
Wednesday: 9:30 AM – 6:30 PM
Thursday: 9:30 AM – 6:30 PM
Friday: 9:30 AM – 6:30 PM
Saturday: 9:30 AM – 6:30 PM
Sunday: 9:30 AM – 6:30 PM
Address: London SW1A 1AA, United Kingdom
Phone: 020 7766 7300
Official Website: Buckingham Palace