A Lesser Known Path - Pista Cláudio Coutinho Walking Trail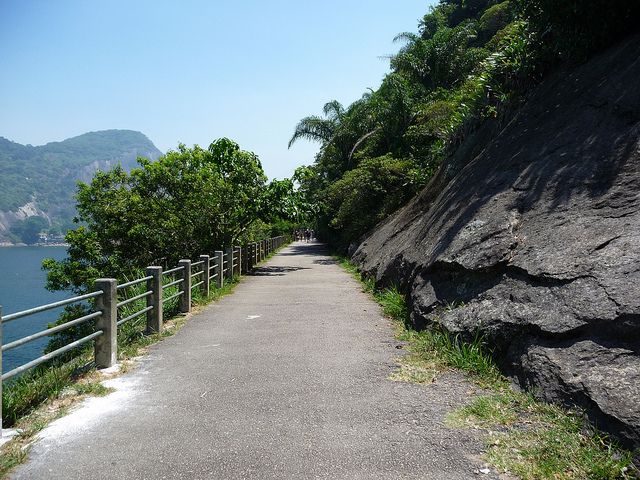 Everyone knows that you have to visit the Sugar Loaf when you go to Rio de Janiero. What few people, both local and visitors, do is actually take the time to explore the surrounding areas. As a result, the beautiful Pista Cláudio Coutinho Walking Trail is far less travelled than it ought to be (but don't tell anyone).
The Pista Cláudio Coutinho Walking Trail is a roughly 2 kilometer trail which runs near the sea. You will find the start of the trail in Praia Vermelha in Urca. It is a great trail to follow if you are looking for a gentle walk and would like some beautiful views of Vermelha Beach and the Sugar Loaf while you do it.
As you walk along the trail you will encounter some of the local fauna which you can enjoy in peace as the trail is so quiet. A wide range of butterflies and birds inhabit the area and marmosets come out to play along its pathways and in the trees nearby.
Those who are a little fitter and more adventurous can take the time to hike to the top of Morro Da Urca using a trail which starts about 300 meters down the Pista Cláudio Coutinho Walking Trail. From the top of the hill you can see Guanabara Bay, Botafogo Beach, Flamengo Beach and Downtown. There is also a cable car service which goes up to Pão de Açúcar and using this cable car can save you some reais. You could also enlist the services of an expert climber and go climb right up Pão de Açúcar.
The trail is open most of the daylight hours and can be found more or less 200 meters from the ticket office for the Sugar Loaf. The area is surrounded by military buildings and so the trail is one of the safest trails in Rio de Janiero. Vemelha Beach is right next door and makes a great spot to sit back and enjoy a few drinks once you are done exploring the trail and taking in the breath taking views.
Facts For Your Visit
Fee: No
Directions: Pista Cláudio Coutinho Walking Trail Map with nearest station(s) and Metro and Bus / walking directions.
Address: Praça General Tibúrcio, 125, Rio de Janeiro - RJ, 22290-270, Brazil
Overall Rating: 4.9 out of 5 based on 10 reviews. See all