A Lesser Known Path - Pista Cláudio Coutinho Walking Trail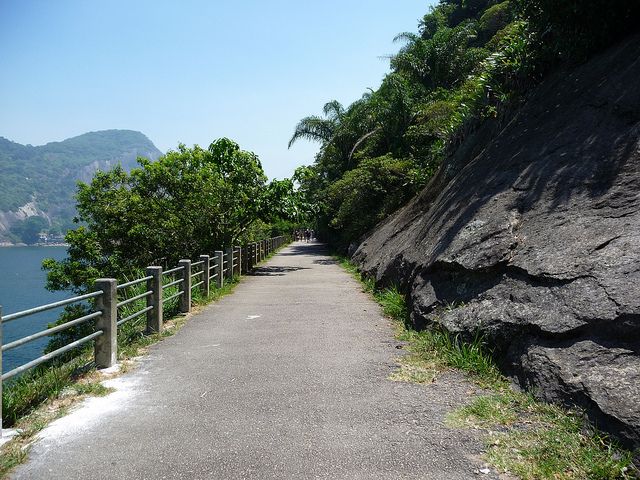 Most everyone that visits Rio de Janeiro wants to see Sugarloaf Mountain without even thinking about the surrounding areas that are less popular, yet well worth taking into account. A perfect example is the beautiful Pista Claudio Coutinho Walking Trail which, being less notorious than Sugarloaf, is less frequently travelled giving one a peaceful, pleasant walk (but don't tell anyone).
The Pista Cláudio Coutinho Walking Trail is about a 2 kilometre trail which runs beside the sea. You will find the start of the trail in Praia Vermelha in Urca. It is a great trail to follow if what you are looking for is a gentle walk with beautiful views of Vermelha Beach and the Sugarloaf.
As you stroll along the trail you will encounter some of the local fauna. There is a wide range of butterflies and birds that inhabit the area as well as marmosets that come out to play along the pathway and in the nearby trees.
Those who are reasonably fit and more adventurous can hike to the top of Morro Da Urca using a trail which branches off about 300 meters down the Pista Cláudio Coutinho Walking Trail. If you do decide to hike the trail to the top of Morro Da Urca you will be treated to a superb view that includes Downtown Rio, Flamengo Beach, Guanabara Bay and Botafogo Beach. This is the location of the platform where the lower and upper cable cars to the top of Sugarloaf Mountain meet. If you take the second cable car from here to the top of Sugarloaf it is a less expensive than taking both cable cars from the bottom, making this a great opportunity to visit the top of Sugarloaf. This hiking trail opens a couple of hours earlier than Sugar Loaf so take your time and take in the beautiful surroundings and views of the Atlantic Ocean. For those very physically fit there is an option to hire an experienced guide and, using climbing equipment, continue climbing to the top of Pao de Acucar.
The Pista Cláudio Coutinho Walking Trail is open during daylight hours and can be found about 200 metres from the ticket office for the Sugar Loaf gondola. The area is surrounded by military buildings helping make the trail one of the safest in Rio de Janeiro. Right next door, Vemelha Beach with its own views, is a great spot to sit back and enjoy a few drinks once you are done exploring the trail.
Facts For Your Visit
Fee: No
Address: Praça Gen. Tibúrcio, 125, Rio de Janeiro - RJ, 22290-270, Brazil