Public Transit is the cheapest way to get to Niagara Falls from Toronto - A family of 4 can save up to $175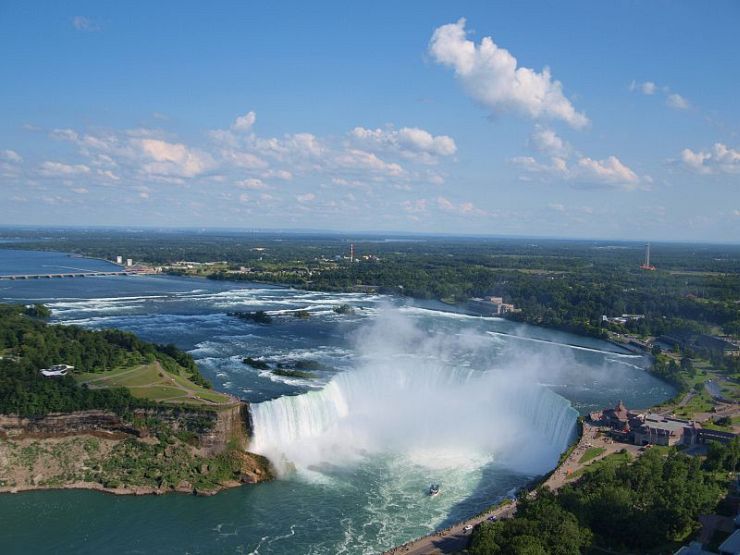 Niagara falls, one of the world's top ten tourist attractions, is closely associated with Toronto by virtue of its proximity. If you have never seen Niagara Falls in person and you are vacationing in Toronto, we would highly recommend a Niagara falls day trip to experience this natural wonder.
Pictures and videos simply don't do justice to the awesome sense of power and grandeur that one experiences by being there. When visiting Niagara Falls we also recommend going up to the Skylon Tower Observation Deck which will provide you with a spectacular overview of the falls and the surrounding areas. On a clear day you can sometimes make out the Toronto Skyline far across Lake Ontario. We also recommend a ride on the Hornblower catamaran (formerly Maid of the Mist) which will take you on a breathtaking (and wet) ride to the base Horseshoe Falls.
Numerous tour operators offer package tours from downtown Toronto to Niagara Falls and many include the Hornblower Voyage To The Falls cruise in their price. While these tours are great, they are more restrictive time-wise and they cost considerably more (see below) than using the Go Train/Bus and local bus service, the cheapest way to get to Niagara Falls from Toronto.
Throughout the year you can travel from Union Station in Downtown Toronto to Niagara Falls via the Go Train to Burlington Station, transferring to a Go Bus that will be waiting at the station to take you on to Niagara Falls. This trip takes about 2¼ hours with several departure times available daily. See Niagara Falls Go Train and Bus Schedules for exact times.
Between late May and late September a single Go Train trip right through to Niagara Falls, departs each Saturday and Sunday morning. Two corresponding trips return from Niagara Falls to Toronto in the evening. For exact times on these seasonal trips see Go Transit - Zip Down to the Falls. This service takes approximately 2 hours each way, about 15 minutes quicker than the train/bus combination. Go Trains and Buses terminate at the Via Rail Station in Niagara Falls. From there you can walk along River Road to the falls in about 40 minutes or take a Falls Shuttle operated by Niagara Region Transit Service. For more information about Niagara Falls see the Official Website: Niagara Falls Tourism.
The round trip cost per adult from Union Station in Downtown Toronto is $34.20* for Go Transit plus $6.00 for a day pass on the Niagara Falls Shuttle, a total of $40.20. If you add $19.95 to include the Hornblower Cruise the total per adult is just over $60. This compares favourably with an average going rate of about $99 plus tax for a Tour Bus | Hornblower Voyage To The Falls package. If you are travelling with children your savings will be much higher - Go Transit $17.10* / Falls Shuttle - Free / Hornblower Voyage To The Falls $12.65, a total of $30.05 compared to an average of about $78 including tax for a similar package tour. A family of 2 Adults and 2 Children can save over $175 compared to a similar tour bus package.
Besides the considerable savings, you'll enjoy more options for departure and return times, providing up to 9 hours to explore Niagara Falls on Weekdays and slightly over 10 hours on weekends. Most package tours only give you 2-3 hours of free time at the Falls.
The seasonal weekend Go Train rate is $6 more for adults and $3 more for children and seniors for the round trip. It is a bit faster and more convenient, but you may still use the train/bus combination on weekends and get the lower fare. See table below for rates.
If you do prefer an all-in-one package tour, the tours below provide added value, including air conditioned coach transportation right from your hotel, the Hornblower Voyage To The Falls boat ride, a visit to the Whirlpool Rapids observation deck and a Niagara winery. The evening lights tour also includes a buffet dinner and a chance to see the falls at night.
Facts For Your Visit
Fee: No, however surrounding attractions have admission fees.
Address: Niagara Parkway, Niagara Falls, ON, Canada
Phone: (905) 358-1814
Official Website: Niagara Falls