Vancouver Transit Fares
How much and where to purchase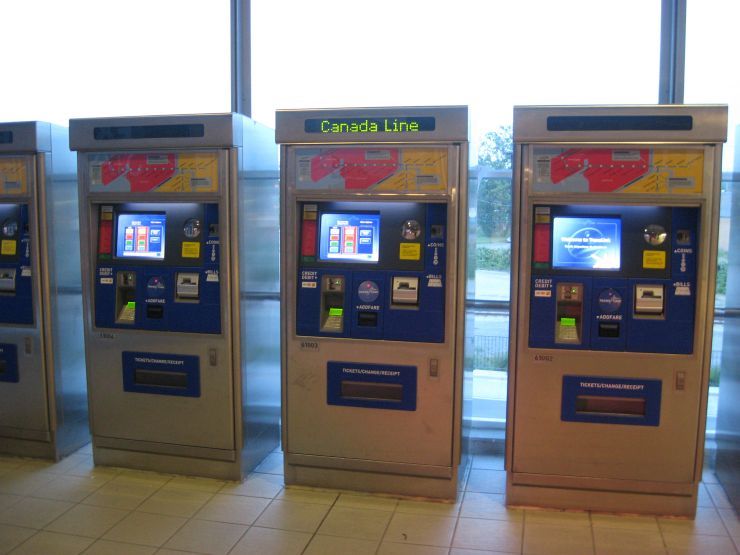 When it comes to transit fares in Vancouver, the best value for most tourists will be the Day Pass which is valid on all three modes and in all three zones for the entire day. Only $9.75 for Adults and only $7.50 for Concession! That gives you total freedom to travel the system all day long with as many stops as you wish.
If you don't think you can take full advantage of the day pass rate you can just pay for a single trip at a time. The Vancouver transit fares chart below shows the various fares for a single trip based on the number of zones you will be travelling in. Please note that fares are valid for 90 minutes from time of boarding on all three modes of transit: Transit Buses, Seabus and SkyTrain. Zones are in effect on Weekdays until 6:30pm. During Weekday evenings after 6:30pm and on Weekends and Holidays the Zones do not apply allowing travel through any number of zones on a 1 Zone fare. Concession fares are for children ages 5-13 and adults 65+. Children 4 and under are free with an adult.
*Note there is a surcharge of $5.00 added to cash fares only for trips originating at Vancouver Airport and travelling to Bridgeport Station and beyond. This only applies to trips from the Airport and even then it does not apply to passes or fares purchased with Faresaver tickets.
| Regular Fares | Zone | Adult | Concession |
| --- | --- | --- | --- |
| Weekdays from start of service to 6:30 p.m | 1 Zone | $2.75 | $1.75 |
| | 2 Zone | $4.00 | $2.75 |
| | 3 Zone | $5.50 | $3.75 |
| Weekdays after 6:30 p.m. and all day Saturday, Sunday and Holidays | All Zones | $2.75 | $1.75 |
Individual Vancouver transit fares and Day Passes can be purchased at all SkyTrain stations and at the Seabus Terminal from Ticket Vending Machines. These accept Canadian cash up to $20 as well as debit and credit cards. You must purchase your fare prior to passing through the fare gates into the "Fare Paid Zone" which is clearly marked at all stations. The fare gates at all SkyTrain stations currently remain open while the new refillable electronic fare card called the Compass Card is being tested and evaluated by local users. Until it is fully implemented, if you have a valid fare you can just proceed through the gates under the honour system. Periodic fare checks are made by transit security and/or transit police who patrol the system. We will update this page with any corresponding changes to the fare system when the Compass card is fully implemented.
You can save about 15% on individual fares by purchasing books of ten tickets called Faresavers. These are especially convenient on the buses as you don't need to have the exact change with you for every trip. You can purchase Faresaver Tickets and Day passes from any authorized Fare Dealers which include the following stores: Safeway, London Drugs, Shoppers Drug Mart, Mac's Convenience, 7-Eleven and many other independent convenience stores. Monthly passes are also available if you are planning a long stay. For a complete list click this link "Where to Buy Tickets and Passes".
Important - When purchasing your fare on a bus, you must have the exact change and you cannot purchase a day pass. If you are originating your travel by bus and you want to obtain a day pass be sure to purchase it from a Fare Dealer first. You can purchase day passes from Fare Dealers prior to the day(s) you are using them and they will not expire until the end of the day on which you first use them so it is fine to purchase several day passes in advance. This does not apply when purchasing from a Ticket Vending Machine at SkyTrain or Seabus Station, as they are valid immediately upon purchase.
Official Website: http://www.translink.ca/