Telus World of Science and the OMNIMAX theatre, commonly called Science World, will entertain your entire family with many hands-on exhibits and displays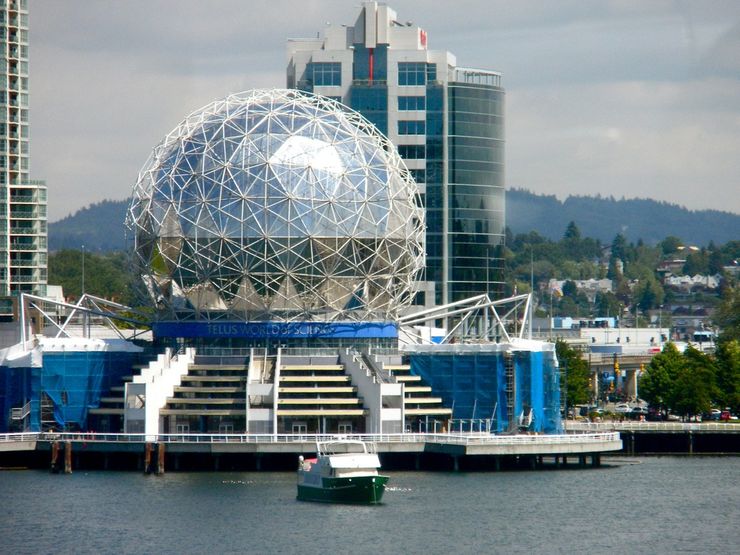 Science World Vancouver, properly called Telus World of Science, due to its corporate sponsorship, is located in a large and striking geodesic dome over looking the east end of False Creek that has become a major city landmark.
The striking dome was originally the Expo Centre building during the Expo 86 World's Fair in Vancouver. It is easily accessed by Vancouver public transit from the Main Street - Science World SkyTrain Station.
This popular venue offers families a wide range of both permanent and changing interactive and educational science exhibits along with a variety of fascinating shows in the OMNIMAX theatre.
You can travel from Telus World of Science to Granville Island and Yaletown with either of two privately operated passenger ferry services; False Creek Ferries or Aquabus that link various points around False Creek. As these are not part of the Public Transit system additional fares apply, however, they are not expensive.
Facts For Your Visit
Fee: Yes
Open Now: Yes! Some attractions may restrict entry prior to their closing time.
Hours This Week:
Monday: Closed
Tuesday: 10:00 AM – 5:00 PM
Wednesday: 10:00 AM – 5:00 PM
Thursday: 10:00 AM – 5:00 PM
Friday: 10:00 AM – 5:00 PM
Saturday: 10:00 AM – 6:00 PM
Sunday: 10:00 AM – 6:00 PM
Address: 1455 Quebec St, Vancouver, BC V6A 3Z7, Canada
Phone: (604) 443-7440
Official Website: Telus Science World