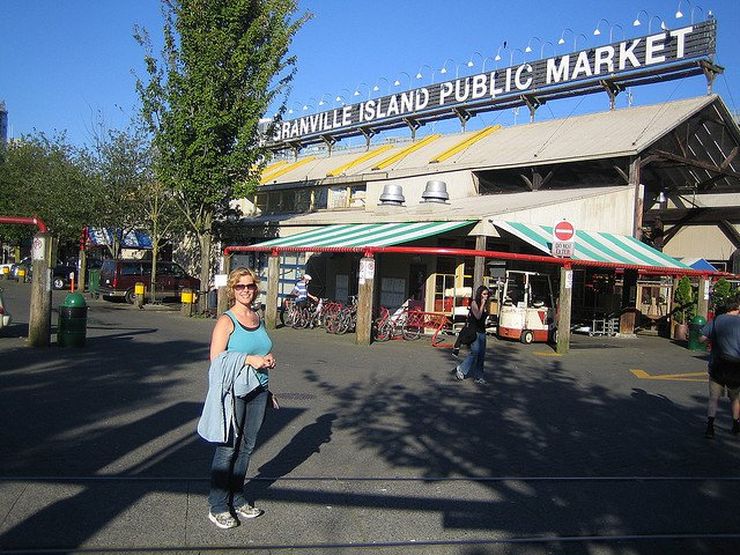 Granville Island Public Market is an extremely popular shopping, entertainment, and tourist enclave located on a small man-made island on the south side of False Creek directly across from downtown Vancouver. Looming overhead is the south end of the Granville Street Bridge that joins downtown with the the rest of Vancouver.
The Public Market is open daily from 9am to 7pm offering fresh seafood, local produce, baked goods and crafts to name a few. There are also restaurants, bars, live theatres and studios including glass blowing, pottery, and custom jewellery. Granville Island also features a large marina, a hotel, the Emily Carr University of Art and Design and the Carousel Theatre. This part of Vancouver is very popular with both tourists and locals.
Originally developed as a heavy industrial and manufacturing area, Granville Island began falling into disrepair after the war with many fires and the low rent factories discharging pollution into the surrounding water. In the 1970's the area was purchased by the government of Canada and transformed into the multi-use people friendly place it is today.
You can travel from Granville Island to Yaletown and Telus Science World with either of two privately operated passenger ferry services; False Creek Ferries or Aquabus that each link various points around False Creek. These little passenger ferries are not part of the public transit system so you cannot use a Translink fare or day pass to ride them, however their own fares are not expensive.
Facts For Your Visit
Fee: No
Open Now: No
Hours This Week:
Monday: 9:00 am – 7:00 pm
Tuesday: 9:00 am – 7:00 pm
Wednesday: 9:00 am – 7:00 pm
Thursday: 9:00 am – 7:00 pm
Friday: 9:00 am – 7:00 pm
Saturday: 9:00 am – 7:00 pm
Sunday: 9:00 am – 7:00 pm
Address: 1661 Duranleau Street, Vancouver, BC V6H 3S3, Canada
Phone: (604) 666-6655
Official Website: Granville Island