Enjoy some spectacular west coast sightseeing with this BC Ferries Day Trip for a fraction of the cost of a package tour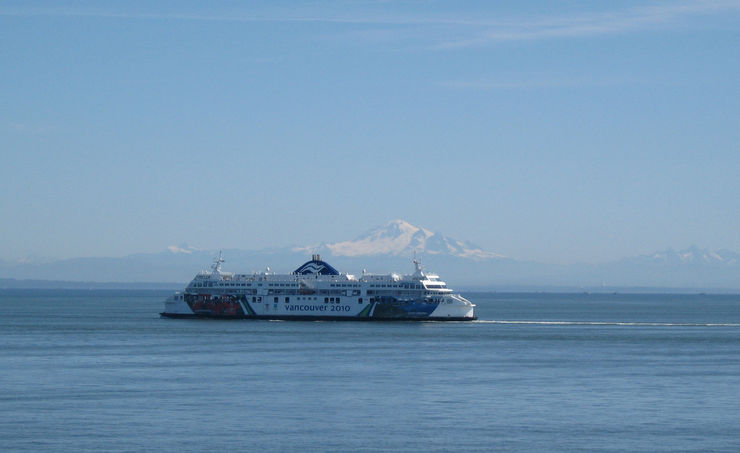 A great way to spend a day during your visit to Vancouver is to take a ride on the Ferry from Vancouver to Victoria. This makes for a great day tour. If you travel as a foot passenger, the Vancouver to Victoria ferry fare is very reasonable. Combining that with using public transit you can save you a great deal of money compared to other tour options. The sightseeing along the way is truly breathtaking, especially sailing between the rugged shores of the Gulf Islands with spectacular scenery framing beautiful waterfront homes and lighthouses.
Detailed Instructions
Using Vancouver public transit you can connect with BC Ferries in Vancouver at either the Horseshoe Bay Ferry Terminal or the Tsawwassen Ferry Terminal. From Horseshoe Bay you can sail to Nanaimo or from Tsawwassen you can sail to Victoria, BC's Capital City. The Ferries between Horseshoe Bay and Nanaimo schedule 7 or more sailings each day from 6:30 am until 9 pm. Between Tsawwassen and Victoria the ferries schedule 8 or more sailings daily from 7 am until 9 pm. The crossing time is approximately 1½ hours. For up to date schedules see BC Ferries / Schedules.
For the best scenery we recommend the Tsawwassen to Victoria route which meanders close to many of the Gulf Islands and through the breathtakingly beautiful Active Pass, a narrow dogleg channel between Galiano and Mayne island. Seagulls follow the boats across the water, hoping for handouts. Onboard you will find a cafeteria serving a good variety of hot and cold meals and snacks, giftshops and plenty of comfortable seating. You will certainly want to spend at least some time strolling the outside decks and taking in the spectacular sights, smells and sounds of the beautiful West Coast scenery. Magnificent Orca Whales can sometimes be spotted jumping and swimming in close proximity to the Ferry routes. Dress warm; the Ferries appear to be moving slowly, but are actually travelling about 35 kph creating a pretty stiff breeze on the deck. If you can only spare half a day, you have enough time to enjoy a round trip on the ferry. If you can spend a full day, and start early enough, you will have time to take an express BC Transit bus into downtown Victoria and spend a few hours exploring the many alluring sights and attractions BC's capital offers. The Express BC Transit buses run every 30 minutes on weekdays and every hour on weekends. They will get you from the Swartz Bay Ferry Terminal to downtown Victoria in just under 1 hour. For Swartz Bay Ferry Terminal to downtown Victoria express bus schedules click: here. Remember, this is a different transit system than Vancouver's so you'll have to pay a separate fare which is currently just $2.50 each way.
It is always a good idea to plan your trip in advance checking schedules and routes using the links in our site. The following is a sample BC Ferries day trip itinerary: Depart from Bridgeport Station on the #620 bus at 8 am and catch a 9 am sailing to Swartz Bay where you can board a #70 Express bus at 11 am and be in downtown Victoria by lunchtime. Spend 3½ hours in Victoria before returning on the #70 Express bus at 3:40 pm and catch the 5 pm Ferry back to Tsawwassen. Catch a 7 pm #620 bus back to Bridgeport Station arriving at 7:40. That's a full day trip in just under 12 hours (not counting your travel time on the SkyTrain) complete with a leisurely 3 hours of scenic sailing on the Ferry and 3½ hours to explore downtown Victoria. Total Adult travel cost is $9.75 for a Translink Day Pass + $32.50* for a BC Ferries round trip + $5.00 return for the bus to Victoria for a total of only $47.25. Not bad for a full day of touring and well under ½ the price of doing the same trip on a Charter Bus which is only slightly faster.
*Ferry fares are subject to a small fuel surcharge which can vary, but is usually about $0.50 each way.
BC Ferries - 'Walk on Fares' One Way between BC Mainland and Vancouver Island
Adults 12 years and up
$16.25
Children 5-11 years
$8.15
Infant under 5 years
Free
Facts For Your Visit
Fee:
Address: 1321 Blanshard St #500, Victoria, BC V8W 0B7, Canada
Phone: (250) 381-1401
Official Website: BC Ferries Day Trip from Vancouver to Victoria