The H.R. MacMillan Space Centre and planetarium in Vancouver features a Star Theatre, GroundStation Canada Theatre, Motion Simulator Ride, exhibits, games and more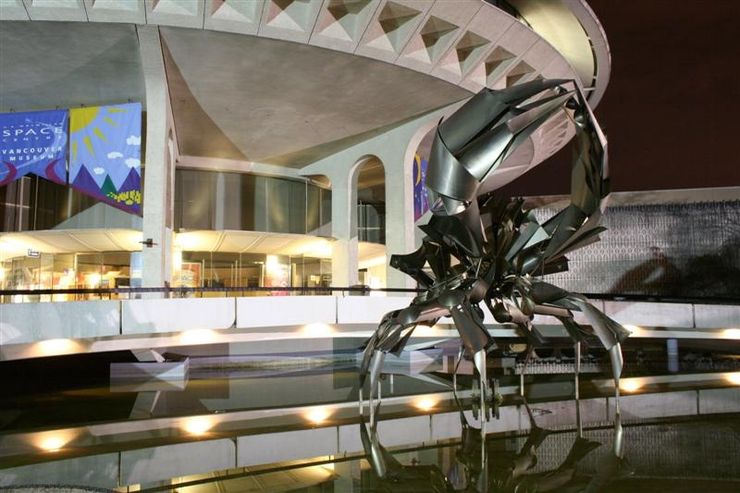 Located a short bus ride from downtown Vancouver in Vanier Park, the H.R. MacMillan Space Centre Planetarium has two theatres featuring shows throughout the day, rides on the Virtual Voyages Motion Simulator, and interactive exhibits, displays and games in the Cosmic Courtyard.
The Planetarium Theatre is a domed circular theatre which uses a giant Zeiss projector to produce a 360-degree view of the night sky as seen from Vancouver along with multimedia shows. The Groundstation Canada is a 90 seat theatre featuring interactive and audio-visual space themed presentations. On Friday and Saturday evenings there are Laser and Light Shows for a separate admission charge. There is also an observatory next to the Space Centre which offers public viewings on clear Friday and Saturday evenings.
The H.R. MacMillan Space Centre Planetarium also adjoins the Vancouver Museum and is just a short walk from Vancouver Maritime Museum. You can see all three attractions with a Vanier Park Explore Pass for $36.00 per Adult or $30.00 for Youth and Seniors.
For complete details and show times at the H.R. MacMillan Space Centre Planetarium click on the link to their official website below.
Facts For Your Visit
Fee: Yes
Open Now: No
Hours This Week:
Monday: 10:00 AM – 3:00 PM
Tuesday: 10:00 AM – 3:00 PM
Wednesday: 10:00 AM – 3:00 PM
Thursday: 10:00 AM – 3:00 PM
Friday: 10:00 AM – 3:00 PM
Saturday: 10:00 AM – 5:00 PM
Sunday: 12:00 – 5:00 PM
Address: 1100 Chestnut St, Vancouver, BC V6J 3J9, Canada
Phone: (604) 738-2855
Official Website: H.R. MacMillan Space Centre