Cobblestone streets lined by ornate street lamps and trees provide a unique and picturesque atmosphere to this historic Vancouver neighborhood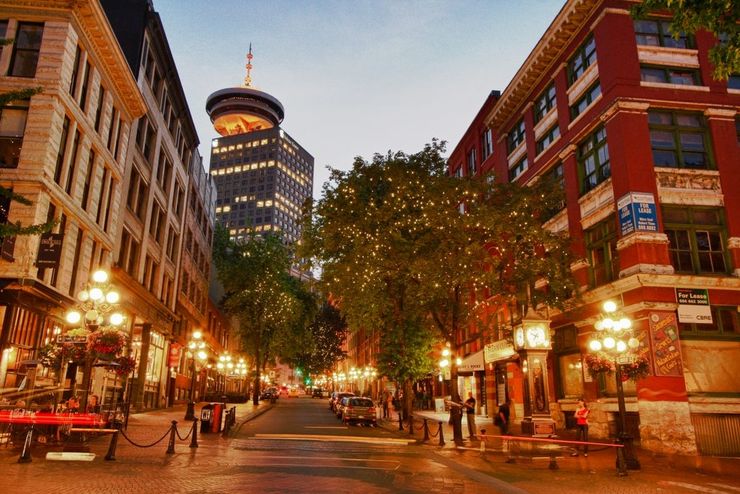 Gastown, Vancouver's original 'downtown' is rich in history, unique shops, restaurants and clubs. Named after a steamboat captain and barkeeper named 'Gassy' Jack Deighton who opened the first saloon in the area, the area became the site of a sawmill and seaport making it the centre of trade in the area.
After becoming incorporated as the City of Vancouver in 1886 all but two of Gastown's buildings were consumed by a huge fire. The district was rebuilt and continued to grow as Vancouver's center until the Great Depression. After the Depression Gastown began to decline and fall into disrepair into the 1960's. In 1971 it was designated a National Historic Site which has protected its many heritage buildings. Over the last few decades Gastown has been growing into an even more vibrant neighbourhood with many new unique shops and superb restaurants opening.
Today heritage buildings house many contemporary shops and boutiques, restaurants, clubs, art galleries and studios, music studios, and film schools. Many of the exclusive shops offer unique products including fashions, jewellery, home decor, gifts and souvenirs that you will not find anywhere else. The cobblestone streets and ornate street lighting add to the historic atmosphere. The steam-clock located at the intersection of Cambie and Water Street is a popular tourist attraction this is completely powered by a miniature steam engine in its base. It is a complex work of art and engineering that is well worth checking out.
Facts For Your Visit
Fee: No
Address: Gastown, Vancouver, BC, Canada