The Vancouver Art Gallery is the largest art gallery in Western Canada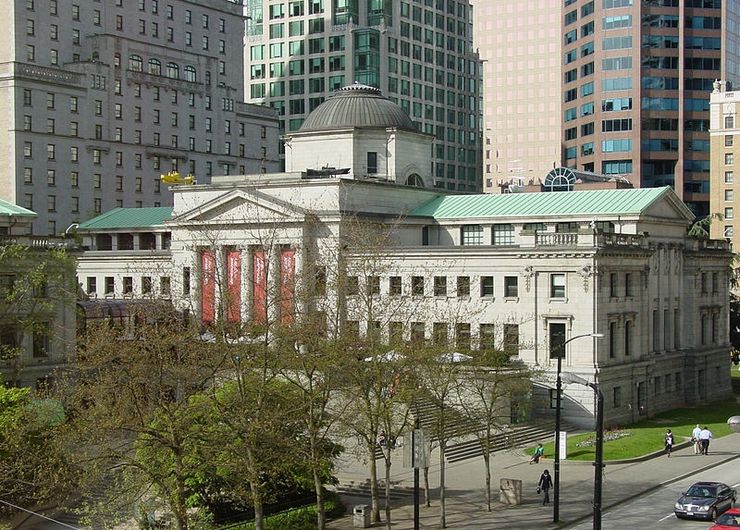 The Vancouver Art Gallery is located on Hornby Street in Vancouver between Robson Street and Georgia Street in what was previously the Vancouver courthouse. One could consider the building itself a work of art.
Constructed in 1906 it features columns, a center dome, formal porticos, and ornate stonework. Located outside the Georgia street side is the Centennial Fountain built in 1966 in commemoration of the union of the colonies of British Columbia with Vancouver Island.
The 41,400 square foot gallery features a collection of over 10000 works including the largest collection from renowned BC artist Emily Carr. The Gallery Cafe features a rooftop patio, one of the most idyllic in downtown Vancouver, where you can enjoy a glass of wine on a beautiful afternoon. There is also a Gallery Store and library for you to browse.
The grounds in front of the Vancouver Art Gallery have become a prime social gathering place, so don't be surprised to see some kind of activity going on such as musicians, improv or a protest rally.
Facts For Your Visit
Fee: Yes
Open Now: No
Hours This Week:
Monday: 10:00 AM – 5:00 PM
Tuesday: 10:00 AM – 9:00 PM
Wednesday: 10:00 AM – 5:00 PM
Thursday: 10:00 AM – 5:00 PM
Friday: 10:00 AM – 5:00 PM
Saturday: 10:00 AM – 5:00 PM
Sunday: 10:00 AM – 5:00 PM
Address: 750 Hornby St, Vancouver, BC V6Z 2H7, Canada
Phone: (604) 662-4700
Official Website: Vancouver Art Gallery