A ride up the Grouse Mountain Gondola offers spectacular vistas as it briskly transports you to the summit where you will find a wealth of year round activities and dining options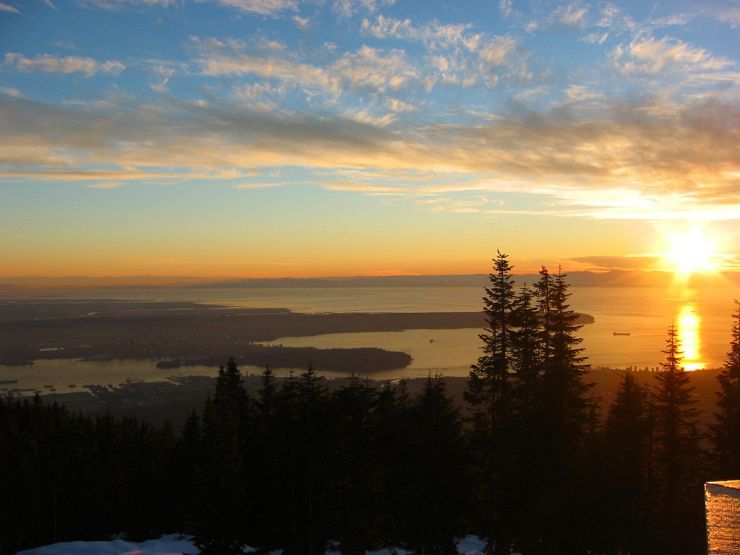 Famous for skiing and winter activities, Grouse Mountain is a year round 'playground' that offers a wealth of activities throughout the year. This is a very easy place to spend an entire day exploring. You certainly won't regret staying long enough to enjoy the sunset and watch the city transform into a sea of lights as night falls.
The peak of Grouse Mountain reaches just over 4000 feet above sea level offering spectacular views of Vancouver and the surrounding mountains. On a clear day you can see all the way across Georgia Straight to Vancouver Island as well as to Mount Baker in Washington State.
Public transit takes you right to the base of the Grouse Mountain Gondola (Skyride) where your admission fee includes the spectacular gondola ride up to the Chalet along with plenty of fun things to see and do at the top.
During the summer months you can hike up the mountain for free via the famous Grouse Grind hiking trail which gains 2800 feet in just 2.9 kilometres. This is a pretty tough hike so we only recommend it if you are in good physical condition, have suitable footwear and clothing and take along plenty of drinking water. The average hiker takes 1½ to 2 hours to ascend the trail. If you do decide to hike up the Grouse Grind, you can get a discounted rate for the gondola ride back down from the top. You can also enjoy all of the activities that are included in the fee for the ride up.
The first lodge on the mountain was built by hand in the 1920s by hauling planks up the same route as the trail. Over the years it has grown and developed into the multifaceted destination it is today.
Summer activities covered by your admission include the Gondola (Skyride) up and down the mountain, The Theatre in the Sky, The Refuge for Endangered Wildlife, The World Famous Lumberjack Show, Birds in Motion Demonstration, Scenic Chairlift Rides and Mountaintop Eco Walks. Other exciting activities available for an additional charge include, tandem paragliding, ziplining, helicopter tours and also their newest attraction - The Eye of the Wind, a massive power producing wind turbine with an elevator and a 360 degree observation area (watch the video below for more on this).
In addition to skiing, winter activities include the Skyride up and down the mountain, The Theatre in the Sky, The Refuge for Endangered Wildlife, Snow shoeing (rentals available), Outdoor Ice Skating, Sleigh Rides, and The Peak of Christmas.
There are several different dining options on the mountain: The Observatory (Fine Dining), Altitudes Bistro (Contemporary Dining), Lupins Cafe, Grizzly Lookout Café and the Grouse Grind Coffee Bar.
Facts For Your Visit
Fee: Yes
Open Now: No
Hours This Week:
Monday: 9:00 AM – 10:00 PM
Tuesday: 9:00 AM – 10:00 PM
Wednesday: 9:00 AM – 10:00 PM
Thursday: 9:00 AM – 10:00 PM
Friday: 9:00 AM – 10:00 PM
Saturday: 9:00 AM – 10:00 PM
Sunday: 9:00 AM – 10:00 PM
Address: 6400 Nancy Greene Way, North Vancouver, BC V7R 4K9, Canada
Phone: (604) 980-9311
Official Website: Grouse Mountain