Capilano Suspension Bridge suspended high above the Capilano River has long been one of Vancouver's top tourist attractions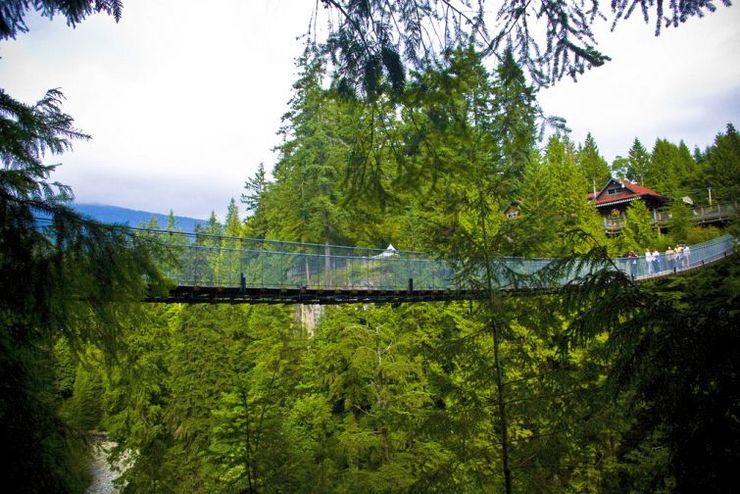 The Capilano Suspension Bridge attracts about 800,000 visitors every year. It is a 'people only' foot bridge suspended a dizzying 230 feet above the Capilano River and spans 446 feet. The original bridge was built by a Scottish engineer and parks commissioner named George Grant Mackay from hemp rope and cedar planks. In 1903 it was reconstructed with wire cable. The bridge was completely rebuilt again in 1956.
The current owners (since 1983) have added the Treetops Adventures attraction, a series of seven footbridges suspended between large Douglas Fir trees, providing visitors a view of the forest from a tree top perspective.
A new feature that just opened in the spring of 2011 is the Cliffwalk - a series of thrilling walkways cantilevered out and suspended above the granite cliffs of the canyon! Definitely not for the faint of heart.
In addition to the above, park guests can also view nature trails, gardens and totem poles. All told, the park offers visiters a great way to experience the rugged nature of the West Coast.
At Christmas time the park is particularily spectacular at night, as it is lit up with 1000's of lights during their Canyon Lights display.
Capilano Park is park is a privately owned attraction and admission charges do apply. The park is open every day except Christmas. Hours of operation vary through the year, so please see their official website for details.
Facts For Your Visit
Fee: Yes
Hours: January 4 – March 13: 9am – 5pm; March 14 – April 25: 9am – 6pm; April 26 – May 30: 9am – 7pm; May 31 – September 1: 8:30am – 8pm; September 2 – October 13: 9am – 6pm; October 14 – November 29: 9am – 5pm; November 30 – January 3: (Closed Christmas Day) 11am – 9pm
Address: 3735 Capilano Road, North Vancouver, BC
Phone: 604-985-7474
Directions: Click the Map and Directions Tab at the top this page for Capilano Suspension Bridge map with nearest station(s) and Skytrain, Seabus and Bus / walking directions.
Official Website: Capilano Suspension Bridge