Montreal Travel Adventures
For memories that will last a lifetime be sure to include one or more of these exciting Montreal activities and tours in your vacation plans
Add some fun and excitement to your Montreal vacation with one or more of these exiting Montreal travel adventures put together especially for you. With tours in every price range there is something for everyone. Be sure to book ahead to guarantee your spot and avoid being disappointed by sold-out activities and long lines during your vacation. We begin with the most popular Montreal Tours that have an outstanding 5-Star average rating. You simply can't go wrong with any of them.
Click the links below to scroll straight to the category of your choice.
Our Top Ten 5-Star Montreal Tours and Activities
Tours and Activities for under $50
Tours and Sightseeing
Day Trips and Excursions
Multi-day and Extended Tours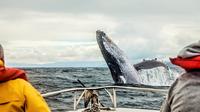 Rating

From: $469.00 CAD...May vary slightly due to currency fluctuations
Embark upon a 3-day tour from Montreal to the cobblestone streets of historic Quebec City with a driver/guide. Along the way, soak up the culture, live music, street art, and local cuisine. Also, visit Montmorency Falls and take a day trip to Tadoussac for an incredible whale-watching cruise.
Cruises, Sailing and Water Tours
Walking and Biking Tours
Food, Wine and Nightlife
Sightseeing Tickets and Passes