Getting Arround Montreal by Public Transportation
Complete Visitor Guide to Getting Around Montreal by Public Transportation
As a tourist, you will really appreciate the clean and modern transit system that makes getting around the city of Montreal a breeze. There is little doubt that you can do most of your exploring and sightseeing in Montreal with nothing more than the Metro and some walking. In fact this is probably the best way to see the city; and economical to boot. Unlike many cities, the Metro Stations in Montreal each feature a unique architectural design and many of them also display works of art within, making them a tourist attraction in their own right.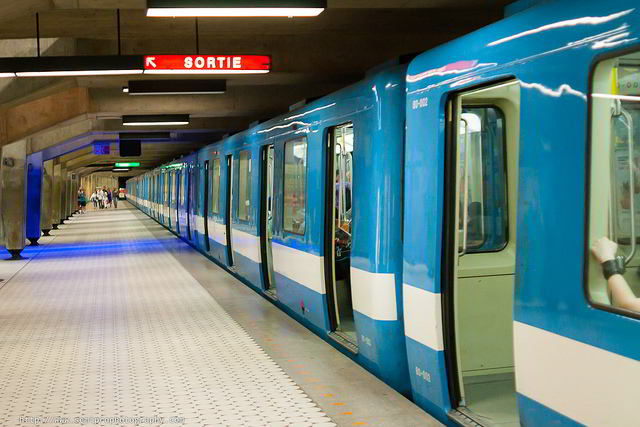 In terms of ridership, the Montreal transit system is the fourth largest in North America. It's key modes of transportation include the Metro, a modern and quiet subway system that will get you within a short walk of most attradtions in Montreal; Montreal Buses which will help you get to those places that are a little further off the beaten path or assist those who may have some difficulty with walking in getting closer to some attractions; and finally commuter trains which can help you connect with more distant locations along their five lines that branch out from the city.
Montreal also has a city bike rental system similar to Paris where you can pick up a bike at any self serve station and drop it off at another. Due to the amount of snow Montreal gets during the winter this is a seasonal program that operates from April to mid November. For more information see our page on BIXI Bikes.
The Société de transport de Montréal or stm for short is the main governing body responsible for Rapid Transit and buses in Montreal. Commuter trains are overseen by the Agence métropolitaine de transport (Metropolitan transport agency) abbreviated and commonly refered to as exo. Information on both sites is available in both French and English.
The best fare option for visitors to get around Montreal one day, three day or weekend pass. These passes include transportation on both the Metro and buses including the '747' Airport bus for visitors arriving at the Montreal airport. See our page on fares for more information about the various fare options.
Walking is another great (and of course free) option for exploring Montreal. Montreal is a great city to explore on foot. With a little bit of planning you can easily walk from one attraction to another. To that end we also have put together several different Walking Tours on our site.
Official Website: https://www.stm.info/
More Info for Getting Around Montreal on Public Transportation
Montreal also has an extensive bus network

Montreal has bicycle rental stations downtown similar to the Velib in Paris