Biosphere Montreal
The most popular pavilion at the Expo 67 World Fair, today the Biosphere serves as North America's only museum dedicated to the environment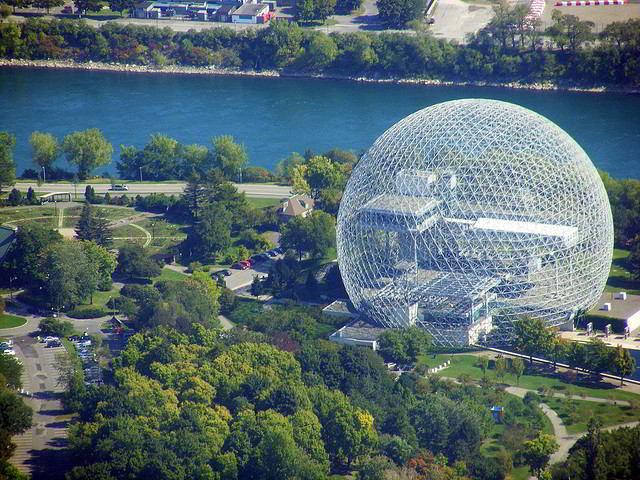 The Biosphere is fascinating as both a renowned Montreal landmark and as a unique museum that will please visitors of all ages. There are a variety of permanent exhibits located both inside and outside this gigantic steel tube dome that will educate on the latest issues surrounding our environment and its many eco-systems.
One of Montreal's most prominent and iconic landmarks, the Biosphere located on Île Sainte-Hélène, was originally designed by the forward thinking architect Richard Buckminster Fuller as the United States Pavilion for the 1967 World's Fair. Constructed of tubular steel this giant geometric dome stands as tall as a 20 storey building. Fuller wanted the structure to be bolted together but the American officials wanted it to be welded. This helped ensure that the structure remained as the legacy that it is today. The frame was covered with tinted transparent acrylic panels.
The Biosphere became the most successful pavilion at the fair with a total of 5.3 million visitors passing through it during the six month Expo. After the fair, the United States government donated the Biosphere to the City of Montreal. It served a variety of functions which included that of a conservatory housing a variety of plants and birds.
In 1976 the Biosphere was engulfed in flames when a welders torch accidentally set fire to the acrylic panels resulting in the complete loss of its covering. After that it sat dormant for about 15 years at which time Environment Canada made an agreement with the City of Montreal to turn it into the environmental Museum it is today. After a major restoration of the steel frame and the design and construction of new interior structures the museum opened to the public in 1995
The Biosphere Today
Since its inauguration in 1995 the Biosphere has built up a wide range of permanent exhibitions as well as hosting a variety of temporary exhibitions which all focus on aspects of our environment and eco-systems. Many exhibits are hands on and children and adults will find the museum both fun and educational.
You should try to include a visit to the Biosphere on your itinerary when you visit Montreal because the admission charges are nominal and you will not be disappointed with its many the exhibits. You can also enjoy some great 360 degree views of the city from inside the dome.
Nearby attraction: Ile Sainte-Helene and Parc Jean-Drapeau
Facts For Your Visit
Official Website: Biosphere Montreal
Fee:
Yes
Regular Hours:
May differ on holidays
Monday: Closed
Tuesday: 9:00 AM – 4:30 PM
Wednesday: 9:00 AM – 4:30 PM
Thursday: 9:00 AM – 4:30 PM
Friday: 9:00 AM – 1:00 PM
Saturday: 9:00 AM – 4:30 PM
Sunday: 9:00 AM – 4:30 PM
Address: 160 Chem. du Tour de l'isle, Montréal, QC H3C 4G8, Canada
Phone: (514) 868-3000
Official Website: Biosphere Montreal
Reviews
Rated 4.3 out of 5

A bit disappointed by the tour as I was hoping for one that gave more insight on the architecture of Expo 67. Instead it was primarily geared towards nature and the environment. Lots of videos of seagulls and their importance. Paying the $22 fee to enter was the price to get good photographs at the top of the structure, otherwise you're limited to the first floor. I think they do this intentionally because the tour felt quite pointless. Also, bring your own food and drink if you do visit. There are no places to eat nearby nor places to grab a drink other than highly marked up vending machines. A water bottle and light snacks is a good idea. Otherwise, great experience. Monumental structure that dwarfs anyone inside it. The photos are priceless and the isolated site gives beautiful shots no matter the angle. If you're in the area definitely give it a visit.

Faris Itum - 1 month ago
It's my first time here but it's awesome experience and you get to learn a lot. It is pretty cool for children and the fact that it is not a science museum and is dedicated to environmental sciences makes it unique. It's very cool but not a lot of exhibits so you don't need a whole day here. We did it all in less than an hour. We took the elevator to the top for the cool views.

Sabir Mogal - 5 months ago
If you're fascinated by the architectural marvel of the Biosphere, you'll be truly amazed. However, if you're expecting an enriching museum experience, you might end up quite disappointed - like me. My advice would be to skip the museum part altogether and save yourself 22.75 CAD. Inside, you'll find a few empty rooms with videos playing, some educational, some for kids. The exhibits felt more artistic than educational, except for one scientific lab. The multi-sensor experience that one of the workers tried to sell us on turned out to be quite disappointing. In reality, the museum did not offer anything educational or informative that I wasn't already familiar with. It seems the target audience is mainly children, not adults. The most interesting part was learning about the Biosphere dome itself, its construction, and its purpose, but you can actually find this information for free in the lobby. The dome itself is truly grandiose and impressive, exactly as it was back in 1967 during the Expo fair. It's a rare and unique structure, and simply being there is an experience in itself. Though the view from the top platform is nice (seeing Montreal skyline), it wasn't mind-blowing for me. I personally appreciated the Biosphere more from the outside and from a certain distance. I'd like to visit during the evening when the structure is lit up, but that's something for another time. Unfortunately, the age and lack of maintenance have taken a toll on some parts of the dome as they are literally falling apart. Certain areas, like the outer deck, are closed when the weather is unfavorable. On a positive note, the surrounding park is beautiful and well-maintained, with lovely plantings, seating areas, food stalls, and public toilets. There's currently a captivating photo exhibition of icebergs and birds. Regarding parking, it was a huge hassle for me, with machines not cooperating (some not working at all, some not accepting foreign credit cards) and higher pricing compared to other parking options closer to the city center. The price starts at 8.25 CAD for one hour, 15.5 CAD for two hours and goes up to 20.50 CAD for full day parking. I recommend considering the Metro system instead, as the Jean-Drapeau station is just a few meters away from the Biosphere. I visited on a Sunday in July 2023. Dome: ***** Parking: *** Museum: *

Pavel D. - 4 months ago
Beautiful but overpriced for what it is. Great view from the viewing but really not much else. A few interesting exhibits but overall - terrible value. No gift shop. 4 stars is "liked it" which I did because Iike the historical significance. $22.75 for adults. No discounts like CAA or AAA. I do like that it is left over from Expo 67.

True Adventure - 2 months ago
An awe-inspiring experience awaits at the Biosphere! This captivating haven seamlessly blends science with art, offering an immersive journey through ecosystems and their delicate balance. Exploring how toxins impact organs is both enlightening and crucial for understanding our environment. The beautiful structure complements the wealth of knowledge within. A must-visit for those seeking to be inspired and educated in one remarkable space.

travelfrommylens - 2 months ago
Read all Reviews

Accommodations near Biosphere Montreal:
Directions
| Metro Line | Nearest Station | Walking Time |
| --- | --- | --- |
| Line 4 - Yellow | Station Jean-Drapeau | 2 Minutes |
How to get to Biosphere Montreal by Metro
By Metro: Take Metro Line 4 to Station Jean-Drapeau and follow the signs for the Biosphere
Map & Instant Route Finder
Click&Go Map and Route Finder with public transit, walking, driving or cycling directions. Get up-to-the-minute transit times for your route.
Finding Your Route - Please Wait
Photo Gallery
Approaching the entrance to the Montreal Biosphere cc licensed photo by HBarrison

Photo Credit: akigabo - cc license via Flickr

Photo Credit: MassiveKontent - cc license via Flickr

Photo Credit: akigabo - cc license via Flickr

Photo Credit: Joe Passe - cc license via Flickr
Video