Montreal Metro System: Map & Guide
Your complete guide to getting around Montreal on the Metro
Updated on December, 08 2019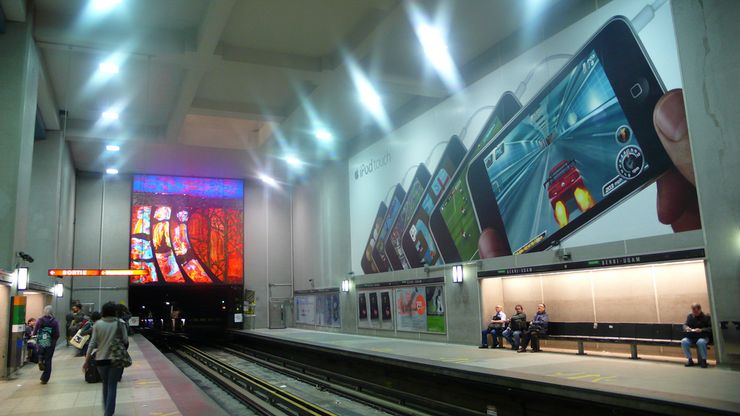 The heart of Montreal's public transport system is the Metro, a clean, modern, quiet subway that runs entirely below grade. Being the first subway system in the world to run entirely on pneumatic rubber tires, it is quieter than most other metro systems.
Lines and Stations
The Montreal Metro system operated by STM has a total of 68 stations spread out over 4 underground lines totalling about 66 kilometres in length. Metro lines are numbered 1 (Green Line), 2 (Orange Line), 4 (Yellow Line) and 5 (Blue Line). Each line is represented on the Montreal Metro Map by its corresponding color. Line 3 was planned but never built.
With top speeds up to 72km per hour and no traffic to slow it down, Montreal's Metro system will quickly get you within walking distance of most of the city's popular tourist attractions. Where it doesn't, you can easily transfer to a bus to get closer. Passes are valid on both so you won't have to pay again unless you are purchasing single trip fares.
The below Map of the Montreal Metro system shows all frequent service bus routes in a simple clear design which will make it easy for you to get anywhere in the city.
Service frequency and best times to travel
Trains are frequent on all lines with service frequency varying between 3 and 11 minutes depending on the line and the time of day. The first trains depart daily at 5:30 am and service continues until after midnight on all lines. On Line 5 the last trains depart at 12:15 am; on Lines 1 and 2 at about 12:30 am and 1 am on Saturday); on Line 4 at about 12:50 am and 1:30 am on Saturday. If you our out later that this you will have to take a night bus. Times for the first and last trains are also printed in the lower right corner of the Metro Map below.
Trains do get very busy during the morning and afternoon rush, so we recommend planning your travel during off peak hours for a more relaxed trip.
Stations
Entrances to the Montreal Metro are signed with and inverted arrow inside a circle on a light blue background. An exception is the Saint-Antoine entrance to the Square-Victoria station which is signed with a decorative Art Nouveau "METROPOLITAIN" sign exactly like the ones in Paris; a gift to Montreal from the RAPT which is the public transport authority in Paris. The metro has five intermodal stations where you can transfer to light rail commuter trains operated by AMT. These stations are identified on the metro map below by station markers with a heavy black border.
The busiest and most important station to be aware of is Berri -UQAM. It is located at the junction of 3 of the 4 Metro lines: 1 (Green Line), 2 (Orange Line), 4 (Yellow Line) making it a major transport hub. Located in the Latin Quarter, it's only 2 stations east of Downtown Montreal on Line 1 and even closer to Old Montreal.
The next stop is announced in French as your train leaves each station and onboard route maps help you keep track of your progress. If you miss your station it is easy enough to exit at the next station and cross over to the other platform to backtrack. You don't have to leave the station.
Tickets and Fares
Tickets and passes for the Metro can also be used to transfer to a bus and vice versa. If you purchase a single fare ticket you on a bus you must ask for a transfer which is vallid 90 minutes. Visit our page on fares for our more information about purchasing and using tickets on the transit system including the Metro.
Recommended Resources
Official website: https://www.stm.info/
Montreal by Metro is an excellent source of interesting facts and information and about the Montreal Metro and has many good photographs of many of the different stations.
Montreal Metro Map with Frequent Service Bus Routes
Interactive Metro Map with streets and attractions
Open an interactive Montreal Metro Map overlaid on Google Maps to see the Metro lines in relation to the overall city and attractions.
Next Metro Departing Near Me
Click&Go Map and Route Finder. Enter your destination and click to find the next Train, Bus or Ferry departing near your location. Your complete route, all connections and total time are shown.
Enter Destination
Click Blue Button
Scroll down for route map and details including connections and times
Finding Your Route - Please Wait
More Info for Getting Around Montreal on Public Transportation
Photos