Montreal Buses
Guide to sightseeing and getting around in Montreal by bus during your vacation
Updated on December, 08 2019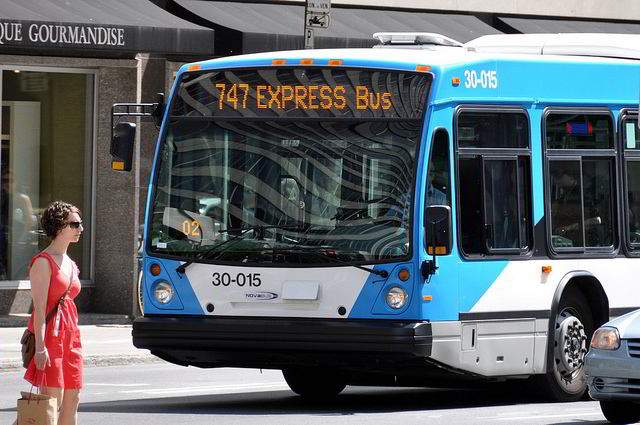 While the Montreal Metro will get you in close proximity to the majority the attractions and historic districts in, you may need or even want to take a bus for some of your sightseeing in Montreal. Your first exposure to the Montreal bus system may start at the airport where the best public transit option for getting into the city is the 747 Express Bus.
Bus routes for sightseeing
Of course, when it comes to sightseeing, the Metro is completely underground so, while it is ideal for getting you to your destination quickly, you may still want to hop on a transit bus to explore some of the city's sights or at least get a bit of an overview. If you are feeling adventurous, it can be fun to hop on a bus, sit back, enjoy the sights and get yourself little lost. Route 129 and the route 715 shuttle are good choices for doing some sightseeing.
Route designations and schedules
Like the Metro, Montreal's bus network is operated by stm where you can find more information on routes and schedules along with maps. We also recommend which bus to take to any attraction beyond a reasonable walking distance from the Metro. There are a total of 196 daytime bus routes serving the island that Montreal is situated on. There are also 23 night bus routes. Route numbers range from 10-299 for regular bus routes; night route numbers are in the 300 range; express routes are in the 400 range and shuttle bus routes are in the 700 range. The map below shows all of the frequent service bus routes and there relationship to the Metro. Its simple and clear design makes it ideal for visitors trying to get around the city.
Bus Fares
Bus fares can be paid by cash when boarding and you can ask for a transfer that is valid for transfering to another bus or the Metro for up to 90 minutes. If you purchase a 1 or 3 day smart pass, which we highly recommend, you can use it on all stm buses and on the metro without limit. You just have to tap it on the fare reader when boarding the bus.
Travelling beyond the city
If you plan on travelling to the neighbouring cities that are off the island, they have their own bus system. In Laval the bus network is run by Société de transport de Laval known simply as STL and in Longueil the buses are operated by Réseau de transport de Longueuil known as the RTL. Single trip fare tickets, 1 day, 3 day and weekend passes are valid on these buses as well.
Montreal Frequent Service Bus and Metro Map
Next Bus Departing Near Me
Click&Go Map and Route Finder. Enter your destination and click to find the next Train, Bus or Ferry departing near your location. Your complete route, all connections and total time are shown.
Enter Destination
Click Blue Button
Scroll down for route map and details including connections and times
Finding Your Route - Please Wait
More Info for Getting Around Montreal on Public Transportation
Photos
The 747 Airport Express Bus may well be your first introducion to the Montreal Transit System cc licensed photo by Zanastardust