Bike Share Toronto
Toronto's Bike Share program is a great option for exploring the city
Updated on April 8, 2023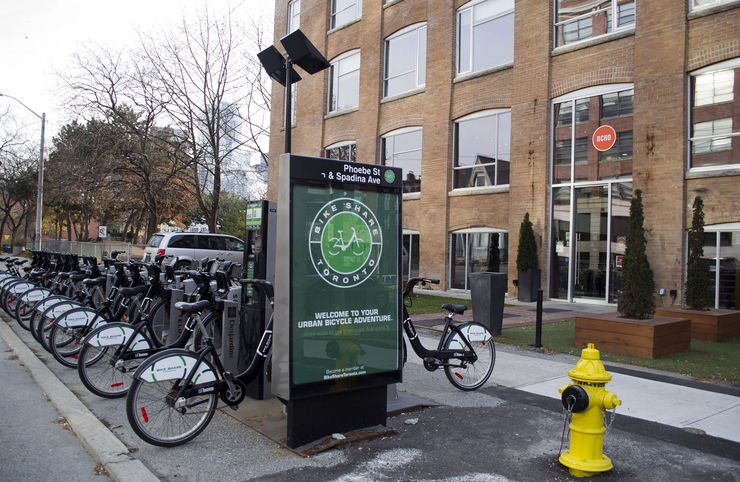 One efficient way to get around downtown Toronto that is both healthy and environmentally friendly is a bike program called Bike Share. This system is brilliantly set up to help commuters and visitors who want to maneuver around the city without having to drive through all the heavy traffic. Not only is this a fun way to get around it's also good exercise, perhaps the perfect compromise between walking and using other forms of public transportation.
The bike share program is set-up for short trips making it very affordable. The way it works is you pay by credit card or the easy to use mobile app at the kiosk and ride to the station closest to your destination. Once there, you park and lock the bike up for the next person to use.
Bikes and Stations
There are a more than 7100 bikes and 525 e-bikes distributed throughout 680 stations; 80 of them throughout downtown Toronto. Bicycles can be returned to any one of them making this very efficient and convenient for those commuting, but also great for visitors and casual users as well. This creates an entire chain of accessible connections and combinations of arrival and departure points.
The bike stations are accessible 24 hours a day throughout the year. Exceptions may occur for safety during inclement weather.
Bike Share bicycles are built to endure many riders so their frames are sturdier and heavier than those that you would use for longer trips. Designed to get you from the start of your destination to the finish without issues, they are regularly maintained by qualified mechanics and have safety features such as front and rear lights, bells, fenders, and chain guards to help protect clothing.
Bike Share Toronto Prices
Anyone wanting to take advantage of this program has a few different options to choose from. Visitors will want to take advantage of the 24-hour access pass for $15 which provides unlimited rides up to 90 minutes in duration on standard bikes (e-bikes are available on a pay-per-minute rate plan). The $105 annual membership allows riders to take as many trips as they want during their validity period with each ride lasting up to 30 minutes. There are additional fees for those that keep the bikes longer than the allotted time per journey, but with so many docking stations so close together it is rarely a problem to dock a bike and then take out another within the allotted limit.
Conditions
Those who wish to take a bike out must be 16 years of age or older. If under the age of 18 you must be accompanied by a parent or guardian. In Toronto if you are under 18 years of age cyclists are required by law to wear a helmet and are encourage to bring their own.
Official Website: https://bikesharetoronto.com/
More Info for Getting Around Toronto on Public Transportation
Bike Share Toronto Bike Station and Bikes