Riding the Streetcar in Toronto
You haven't experienced Toronto until you go for a ride on a Streetcar
Updated on April, 08 2023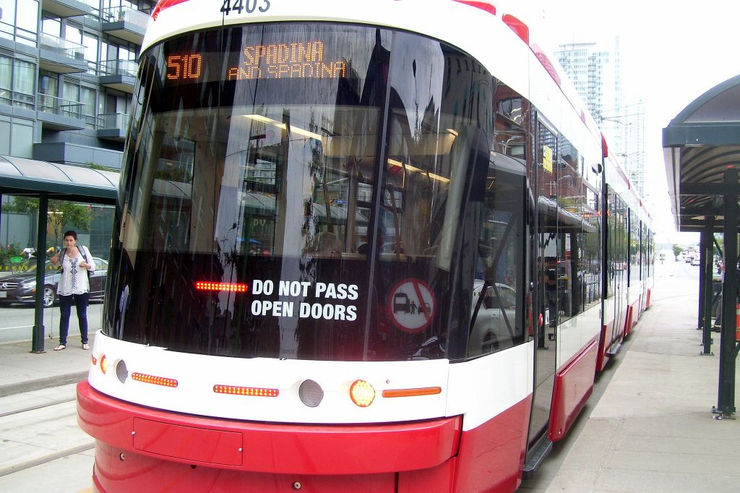 While many destinations and attractions in Toronto are just a short walk from a subway Station others will require a connection via Toronto's bus or streetcar system. Toronto supplements the rapid transit system not only with buses, but with a network of 11 streetcar routes. The routes numbers range from 501 thru 514. Unlike rapid transit, streetcars have frequent stops along their routes where they stop as required to pick-up and drop off passengers.
Best Streetcar Routes for sightseeing in Toronto
One benefit of riding the streetcars as opposed to the subway is the opportunity they provide for some inexpensive sightseeing as they make their way across the city. Some good routes for sightseeing are listed below along with some of the districts the serve.
Tips for riding the Streetcar in Toronto
Most of the streetcar routes run on roads in mixed traffic, however many routes are being upgraded to operate inside dedicated rights-of-way to provide separation from traffic. They run along medians with raised curbs and are aided by special traffic lights at intersections. This helps provide more efficient service and safer operations by reducing slowdowns from traffic congestion and lowering the risk of being completely blocked due to a motor vehicle accident.
Drivers of other vehicles are required by law to stop when streetcars open their doors, however, it is important to always look to your right when getting off a streetcar to ensure that all cars have stopped, then move quickly to the sidewalk when safe. When boarding a streetcar wait until it comes to a full stop and opens it doors, then check for traffic before stepping from the sidewalk to board the streetcar.
Toronto has recently started phasing in new modern streetcars known as the Flexity on Spadina Avenue, one of Toronto's major thoroughfares, and on the new 514 route. These new street cars are longer, quiter and smoother riding than the older models and they feature multi-door boarding. Click on the 'Photos' Tab to see some photos of these new modern streetcars.
Update: Boarding by any door is now permitted on the all Streetcars and routes, providing you have a valid fare with you, however on the older streetcars you'll still have to enter via the front door and obtains a transfer if you are paying by ticket, cash or token.
If you are in possession of a valid fare you can enter the new streetcars through any door by just pushing a button. Tickets may be purchased from ticket vending machines located on the sidewalk at major stops. You cannot pay the driver on the new streetcars. Be sure to keep you valid ticket or pass handy at all times incase you are asked for it by a fare inspector.
Official Website: TTC Toronto
Toronto Streetcar Map
Interactive Streetcar Map with Streets and Attractions
Open an Interactive Toronto Streetcar Map with Streets. Find the next departure near you with our Click&Go Map and Route Finder.
More Info for Getting Around Toronto on Public Transportation
Photos