Mackenzie House Toronto
The Mackenzie House Museum is where Toronto's first mayor, William Lyon Mackenzie lived during the last 12 years of his life.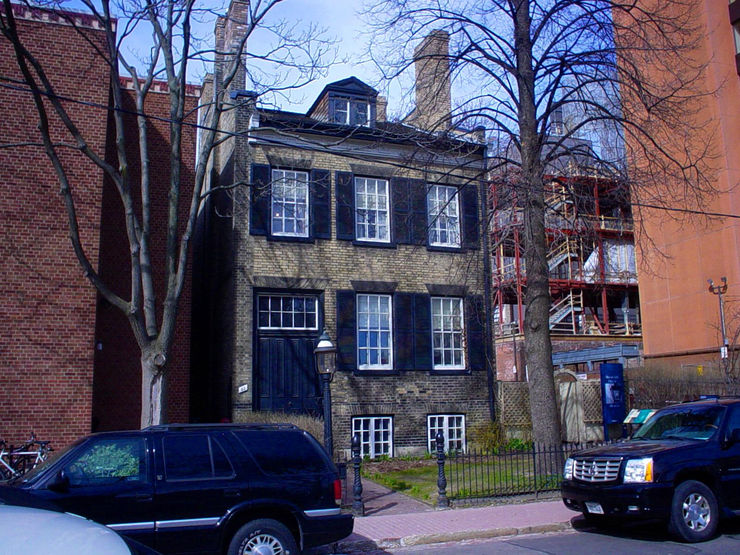 The Mackenzie House Museum is the historic home on Bond Street where Toronto's first mayor, William Lyon Mackenzie lived during the last 12 years of his life. By the 1930s almost all of the houses on Bond Street were destroyed or converted to something else. The Mackenzie house was spared this terrible fate when businessman T. Wilbur Best bought and established the Mackenzie Homestead Foundation. On May 9th, 1950 after many renovations he opened the home as a Historical Library and Museum.
For an appreciation of this historic house and museum it is important to know the history and passion of the man who lived there.
William Lyon Mackenzie (March 12th 1795-August 28th 1861) born and grew up in Scotland moved to England to find work after the general store that he and his mother ran went bankrupt in 1814. Shortly after that in 1820 he sail to Canada.
He settled in what we now call the western lower portion of Ontario which at the time was named upper Canada. Here he worked as a journalist, whose political ideas during that era helped to bring conflicting notoriety to him.
This short stature, out spoken, opinionated, fiery tempered man got his political ideas across through his publications. In May 1824 William L Mackenzie published the first edition of The Colonial Advocate. This instantly became a prominent voice of the new Reform movement.
Mackenzie believed in a democratic government that was elected and responsible to the people they represent. These ideas came from the way the United States ran their government instead of the monarch which was the British way.
Mackenzie's written outspoken attacks on the authoritarianism brought retaliation against him. There were libel suits, threats and physical attacks. In 1826 opponents destroyed his printing press and threw the type into the lake.
This did not stop him from harshly attacking his opponents verbally and being repeatedly thrown out of Assembly, yet continually being re-elected by his local constituents.
In 1834 William Lyon Mackenzie was elected Toronto's first Mayor.
In 1836 he was defeated at the polls and in the fall of 1837 Mackenzie with an vengeful mind-set turned to armed revolt. On December 5th he, with the support of other rebels, decided to march down Yonge Street towards the house of the Lieutenant-Governor hoping to gain more supporters along the way. This was interceded and stopped by loyalist guards and two days later, loyalist armed forces over took many of the rebels. Mackenzie fled to the United States and was soon joined by his wife and children. In the US he continued with his writing and publishing work, living there for 10 years. One of those years he spent in prison for not complying to the neutrality law set in the U.S. when publishing the Mackenzie Gazette that he founded.
In 1849 at a government pardon, Mackenzie returned to Canada undeterred resuming both his political and journalistic career until he retired in 1857. At this time his friends and supporters gave him a house in appreciation of all the years that he served the community. This home on Bond Street is where Mackenzie lived out the rest of his life.
In 1949, while businessman T. Wilbur Best was in the final stages of preparing the Mackenzie House to be opened as a museum, William L Mackenzie was declared a National Historic Person. In 1951 the National Historic Sites and Monument Board of Canada installed a plaque in his honour at the Museum. The plaque was later replaced in 1984 by Parks Canada and is situated on the path leading up to the entrance of the Museum. In 1960 the Mackenzie Homestead Foundation turned over the building to the Toronto Historical Board that was established in July that year.
This is one of ten historical museums run by the City of Toronto. These sites bring life and understanding to visitors of the past with stories and items that give you knowledge and insight in history connecting them to the present.
The Toronto Historic Board made more renovations in 1967 adding an updated wing which contains a gift shop, exhibit gallery, and a 19th century reconstructed print shop.
The exterior of the the mid 1850s Mackenzie house has retained several of its original features.
The interior plan of the house is typical to the nineteenth century style. It has four storeys including a basement and attic.
Mackenzie House Museum has an on site library containing documents relating to the history of the Mackenzie family as well as Toronto. You will also find material relating to the Historic Museum's restoration and administration. Some of the knowledge that was accumulated to providing details in the Museum's restoration projects came from diaries, account books and corresponding material by William Lyon Mackenzie.
There are artifacts in the museum that explain how the middle class in Toronto lived in the mid 19th century as well as making a direct connection to the Mackenzie family and their lives. Such artifacts include an embroidered slipper chair in the parlour, a Empire style dresser in the Master bedroom and pictures of William and his wife Isabel that were painted in 1934.
Facts For Your Visit
Fee:
Yes there is a small admission fee which includes a tour when available.
Regular Hours:
May differ on holidays
Monday: Closed
Tuesday: Closed
Wednesday: 11:00 AM – 4:00 PM
Thursday: 11:00 AM – 4:00 PM
Friday: 11:00 AM – 4:00 PM
Saturday: 11:00 AM – 4:00 PM
Sunday: 11:00 AM – 4:00 PM
Address: 82 Bond St, Toronto, ON M5B 1X2, Canada
Phone: (416) 392-6915
Official Website: Mackenzie House
Reviews
Rated 4.7 out of 5

Printing workshop is so lovely and interesting. The hosts are the guys who spread the love for what they do and involve you to this small part of Toronto history and the fate of the first mayor Mckenzie. Recommended for visiting, eventhough the house itself is under renovation right now.
U L - 6 months ago
Lovely!!! We enjoyed our tour and the young lady was very informative 😊 thank you.
Hemlock Forever - 1 month ago
Still being restored after a flood so not so much to look at in the main house, but the guides more than offset that with their stories. The printing demonstration (which you can try) is worth the trip by itself. There's also a great walking tour (self-guided) that you can do from there to learn about remarkable Toronto women in history.
Jenn McArthur - 1 month ago
The only reason I'm giving the museum a 4 starts and not 5, it's because the museum is under renovation. We cannot visit the house, only the print shop. The house guide was very knowledgeable and made the visit worth our time. You can print your name, learn to use the press and then take the poster with you as a gift. Really enjoyable and we will be back when the house is ready.
2003sussu - 20 days ago
Even though the main house is closed due to water damage, the hands on "tour" of the printing press and some of storytelling of the newspapers that William Mackenzie printed and distributed was fun. Vanna did a great job - there were only two of us, so it was essentially a private tour. She also talked about others who printed local newspapers, like Mary Ann Shadd, who has quite a story of her own. It was interesting thinking about the process that used to be used to print and communicate.
Michael Blair - 1 year ago
Read all Reviews

Accommodations near Mackenzie House:
Directions
| TTC Subway Line | Nearest Station | Walking Time |
| --- | --- | --- |
| Yonge-University-Spadina | Dundas Station | 4 MInutes |
How to get to Mackenzie House by TTC Subway
Exit the subway at Dundas Station and walk east passing Dundas Square until you get to Bond Street. Go right (south) on Bond Street. The Mackenzie House Museum is just ahead on your left.
Map & Instant Route Finder
Click&Go Map and Route Finder with public transit, walking, driving or cycling directions. Get up-to-the-minute transit times for your route.
Finding Your Route - Please Wait
Photo Gallery
Video