Humber Bay Park
Humber Bay Park is located west of Downtown Toronto on the shore of Lake Ontario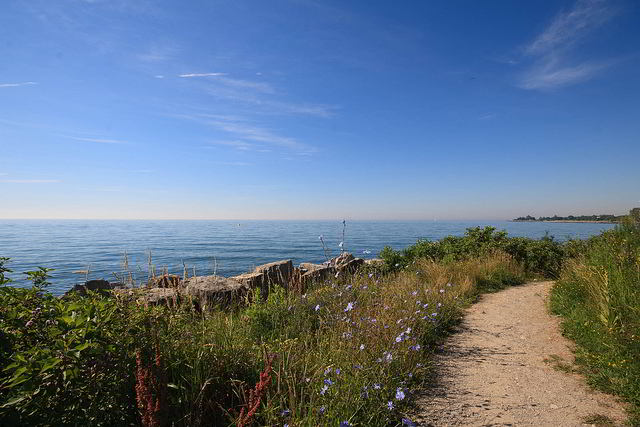 Humber Bay Park is a beautiful recreational area consisting of three smaller contiguous parks located on the shore of Lake Ontario southwest of downtown Toronto. East Humber Bay Park and West Humber Bay Park are on two spits of land straddling the outflow of Mimico Creek. Humber Bay Shores Park stretches farther west along the shore of Lake Ontario toward downtown Toronto. The overall park spans about 2 kilometres of the lakeshore, but its actual waterfront and trail network is far longer.
Humber Bay Park Trails and Bridges
With numerous walking and cycling paths in the park, including the main Humber Bay Park West and Humber Bay Park East Trail, the park is popular with locals who like to enjoy the great outdoors.
Sections of the trail are joined by two bridges where they cross the water. One is a small bridge of unique design spanning Mimico Creek and joining East and West Humber Bay Park. The second bridge is the locally renowned Humber Bay Arch Bridge, which crosses the outflow of the Humber River connecting Humber Bay Park East Trail with Martin Goodman Trail. This striking bridge is 430 feet long and 70 feet tall. It is located at the eastern end of Humber Bay Shores Park.
The Martin Goodman Trail, in turn, connects with the Waterfront Trail that runs along the harbourfront of downtown Toronto and is eventually going to extend along the entire north shore of Lake Ontario.
As you can see, there's no limit on how far one can walk or cycle, as you can continue beyond the park in either direction for many kilometres.
Park History
Over 5 million cubic metres of lake fill were used to create the park, which opened in the summer of 1984.  Ongoing projects include restoring natural habitat by planting shrubs and trees, establishing meadows filled with lovely wildflowers and creating butterfly habitat, wetlands, and fish habitat.
Park Amenities
Amenities include the walking and cycling trails, picnic areas, a playground and beachfront.  There's a swimming pool, a ball diamond, tennis and basketball courts and, in the winter, an ice rink. There's also a pond for fly casting and a wheelchair accessible fishing pier.  The west park features a historic lighthouse.  In addition to the above, Humber Bay Park provides spectacular views toward Downtown Toronto making this an outstanding area to visit on a nice day.
Facts For Your Visit
Official Website: Humber Bay Park East
Fee:
No
Regular Hours:
May differ on holidays
Monday: Open 24 hours
Tuesday: Open 24 hours
Wednesday: Open 24 hours
Thursday: Open 24 hours
Friday: Open 24 hours
Saturday: Open 24 hours
Sunday: Open 24 hours
Address: 100 Humber Bay Park Road East, Toronto, ON M8V 3X7, Canada
Phone: (416) 392-2489
Official Website: Humber Bay Park East
Reviews
Rated 4.7 out of 5

Humber Bay Park East is a wonderful destination with so much to offer! The abundance of condos and restaurants nearby makes it a vibrant and convenient location. We appreciated the ample parking available, ensuring a stress-free visit. The park's dog-friendly atmosphere allowed our furry friends to join in on the fun. The Air India memorial serves as a poignant reminder of history. The boardwalk is a fantastic addition, providing a scenic stroll with an incredible view of downtown. However, it's disheartening to encounter the occasional appalling cannabis smell near the bushes, and some pet owners not picking up after their dogs. Additionally, witnessing people littering with empty bottles and cigarette stubs was unfortunate. Despite these minor downsides, Humber Bay Park East remains a must-visit spot for its overall beauty and attractions

Vimal V - 5 months ago
Beautiful Park - A True Jewel of Toronto I came here during Victoria Weekend for a visit. Despite the construction going on I felt it still deserved a 5-star. Visited both East and West part. I liked better the east since I could capture best view of Toronto's skyline as well as Lake Ontario. My mother enjoyed it especially the 2 big swans swimming around. We almost gave up since there was almost no parking (better come early).

George Sandoval - 5 months ago
Humber Way Park is a hidden oasis nestled in the heart of nature. With its lush green spaces, winding trails, and serene river views, it offers a peaceful escape for visitors. Whether you're looking to hike, cycle, or simply relax, Humber Way Park is a haven of natural beauty.

aakriti singla - 5 months ago
Really good place if you want to spend some time with your loved one. I recommend a bottle of champagne/wine for couples.🍾😛

Deep Inder - 1 month ago
A lively, beautiful place for humankind. Dogs, bikes skateboards, walkers. All languages being spoken. Boats gather and moor in #AlbertsCove for safety and free fun.

Lorna O Davison - 5 months ago
Read all Reviews

Accommodations near Humber Bay Park East:
Directions
| TTC Subway Line | Nearest Station | Walking Time |
| --- | --- | --- |
| Yonge-University-Spadina | Osgoode Station | 0 Minutes |
How to get to Humber Bay Park East by TTC Subway
Make your way to Osgoode Station on the Yonge-University-Spadina Line and take the #501 Long Branch streetcar from just east of the station to Lake Shore Boulevard at Legion and walk south into the Park.
Walking from Downtown Toronto to Humber Bay Park along the Waterfront Trail is also doable if you enjoy longer walks. It takes about 2 hours one way for the 10 kilometre walk. Consider it a walking tour and enjoy the fabulous scenery along the way. Walking one direction and taking public transit back is a great option.
Map & Instant Route Finder
Click&Go Map and Route Finder with public transit, walking, driving or cycling directions. Get up-to-the-minute transit times for your route.
Finding Your Route - Please Wait
Photo Gallery
Humber Bay Park

Bridge between East and West Humber Bay Park cc licensed photo by John Vetterli

Humber Bay Arch Bridge cc licensed photo by Tania Liu

Intriguing design of the Humber Bay Arch Bridge cc licensed photo by Tania Liu

Humber Bay Bridge from the shore cc licensed photo by Rain0975

Photo Credit: archer10 (Dennis) - cc license via Flickr

Photo Credit: MSVG - cc license via Flickr

Photo Credit: MSVG - cc license via Flickr

Photo Credit: MSVG - cc license via Flickr

Photo Credit: MSVG - cc license via Flickr

Photo Credit: MSVG - cc license via Flickr

Photo Credit: MSVG - cc license via Flickr

Photo Credit: MSVG - cc license via Flickr

Photo Credit: MSVG - cc license via Flickr
Video