Todmorden Mills Heritage Site
The natural environment along with a wildfliower preserve and historic buildings make the Todmorden Mills Heritage Site in Toronto a fascinating place to explore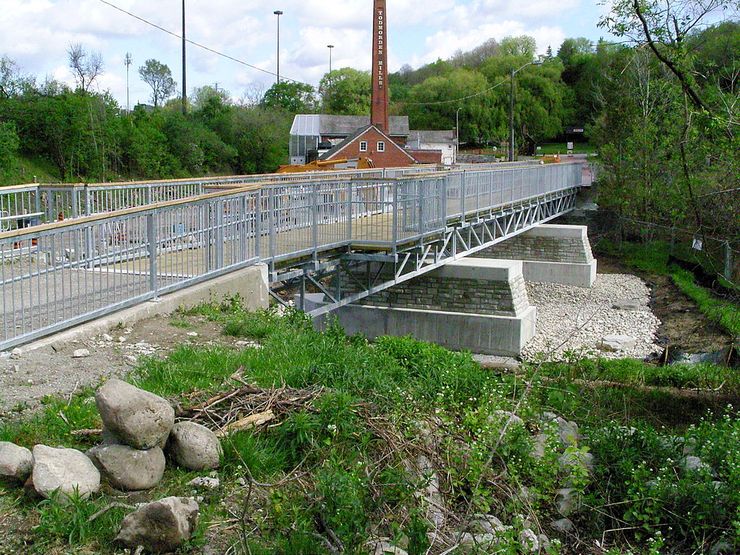 Located in the beautiful scenic Don River Valley, Todmorden Mills Heritage Site and Art Centre which is surrounded by 37 acres of green space was once an industrial community. It is actually one of ten historic sites and museums run by the City of Toronto. There are tours and exhibitions for visitors to enjoy and educate you on the way our history relates to our present.
This Historic Site has four influential restored and preserve heritage buildings both residential and industrial. These include the restored paper mill that has a Theatre and Gallery in it, the Brewery Gallery and two historic houses including the Helliwell residence which was built in the late 1830s.
You can enjoy exploring over 20 acres of land in the Todmorden Mills Wildflower Preserve with winding walking trails that explore many natural dwellings such as forests, swamps and meadows.
There is even an old red brick road that goes from the Todmorden Mills to the Don Valley Brick Works.
At present the site has four influential restored and preserved heritage buildings both residential and industrial. These include, the restored paper mill that has a now features a Theatre and a Gallery, the Brewery Gallery and two historic houses, including the Helliwell residence which was built in the late 1830s.
Background and History
In the late 1700s the Skinner brothers, Aaron and Isaiah, got permission from the Lieutenant Governor of Upper Canada John Graves Simcoe to purchase some property along the Don river with the understanding that it was to be used to open a sawmill. This business proved to be very successful and the brothers soon decided to expand their business by adding a grist mill.
In 1821, the Helliwell family who immigrated from England to the Don Valley, named the area they settled in The Todmorden because it reminded them of their home town of Todmorden in Lancashire. The family opened a successful brewery and distillery that ran up until it was destroyed by a fire in 1847.
During the early 1800s most of the area was dominated by the Skinnner brothers and Helliwell families who produced an array of materials and products which included lumber, paper, flour, beer and whiskey.
In 1825 one of the grist mills was transformed into a paper mill. This paper mill became the first to produce machine made paper in Upper Canada or what is now primarily Southern Ontario. This provided newsprint for part of the settlement's original publications including William Lyon Mackenzie's popular newspaper The Colonial Advocate.
After the fire in 1847 the Helliwell family sold their land in 1855 to the Taylor brothers; Thomas, William and George. At that time most of the property in Todmorden was owned by the Taylor's who became widely known for their brick manufacturing company, supplying many well known structures in Toronto with brick that came from their Don Valley Pressed Brick Company. Casa Loma and Massey Hall are just a couple of examples of those historic buildings.
In 1954 Hurricane Hazel did a huge amount of damage creating winds that reached 110 kilometres and dumping 285 millimetres of rain in 2 days, killing 81 people. Later the Metropolitan Toronto and Region Conservation Authority was organized to protect people from natural disasters. The MTRCA declared the land where the site is now as a portion of the flood plain. This was significant in stopping any more development in the area and saving the existing historic building from being redeveloped.
Preserving this historical site was the vision of East York's Mayor True Davidson and Charles Sauriol a conservationist who when growing up in Toronto had camped in the Don Valley and fell in love with that area and the outdoors in general. As an adult he bought 40 hectares of land at the Fork of the Don where he brought his family up to their cottage every summer. Here he wrote four books about the history of area.
In 1958 the Metropolitan Toronto and Region Conservation Authority expropriated a section of his property to build the Don Valley Parkway against his wishes even though at that time he was employed by them. One decade later they expropriated the rest of his land as part of a bigger plan to own the majority of the private property in the Don Valley.
In 1965 the houses which were on the grounds were expropriated by the Borough of East York and made part of the museum. These were in turn restored and opened to the public during the Canadian Centennial year of 1967 as part of East York's addition to the celebrations honouring the pioneers of Don Valley.
In 1989 in honour of Charles Sauriol and all the advocacy and conversational work he did for the Don Valley a section of land was named The Charles Sauriol Conservation Reserve after him. This portion of land is on the east side of the valley and runs along the Don River starting at the forks and going up to Lawrence Avenue East.
In 1991 Charles Sauriol and Dave Money (former president of the Ontario Horticultural Association) established the 20 acre ecological rehabilitation site named The Todmorden Mills Wildflower Preserve.
Another interesting fact is that a German prison camp which was situated in the location of the current parking lot during World War II.
Facts For Your Visit
Fee:
No
COVID-19 Advisory
Many indoor and even some outdoor tourist attractions are temporarily closed due to the Global COVID-19 pandemic. If the hours of operation are shown below, they may not reflect these closures. Please verify hours with any attraction before visiting.
We believe the measures being taken are absolutely neccessary to preserve lives and we pray for everyone and their families as the world works together to get through this crisis.
Category: Venues & Event Spaces Museums
Address: 67 Pottery Rd
Toronto, ON M4K 2B9
Canada

Phone: +1 416-396-2819
Reviews
ART show celebrating the 70th Anniversary of Don Valley Art Club has 180 paintings by almost a hundred local artists. On until May 13th. Not to be missed. Read More
Terry T. May-04-2018
I came here expecting a museum. The building is original, but it's been basically gutted as an exhibition space for artwork. I feel like there's more than... Read More
Steve A. Sep-05-2016
We did a children's play at Todmorden Mills Theatre. Everything was amazing. It is a small venue, maybe 200 seats, very nice stage. The sound technician was... Read More
Eli C. Aug-06-2014
Accommodations near Todmorden Mills Heritage Site:
Directions
| Subway or Streetcar Line | Nearest Station | Walking Time |
| --- | --- | --- |
| Bloor-Danforth, #504, #505 | Broadview | 5 Minutes |
How to get to Todmorden Mills Heritage Site by Subway or Streetcar
Take the Bloor-Danforth Line Subway or a #504 or #505 Streetcar to Broadview Station. From the station you can take any bus (#8, 62, 87, 100 or 322) going north on Broadview and get off at Pottery Road. Walk west along the bike and pedestrian path that runs along the left side of Pottery Road until you come to a set of stairs that go down to the heritage site. The park and site are just down the hill from the road.
Map & Instant Route Finder
Click&Go Map and Route Finder with public transit, walking, driving or cycling directions. Get up-to-the-minute transit times for your route.
Finding Your Route - Please Wait
Photo Gallery
The historic paper mill and landmark chimney at the Todmorden Heritage Site in Toronto cc licensed photo by Min Min

Another view of the old paper mill showing the red brick path

The historic Helliwell House cc licensed photo by UFORA

Parklike setting at Todmorden Mills Heritage Site cc licensed photo by Jeremy Burgin

Photo Credit: Yelp

Photo Credit: Yelp

Photo Credit: Yelp
Video