Downtown Toronto Highlights Walking Tour
This 6 Kilometre self-guided walking tour will take you past and through some of Downtown Toronto's most interesting architecture, parks and attractions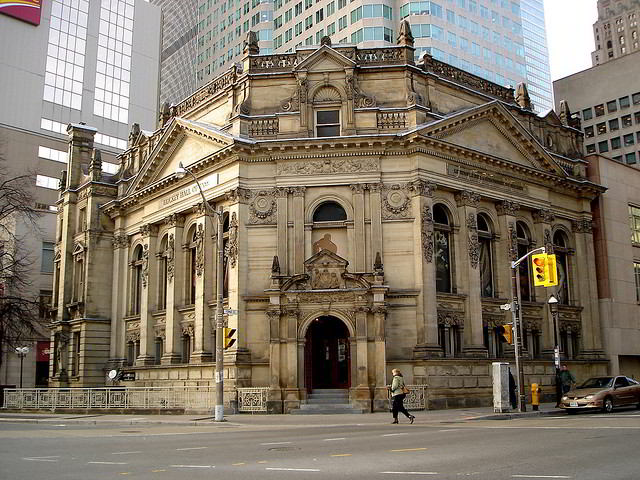 We begin our Toronto Highlights walking tour at Union Station, but you can just as easily begin and finish this tour at either St. Andrew, Osgoode or Queen Subway Station as they are all located along the tour route. This also facilitates those who may wish to complete just a portion of this walking tour or to complete it in 2 sessions.
During this tour you will enjoy up close views of many Toronto landmarks, explore a number of small but interesting urban parks and green-space and you will see some amazing examples of modern and old architecture including some magnificent historic churches. There will be plenty of opportunities to stop for some lunch or refreshments along the way.
Actual walking time is less that 90 minutes at a normal pace, but we recommend you allow at least 2 and preferably 3 hours to enjoy this tour at a leisurely pace.
For step-by-step directions just click on the Map & Directions Tab at the top of the page.
Directions
| TTC Subway Line | Nearest Station | Walking Time |
| --- | --- | --- |
| Yonge-University-Spadina | Union, St. Andreew, Osgoode or Queen Station | 0 Minutes |
How to get to Downtown Toronto Highlights Walking Tour by TTC Subway
No Bus required. Just refer to the map to start from Union, Osgoode Station or Queen Station
Starting from Union Station exit via the SkyWalk to the CN Tower. At the base of the Tower you can explore 3 small parks; Olympic Park just to the east and Bobbie Rosenfeld Park and Roundhouse Park are just south of the CN Tower.
From Bobie Rosenfeld Park walk north across the railway track overpass to Front Street and go right. Check out Simcoe Park on the north side of the road as you head down Front Street.
Next go left on Simcoe Street then left again on Wellington Street West. Go to your right through the plaza that sits between the Roy Thomson Hall and Metro Hall. When you get to King Street go to your right.
From King Street go left at University Avenue and walk all the way to Queen Street. Continue slightly past Queen Street and enter the pathway on your right that takes you across the front of Osgoode Hall.
After passing in front of Osgoode Hall turn back to Queen Street and just east of there enter Nathan Phillips Square where you will see both of Toronto's spectacular City Halls; the old and the new.
Make your way north along Bay Street past the New City Hall and Eaton Centre then go right into Trinity Square (opposite Hagerman Street) where you can see the historic Church of the Holy Trinity.
Exit Trinity Square to the south along James Street and then go left at Queen Street West. Head east for 3 blocks and look for the Metropolitan United Church on your left. After seeing it go right on Church Street.
Walk south along Church Street for 3 blocks and go left on Adelaide Street East. Just past the Anglican Diocese Archives building head right into St. James Park.
Exit St. James Park onto King Street East and enter the walkway leading into the Toronto Sculpture Garden (directly across from the Anglican Church).
Check out the Sculpture Garden and exit it to the south onto Front Street East. Cross over Front Street and follow it west past the Flatiron Building and stroll through Berczy Park which sits just west of the Flatiron Building.
Continue west along Front Street past the Hockey Hall of Fame and finally back to your starting point at Union Station. You are now done our Downtown Toronto Highlights Walking Tour!
Finding Your Route - Please Wait
Photo Gallery
Osgoode Hall and Nathan Phillips Square are some the areas you will see on our Downtown Toronto Highlights Walking Tour cc licensed photo by Jim Crocker

Looking up at the CN Tower near the start of our tour