Lachine Canal Walk
Take a break from the city with this leisurely walk along the banks of the Lachine Canal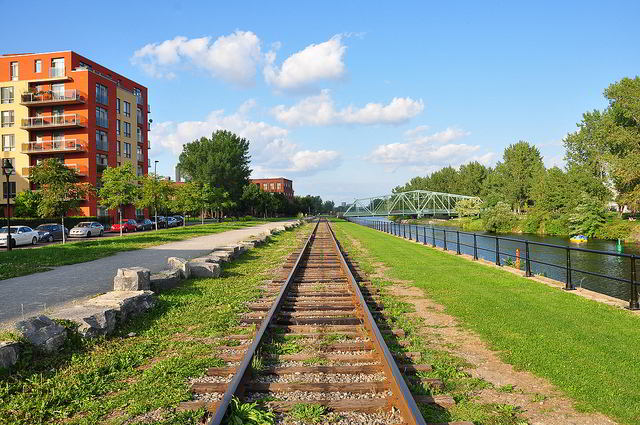 The banks of the Lachine Canal are a popular place for locals to walk, jog, cycle and enjoy the great outdoors. If you feel like you need a break from the hustle and bustle of the city, why not get off the beaten tourist path and take advantage of the miles of multi-purpose paved pathways and greenspace that border the banks of this historic waterway?
Our 5.3 kilometer Lachine Canal walking tour begins and finishes at a Metro Station making it easy to access by public transit. If you would prefer to walk even further, you can easily continue farther west crossing the canal at one of several additional bridges in order to return along the other side. A quick look at the map and you will get the idea.
During the warmer months you can also enjoy cycling along the canal by taking advantage of the BIXI Bike program which has a rental station right outside Station Charlevoix which is the starting point.
Directions
| Metro Line | Nearest Station | Walking Time |
| --- | --- | --- |
| Line 1 - Green | Charlevoix | 2 Minutes to the Canal bank |
How to get to Lachine Canal Walk by Metro
Take Metro Line 1 to Station Charlevoix; exit and proceed straight ahead (north) along Rue Charlevoix toward the green bridge. Enter the greenspace on the left side of the bride to begin the walk which follows the multi-purpose pathway.
Continue the walk westward along the south bank of the canal and cross over to the north bank at the pedestrian/cycle bridge immediately past the freeway overpass.
Return to the east along the north bank until Rue du Square Ir Georg and go left through the tree lined square with red paving stones and continue north all the way through the park past the fountain to the north end of the park at Rue Notre-Dame and cross the road to the far side and turn right.
Continue walking east along the north sidewalk of Rue Notre-Dame and go left up the steps immediately past the railroad underpass.
Follow the path at the top of the steps to Place-Saint-Henri Metro Station which is on Metro Line 2. From here you can make your way back to Downtown Montreal or to your next destination.
Finding Your Route - Please Wait
Photo Gallery
Beautiful shot of the Lachine Canal at night taken from the bridge at Rue des Seigneurs cc licensed photo by abdallahh

Photo Credit: Yelp

Photo Credit: Yelp

Photo Credit: Yelp