Montreal to Ottawa Day Trip
Enjoy a day trip from Montreal to Ottawa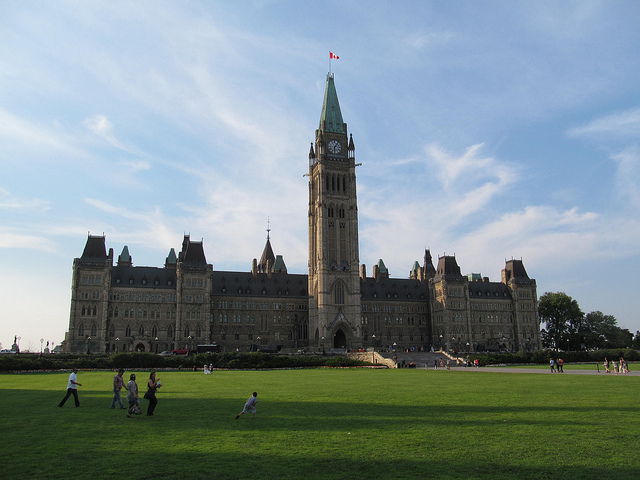 A day trip from Montreal to Ottawa is an ideal way to see and discover more of Canada. Ottawa is a beautiful city, home to Parliament Hill and the Rideau Canal. Read on to find out your options for this day trip.
You can get from Montreal to Ottawa on public transportation via one of the 2 methods detailed below. Once you make your way to Parliament Hill there are plenty of things to see on foot. For a more expansive tour of the city with an informative guide you could prebook an Ottawa City Hop-on Hop-off Tour or a Hop-on Hop-off City Tour Tour and Ottawa River Cruise Combo for when you arrive.
The first alternative is to take a Greyhound bus, which offers discounted online fares starting at about $36 CAD per person each way. Those rates are based on 2 or more people travelling together and booking online at least 3 days in advance. They are non-refundable. You an order refundable tickets, but they are considerably more. Once you arrive at the bus station in Ottawa you will have to walk east to Bank Street and catch a #1 OTC bus to the Parliament Hill area (about another 20 minutes). If you haven't prebooked a guided bus tour you may still be able to purchase seats on one in front of the Parliament Buildings.
The second alternative, Via Rail, is quicker than going by bus and typically costs $35 - $45 CAD per person each way, depending on the day and time of travel, for the special EscapeTM fare. At these prices, there are limited seats, so you need to book well in advance, as the regular economy fare is over double the price. As with the Greyhound bus option above, once you get to the Ottawa train station you will still need to catch an OTC bus into the Parliament Hill area to see the main sights of the city. This is also about a 20 minute bus ride, and again if you want to go on a guided tour you'll have to purchase that as well.
Any of the above methods will provide nice views of the Quebec countryside as you make your way to Ottawa. You won't regret spending one day of your vacation discovering more of Canada and its history with a day trip to Ottawa.
Directions
| Greyhound Bus or Via Rail Line | Nearest Station | Walking Time |
| --- | --- | --- |
| Greyhound | Berri-UQAM | 2 Minutes |
| Via Rail | Central Station via Bonaventure Metro Station | 2 Minutes |
How to get to from Montreal to Ottawa by Greyhound Bus or Via Rail
Greyhound trips begin at the Greyhound station located on Berri Street just north or Berri-UQAM Station
Via Rail trips depart from Central Station which is connected via the Underground to Bonaventure Metro Station
Photo Gallery
Boats in the Rideau Canal and the famous Chateau Laurier Hotel on the right

Overview of Byward Market with Parliament Hill in the background cc licensed photo by Ashwin Kumar

Photo Credit: Yelp

Photo Credit: Yelp

Photo Credit: Yelp

Photo Credit: tsaiproject - cc license via Flickr

Photo Credit: Ross Dunn - cc license via Flickr

Photo Credit: Ross Dunn - cc license via Flickr

Photo Credit: Ross Dunn - cc license via Flickr

Photo Credit: Ross Dunn - cc license via Flickr

Photo Credit: Ross Dunn - cc license via Flickr

Photo Credit: Ken Lund - cc license via Flickr

Photo Credit: Ken Lund - cc license via Flickr

Photo Credit: jfingas - cc license via Flickr

Photo Credit: Ken Lund - cc license via Flickr
Video