Day Trip to Quebec City from Montreal
Enjoy a memorable day trip from Montreal to Quebec City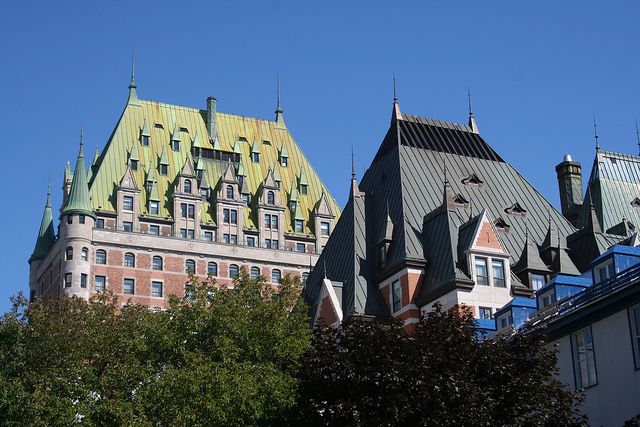 If you are already in Quebec, it would be an utter shame not to visit one of the most historic and picturesque sites in all of North America. We highly recommend making time for a day trip to Quebec City during your visit to Montreal.
Established over 400 years ago, by North American standards, Quebec City is a very old city - indeed it is one of the oldest European settlements on the continent. As a result of its antiquity and rich history the old portion of Quebec City has a very European flavour. Combine its location on the banks of the Saint Lawrence river and you have a very picturesque city, with quaint streets and beautiful architecture and interesting sites galore. A day trip to this charming and fun city is sure to leave you wanting more.
There are couple of options for going on this day trip; a do-it-yourself version by taking the train or a packaged day tour with expert guides.
The first or 'do-it-yourself' option is to book same day return trip to Quebec City by Via Rail If you book well in advance you can get the EscapeTM fare which currently range between about $60 and $90 CAD for an Adult round trip. There are limited seats at these prices and the regular economy fare is over double the price once they sell out. When you get to the Quebec City train station you can take advantage of the local buses, explore on foot, or purchase a hop-on-hop-off guided tour. The train is a very good option if you can book a hotel in Quebec City and spend and extra day or two exploring the city; certainly worthwhile if you have enough time.
The other option is to book a fully guided Quebec City Day Trip from Montreal which includes airconditioned coach transportation to and from Quebec City complete with a full tour of the city highlights by a knowledgeable tour guide when you are arrive. This tour operates every day from May through October and costs about $110 CAD including all taxes per adult; a great value when you consider the added value of hotel pickup and a fully narrated tour. There's also an option to add a 1.5-hour cruise on the St Lawrence River which bumps the price to about $155 CAD.
After a 2.5 hour bus or 3 hour train ride through the Quebec countryside you will be treated to a many spectacular sights in this historic Canadian city. If you opt for the guided tour, a portion of the sites you will explore include the world famous and magnificent Chateau Frontenac which is Quebec City's most iconic landmark, Place Royale, the Parliament Building, Montmorency Falls and the Plains of Abraham. You will also have time to stroll quaint old European style streets lined with beautiful old buildings, as well as the UNESCO World Heritage Site.
Whether you go it alone using Via Rail, or take the fully guided tour, you will take away memories that will last you a lifetime during your day trip to Quebec City.
Directions
| Via Rail Line | Nearest Station | Walking Time |
| --- | --- | --- |
| Via Rail | Central Station via Bonaventure Metro Station | 2 Minutes |
| Fully Guided Tour | 1255 Peel Street south of Peel Station or prearranged Hotel Pickup | 3 Minutes |
How to get to Quebec City by Via Rail
Via Rail trips depart from Central Station which is connected via the Underground to Bonaventure Metro Station
The fully guided Quebec City day tour departs from 1001 Dorchester Square just south of Peel Metro Station or hotel pickup can be prearranged by contacting the tour operator listed on your voucher.
Photo Gallery
Video