Old Montreal Walking Tour
Enjoy the ambiance and history of Old Montreal with our self-guided walking tour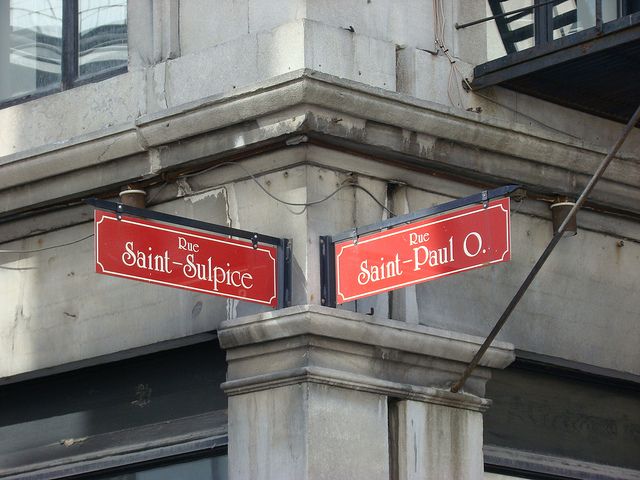 No where else in Montreal will you discover the charm and ambiance found in its oldest district. If you can only do one walking tour while visiting Montreal, this is the one we'd recommend. It is the perfect way to explore the city if you only have one day to visit.
Our walking tour begins at Champs-de-Mars station on the Orange line and after meandering through the picturesque and charming streets of Old Montreal for a distance of 3.5 kilometers, finishes at Place-d'Armes Station on the same Metro line. The actual walking time is a little under one hour, but we would recommend that you allow a minimum of 2 - 3 hours to complete the tour, as you will want to take time to explore and photograph some of the numerous attractions that line the route, not to mention exploring the boutique shops and galleries or stopping in for some tasty cuisine at one the many restaurants.
Many of Montreals most historic attractions and landmarks are in this area. We point out their location in the step-by-step directions located under the Map & Directions tab above. For more information on the individual attractions you can click on the links which will take you to the page on our site detailing that attraction.
If you would like a fully guided tour of Old Montreal you'll enjoy the following highly rated 1½ hour tour available in English or French.
Rating

From: $23.00 CAD...May vary slightly due to currency fluctuations
Soak in the rich history, culture and heritage of Montreal on this walking tour of Old Montreal. See famous sites such as Notre-Dame Basilica, Place Jacques-Cartier, City Hall and Champ de Mars, and learn about the city's amazing art and spectacular architecture from your guide, all while enjoying the quaint French charm. You can choose to tour the east side, west side or both the east and west sides of Old Montreal.
Directions
| Metro Line | Nearest Station | Walking Time |
| --- | --- | --- |
| Line 2 - Orange | Champ-de-Mars | 0 Minutes |
How to get to Old Montreal Walking Tour by Metro
Make your way to Champ-de-Mars Metro Station on the Line 2 and take the Saint_Antoine Sud (South) exit. Walk to your right (south) along Rue Gosford.
Go left on Rue Saint-Paul where you will pass Notre-Dame-de-Bon-Secours Chapel and also Bonsecours Market which is also one of many National Historic Sites located in Montreal.
Go right on Rue Berri.
Go left on Rue de la Commune East.
Go right at Place Jacques-Cartier and follow it to the far end at the Montreal City Hall, then double back down the other side to Rue Saint-Paul. Across from the the north end of the plaza you will see two historic buildings on either side of Vauquelin Square; Édifice Lucien-Saulnier (1856) to your left and Montreal City Hall (1878) to your right. Opposite the City Hall is the Chateau Ramezay Museum.
Go left on Rue Saint-Paul.
Go left on Rue Saint Sulpice.
Go right on Rue de la Commune East. The Pointe-a-Calliere Museum is ahead on the left and the Old Port Promenade is across the road by the river.
Go right on at the stop sign (Rue Marguerite D'Youville) followed by an immediate right onto Rue Saint Pierre and look for Centre d'Histoire de Montreal (Montreal History Centre) on your right at the next corner.
Go right on Place d'Youville.
Go left on Rue Saint Nicolas.
Go right on Rue Saint Paul.
Go left on Rue Saint Francis Xavier and watch for the Centaur Theatre located in the historic Montreal Stock Exchange building ahead on the right.
Go right on Rue Notre-Dame - Basilica of Notre-Dame is just ahead on the right.
Go left on Place des Armes.
Continue on Rue Saint Urbain to Place des Armes Station to complete your walk.
Finding Your Route - Please Wait
Photo Gallery
Some of the streets in Old Montreal will have you feeling like you are in Europe cc licensed photo by Geoff Livingston

Quaint architecture and dining in Old Montreal cc licensed photo by Richard Taylor

Colorful flags and cobblestones set apart Rue Saint-Paul in Old Montreal cc licensed photo by Belis@rio

Photo Credit: Yelp

Photo Credit: Yelp

Photo Credit: Yelp