Montreal Walking Tour - Old Port Promenade
Enjoy some great views of the Saint Lawrence River, Old Montreal and Ile Sainte-Helene with our Old Port Promenade Walk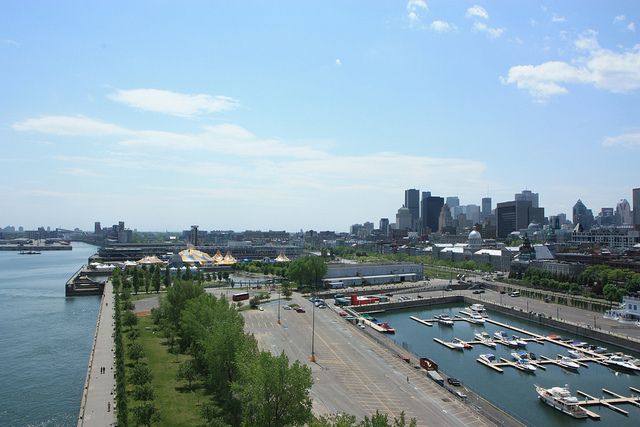 Our 3.7 kilometer walking tour of the Old Port Promenade through a small portion of the streets of Old Montreal as you make you way down to the revitalized promenade for a pleasant stroll along the scenic Montreal waterfront.
The Old Port of Montreal is an integral part of Old Montreal. It stretches for about 2 kilometers along the St-Lawrence River and was a center of activity as far back as the early 1600s when it served as a fur trading post. Like many other cities with waterfront areas, Montreal redeveloped the waterfront area in the 1990s to create a beautiful place for people to stroll and explore. The area now offers a great outdoor space and is home to several popular attractions.
Our walking tour of the Old Port of Montreal begins at Champ-de-Mars Metro Station and takes you down to historic Rue St-Paul past the iconic Bonsecours Market as you make you way to the waterfront area. After enjoying a stroll along the promenade area with its great views of the city and the opportunity to check out some of the area attractions, you can make your way back up to Victoria Square Station to complete your walk.
Total walking time is just under 1 hour, but we recommend you allow at least 1.5 to 2 hours to enjoy the walk at a leisurely pace. Click on the 'Map and Directions' tab near the top of the page for complete step-by-step directions.
Directions
| Metro Line | Nearest Station | Walking Time |
| --- | --- | --- |
| Line 2 - Orange | Champ-de-Mars | 0 Minutes |
How to get to Montreal Old Port by Metro
Make your way to Champ-de-Mars Metro Station on the Line 2 and take the Saint_Antoine Sud (South) exit. Walk to your right (south) along Rue Gosford.
Go left on Rue Saint-Paul.
Go right on Bonsecours Street just past Bonsecours Market and before Notre-Dame-de-Bon-Secours Chapel.
Cross over Commune Street East and continue out towards the water along clock tower Quay Street to the Promenade walkway. See the map for guidance.
Follow the Promenade to the Montreal Clock Tower and back.
Continue back through Bonsecours Basin Park towards Commune Street, but stay on the promenade following it southwest, passing the Montreal Science Centre and beyond until it meets up with the intersection of Commune and McGill Street.
Cross the street and walk northwest up McGill Street to Victoria Square Metro Station to complete your walk.
Finding Your Route - Please Wait