Sydney Light Rail
Visitor's guide to getting around Sydney on Light Rail
Updated on December, 08 2019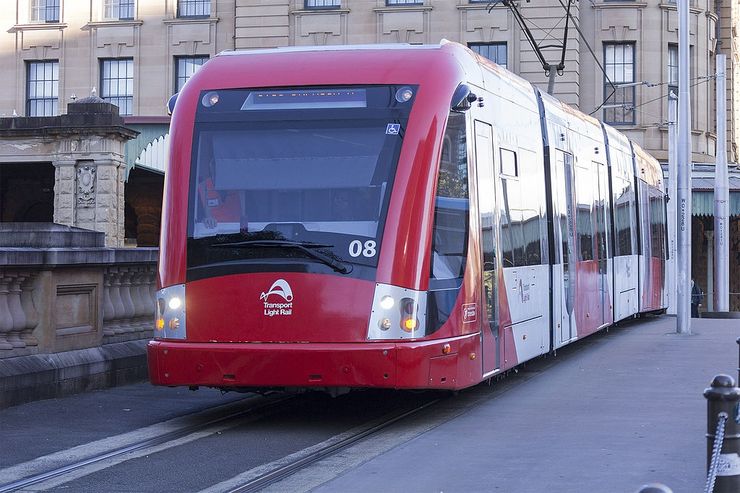 The Sydney Light Rail network, formerly called Metro Light Rail, is an environmentally friendly surface rail system that runs on electricity. the 67 Foot trains can carry up to 450 passengers efficiently and comfortably.
L1 Dulwich Hill Line
From its inception until December 2019, Light Rail consisted of just one line, primarily a commuter train connecting Sydney Central Station with suburbs to the west and southwest. This is now designated L1 Dulwich Hill Line and it does serve some popular tourist, shopping and entertainment areas including Paddy's Market, Chinatown, and the west side of Darling Harbour including The Star Casino.
L2 Randwick Line
The L2 Randwick Line opens in December 2019. It runs south from the busy transportation hub of Circular Quay where it connects with trains and ferries and passes through the Central Business District, Chinatown and Central Station before continuing into the Southeastern suburbs.
L3 Juniors Kingsford Line
Line 3 is scheduled to open in March of 2020. It will share the same track as Line 2 from Circular Quay through the CBD and south to Moore Park Station. From there, it separates from Line 2 and continues south to Juniors Kingsford.
L2 and L3 provide comfortable transportation through the busy CDB and are a good option for getting to numerous popular attractions and shopping areas. Some of these include the Sydney Opera House, Queen Victoria Building, Sydney Town Hall, and Centennial Park.
Service Times and Frequency
The L1 Dulwich Hill Line operates 24/7 between Central Station and The Star. While there's no timetable, it is not really necessary as trains run every 8 to 10 minutes during peak hours, every 15 minutes during off-peak weekdays, every 10 - 15 minutes on weekends and about every 30 minutes overnight on the 24/7 portion.
The L2 and L3 Line will operate from 5am to 11pm daily. Weekdays between 7am and 7pm, trains will operate every 4-8 minutes between Circular Quay and Central Station and every 8-12 minutes south of Central. Frequencies will be adjusted to meet the demand during non-peak hours.
Fares
The Sydney Light Rail network is operated by Transdev Sydney. You can obtain and load value on an Opal card that is good for all modes of public transport including the Sydney Light Rail. For more information on the different fare options visit our page on Fares. For more information about the Sydney Light Rail Network visit Transport NSW.
Sydney Light Rail Network Map
Map Credit: Transport NSW Open Data (CC BY 4.0)
Next Light Rail Departing Near Me
Click&Go Map and Route Finder. Enter your destination and click to find the next Train, Bus or Ferry departing near your location. Your complete route, all connections and total time are shown.
Enter Destination
Click Blue Button
Scroll down for route map and details including connections and times
Finding Your Route - Please Wait
More Info for Getting Around Sydney on Public Transportation
Photos