5 Self Guided Sydney Walking Tours
When it comes to exploring a city it is hard to beat walking. You see so much more when you walk through a district, than you do when zooming past in a vehicle. When walking, you can really enjoy the ambience and see little details that you would otherwise miss. You can stop in at quaint little shops or cafes along the way. Explore the city at your own pace.
For that reason we have put together five self-guided Sydney walking tours for you. Each tour is fully described on its own page which can be accessed by clicking on the corresponding links below.
You can also choose from a diverse selection of fully guided walking or biking tours that can pre-booked to guarantee your spot.
Sydney City Highlights Walking Tour - 10 kms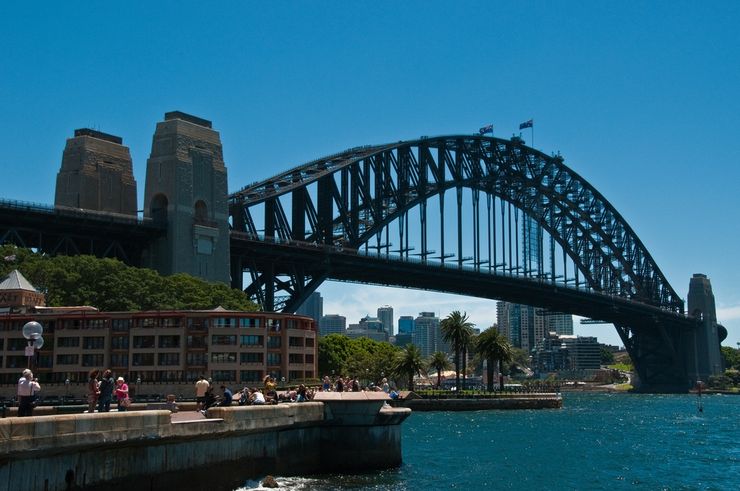 Sydney Highlights Walking Tour Our 10 kilometre Sydney Highlights Walking Tour is a great way to get an overview of Sydney at the start of your vacation. It is also a great way to see many of Sydney's most famous landmarks including the Sydney Opera House and the Sydney Harbour Bridge in a relatively short time-frame. If you can only do one walking tour during your Sydney vacation this is the one we would recommend.
cc licensed photo
by GOC53
Sydney Harbourfront Walking Tour - 10 kms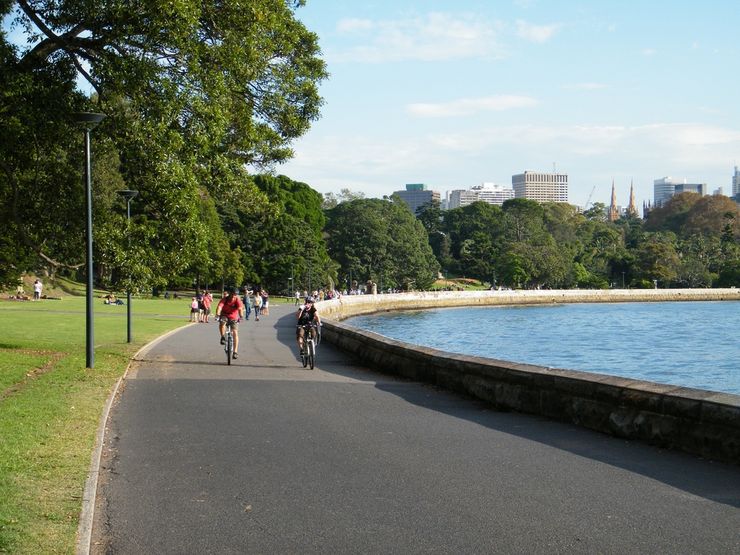 Sydney Harbourfront Walk Our harbourfront walking tour also takes you past numerous iconic Sydney Landmarks as you explore a total of 5 bays and coves along Sydney's world renowned harbour. If this 10 kilometre walk is a little too long for you, you can just do a portion of it.
Sydney Harbour Bridge Walk - 3 kms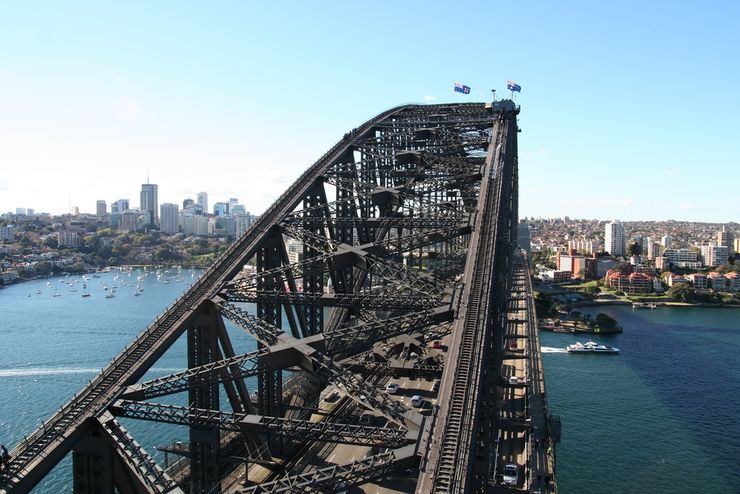 Sydney Harbour Bridge Walk Sydney's famous Harbour Bridge has a walking path along the eastern side that offers some spectacular views of Sydney Harbour from above. You can also visit the Pylon Museum located in the southeast Pylon on the bridge for even more amazing views, along with information about the history of this very significant bridge. At only 3 kilometres this is one of our shorter walking tours - great if you are really limited for time.
cc licensed photo
by bdearth
The Rocks Walking Tour - 3 kms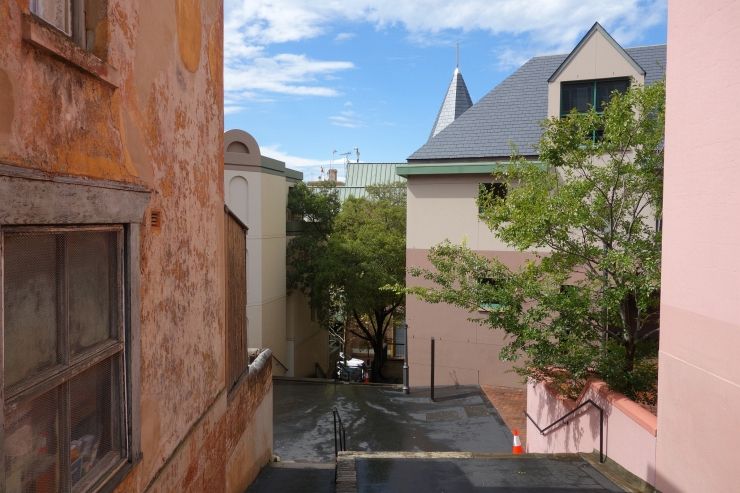 The Rocks Walking Tour If you love exploring small galleries and museums, old buildings, boutique shops and sidewalk cafes, you will love this 3 kilometre walking tour of The Rocks. It meanders through the roads and lane ways of Sydney's oldest district that is rich in history, yet more vibrant than at anytime in it's history.
cc licensed photo
by pelican
Manly Scenic Walking Tour - 9.3 kms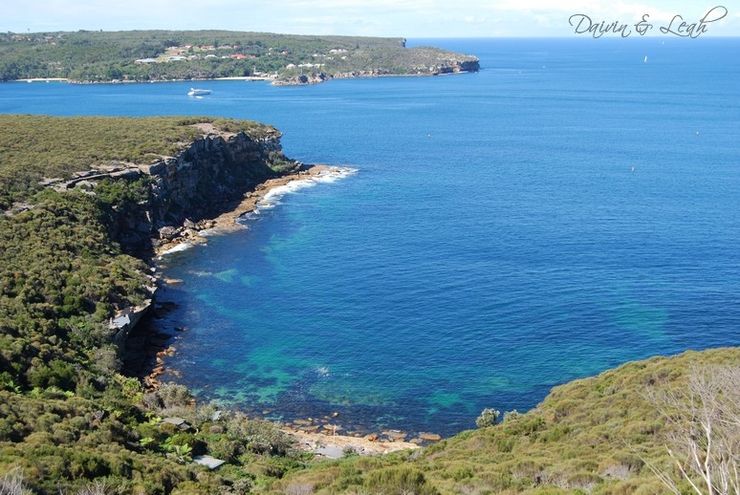 Manly Scenic Walking Tour This spectacular walking tour is 9.3 kilometres long, however you can certainly choose to do just a portion of it. Some parts are more a hike than walk. This is the perfect walking tour for those who love the great outdoors, parks, beaches and spectacular views. For this one you must wear good footwear and, on a hot day, bring along some water. Don't forget your camera and sun screen too!
cc licensed photo
by daivinandleah
Fully Guided Walking and Biking Tours
In addition to the self-guided walking tours above you may want to consider one or more of the following fully guided walking tours.
Rating

From: $106.76 CAD...May vary slightly due to currency fluctuations
Sydney's Harbour is undoubtedly the most beautiful in the world and this tour hugs the harbour to the east and west around stunning coves and over the Harbour Bridge (3 hours - 23kms). Includes Electric Bike, Helmet, Water and Tour Guide.
Rating

From: $45.67 CAD...May vary slightly due to currency fluctuations
Join your Aboriginal tour guide to learn about the Cadigal people – the traditional owners of the Sydney city area.
Rating

From: $435.54 CAD...May vary slightly due to currency fluctuations
Private and personalised 3-hour insider walking tour with a Professional Photographer & Tour guide. We plan our tour base on your request.Leave your camera at home Our professional photographer will direct you to ensure you get the best possible photos that will last a lifetime.You'll see top attractions, Opera house, Botanic Garden, The Rocks, Martin Place and Queen Victoria building.As you walk, you'll learn the history of this amazing places and our professional photographer take amazing photos of you. Duration: 3 hourslocation: Sydney CityWhat will you see: Opera house, Botanic Garden, The Rocks, Martin Place and Queen Victoria buildingItems included in the price: our photographer will take at least 30 high resolution photos of you and your family High Resolution photos on USB included in your Package
From: $6.94 CAD...May vary slightly due to currency fluctuations
On this self-guided GPS audio walking tour, you'll walk along the foreshore from Milson's Point to Lavender Bay, soaking up spectacular views of the Sydney Harbour Bridge before exploring iconic Luna Park's local artwork and unique funfair atmosphere. Wander between an Australian bushland setting and beautiful Lavender Bay's poignant reminders of a maritime boat-building past, until you find yourself in a secret, paradisiacal garden created on wasteland by noted cultural identity and local Lavender Bay resident, Wendy Whiteley.There are numerous locations that are part of the walk where you might want to linger. Wendy's Secret Garden at the end of the tour is a tranquil haven for a rest or picnic lunch.The tour is ready whenever you are and the audio plays automatically at exactly the right time and place using your smartphone's GPS and the VoiceMap mobile app, which also works offline.
Rating

From: $99.71 CAD...May vary slightly due to currency fluctuations
Imagine yourself spending a leisurely afternoon sitting on the comfort of a modern electric bike, sweeping past the Sydney Opera House, gliding over the iconic Harbour Bridge and taking in unforgettable views of the world famous Sydney Harbour! And experiencing all of this through the eyes of friendly local Aussie tour guides.That is The Big Easy guided bike tour!Join a small group of no more than 6 guests for our signature sightseeing tour, and you will experience all of the highlights of Sydney and some hidden gems, learn about Sydney's amazing history and funny stories from locals, and leave with unforgettable memories!
From: $69.49 CAD...May vary slightly due to currency fluctuations
A sightseeing bike tour of all of the major tourist spots is absolutely one of the best things to do in Sydney!The Sydney Express will see you taking in some of the amazing sights and sounds of our beautiful city, and you will be finished by lunchtime so can spend the rest of your day out exploring.Local guides will share with you their tales of Sydney on this short but engaging tour of Sydney's key highlights, all while from the comfort of a modern electric bicycle.
From: $172.89 CAD...May vary slightly due to currency fluctuations
This is the only bike tour that visits every part of downtown Sydney! Riding on easy to use electric bikes, join your local Aussie guide for a leisurely cycle around all the big tourist sights, the less visited areas and everything in between! A spectacular day tour on two wheels!