5 Self Guided Sydney Walking Tours
When it comes to exploring a city it is hard to beat walking. You see so much more when you walk through a district, than you do when zooming past in a vehicle. When walking, you can really enjoy the ambience and see little details that you would otherwise miss. You can stop in at quaint little shops or cafes along the way. Explore the city at your own pace.
For that reason we have put together five self-guided Sydney walking tours for you. Each tour is fully described on its own page which can be accessed by clicking on the corresponding links below.
You can also choose from a diverse selection of fully guided walking or biking tours that can pre-booked to guarantee your spot.
Sydney City Highlights Walking Tour - 10 kms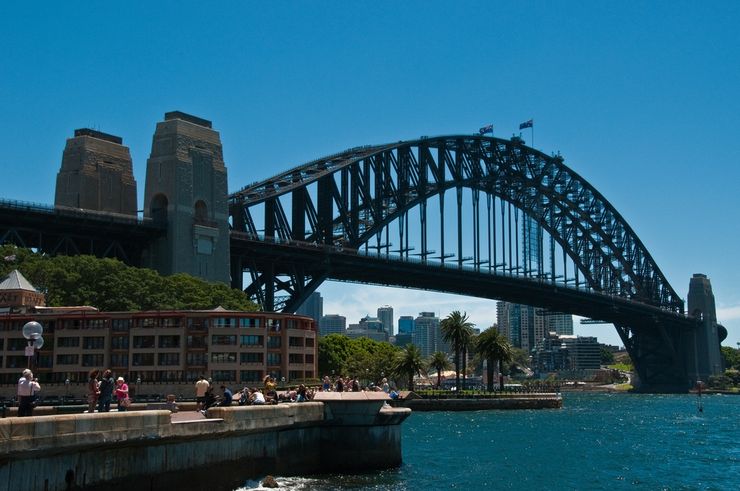 Sydney Highlights Walking Tour Our 10 kilometre Sydney Highlights Walking Tour is a great way to get an overview of Sydney at the start of your vacation. It is also a great way to see many of Sydney's most famous landmarks including the Sydney Opera House and the Sydney Harbour Bridge in a relatively short time-frame. If you can only do one walking tour during your Sydney vacation this is the one we would recommend.
Sydney Harbourfront Walking Tour - 10 kms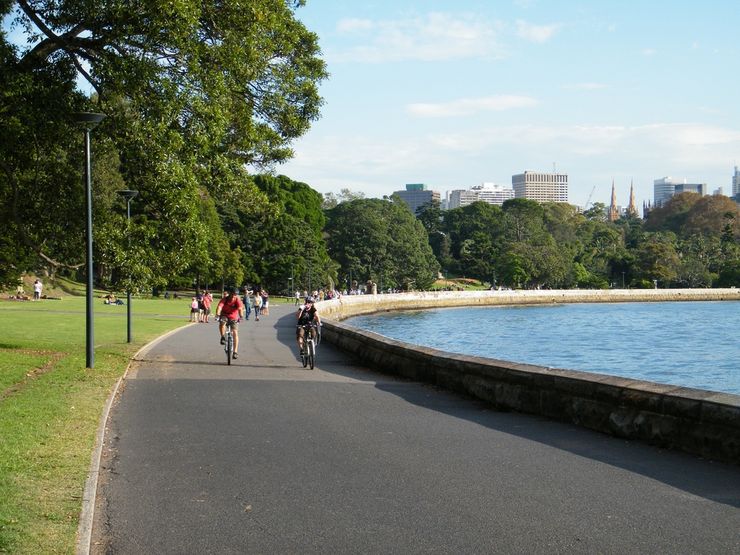 Sydney Harbourfront Walk Our harbourfront walking tour also takes you past numerous iconic Sydney Landmarks as you explore a total of 5 bays and coves along Sydney's world renowned harbour. If this 10 kilometre walk is a little too long for you, you can just do a portion of it.
Sydney Harbour Bridge Walk - 3 kms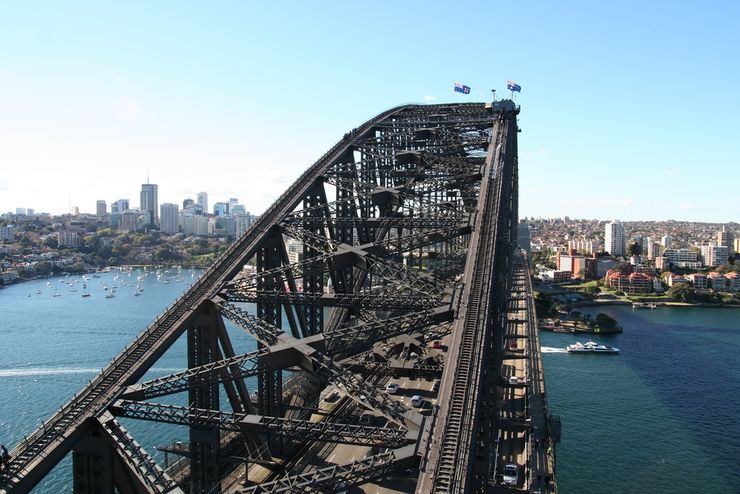 Sydney Harbour Bridge Walk Sydney's famous Harbour Bridge has a walking path along the eastern side that offers some spectacular views of Sydney Harbour from above. You can also visit the Pylon Museum located in the southeast Pylon on the bridge for even more amazing views, along with information about the history of this very significant bridge. At only 3 kilometres this is one of our shorter walking tours - great if you are really limited for time.
The Rocks Walking Tour - 3 kms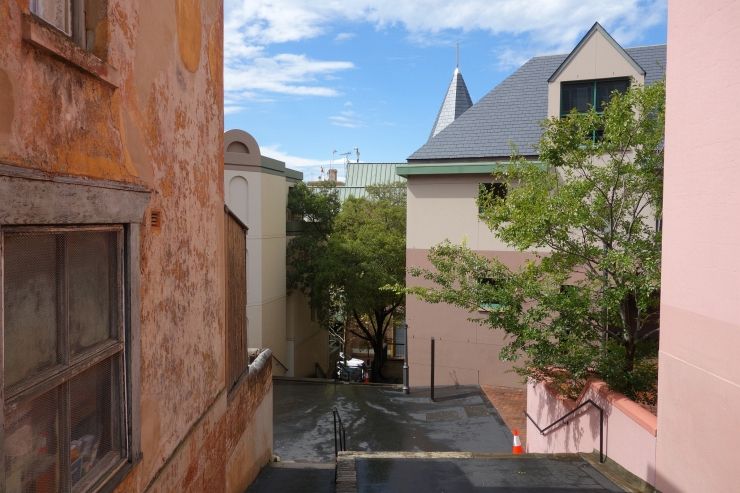 The Rocks Walking Tour If you love exploring small galleries and museums, old buildings, boutique shops and sidewalk cafes, you will love this 3 kilometre walking tour of The Rocks. It meanders through the roads and lane ways of Sydney's oldest district that is rich in history, yet more vibrant than at anytime in it's history.
Manly Scenic Walking Tour - 9.3 kms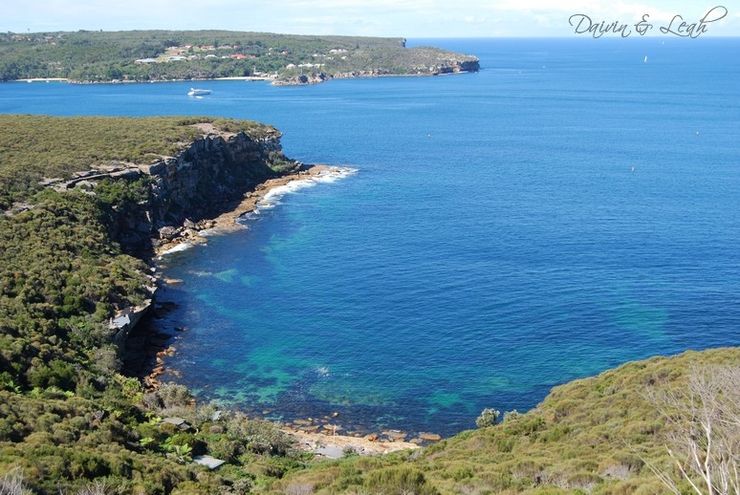 Manly Scenic Walking Tour This spectacular walking tour is 9.3 kilometres long, however you can certainly choose to do just a portion of it. Some parts are more a hike than walk. This is the perfect walking tour for those who love the great outdoors, parks, beaches and spectacular views. For this one you must wear good footwear and, on a hot day, bring along some water. Don't forget your camera and sun screen too!
Some of the above photos are made available under a Creative Commons license. Larger versions and attribution can be viewed on the full page for each attraction.
Fully Guided Walking and Biking Tours
In addition to the self-guided walking tours above you may want to consider one or more of the following fully guided walking tours.
From: $40.05 CAD...May vary slightly due to currency fluctuations
On this tour you'll visit picture-perfect locations in the Garden where you can capture Instagram worthy photos (and sneaky selfie) of the iconic Sydney Harbour Bridge and Opera House framed with lush flowers and foliage. You'll also get exclusive access to our private glasshouses which store our collection of exotic subtropical plants. Plus, your guide will share new Garden Stories that even the locals don't know. This 1.5 hour walking tour is the perfect way to make your visit to Sydney extra memorable.
From: $118.68 CAD...May vary slightly due to currency fluctuations
See the absolute best of Sydney in a day, with this full-day private Sydney city tour with a professional tour guide in a modern and comfortable spacious 8-seater van. With hotel pick-up, free WiFi, cold bottled water and private van and tour guide included, this is one of the best value Sydney sightseeing tour you're likely to find.
Rating

From: $96.70 CAD...May vary slightly due to currency fluctuations
Sydney's pub scene calls two things to mind - historic (but stuffy) pubs of The Rocks district, or the out-of-control nightclubs that required so-called "lockout laws" to be reigned in. Between these two categories is a third, lesser known one — hidden bars. Throughout the CBD are places best kept secret, where only the whispers of a local who is in the know will get you there. Uncover the bars that require a descent of a long wrought-iron spiral staircase into a cavernous basement. Find bars tucked away in nondescript shopping centres that reveal secret opium dens. Meet craft cocktail makers who will use fire and liquid nitrogen to concoct the perfect drink. Join us on this three-hour adventure, and whatever you do, help us keep these bars secret!
From: $170.94 CAD...May vary slightly due to currency fluctuations
If you love photography, appreciate things that are photogenic and wish to get professional quality pictures with your iphone camera, then this is the tour for you. I will teach you how to get the best results from your iPhone camera (including some inside tips), as well as some tips on photo editing. You will also get the opportunity to do use different lenses with your iPhone camera and take stunning pictures that you would never have imagined. Plus you'll get to keep the lenses, FREE ! I cover a variety of themes around which the photo tour can be designed. For instance, 'nature(including flora)', 'urban', 'architecture' or something that you prefer. So if you want your friends and family to go 'wow' with your pictures, sign up now :-)
From: $34.19 CAD...May vary slightly due to currency fluctuations
Adventure Clues - Explore the secret side of Sydney in a series of fun cryptic clues using our unique web app. In this trail you are assigned as private detectives, your mission is to try and solve the 15 clues to discover Sydney's hidden streets. Taking you past secret speakeasies and street art vibes one thing to remember is this will not be easy!The city was originally settled around a freshwater stream and the earliest properties were built around small lanes. These lanes are today charming walkways with lots of hidden gems that contribute to the tapestry of modern Sydney.Many people (including the locals) who do this trail are surprised to find such secrets hidden away in plain view of the city. Upon reaching the finish we will provide you with your stats and a detailed explanation of all the sights. Are you ready to undertake this fun adventure, will you accept this Secret Sydney mission?Team numbers recommended - 2-4 Players. Price is Per Team.
From: $39.07 CAD...May vary slightly due to currency fluctuations
Poihākena tours: stories of Māori in Sydney is based in The Rocks where Māori have lived, loved, visited, traded and worked for over 225 years. It is the only Māori tour in Australia, where one in five Māori now live. Poihākena tours are led by Māori Guides, passionate and knowledgeable about Māori Culture and history.
Rating

From: $143.59 CAD...May vary slightly due to currency fluctuations
Discover Sydney's beauty and history as we explore iconic landmarks of Sydneys early settlement. Our morning walk includes Observatory Hill, cobblestone lanes of The Rocks and a walk on our famous Harbour Bridge. We take a habour ferry ride across to Cockatoo Island, a UNESCO World Heritage listed site to enjoy the magnificent harbour views and discover the history of this inner harbour island. A local, pro photographer guide will give you a helpful tips and advice about how to get the best from your camera or smartphone along the way.