The Rocks Walking Tour
This Walking Tour of The Rocks explores Sydney's oldest historic district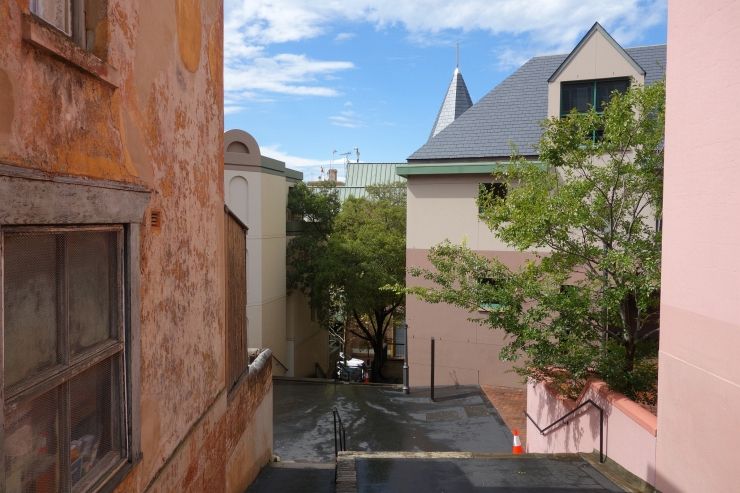 Walking is the best way to explore this now vibrant, historic Sydney neighbourhood. You have to get off the main roads and explore its many lanes to really see all that this district has to offer. Guided walking tours are available from outside the Sydney Visitor Centre in the Rocks, but at over $30 per adult, you may want to consider following our self-guided tour as an alternative. You can go at your own pace and you can stop in at a cafe or bar for some refreshment and explore some of the many small galleries and museums for however long you wish along the way.
At less than 3 kilometres our self-guided tour of The Rocks is one of the shortest of our 5 walking tours. While the actual walking can be done in about 40 minutes, we recommend you allow a minimum of 2 hours for exploring this interesting neighbourhood and you could easily spend a day. Anyone with difficulty negotiating stairs should not attempt this tour as it has numerous staircases, however there are many areas of The Rocks that will be accessible to you.
For more information about this interesting part of Sydney visit our page on The Rocks.
You can download a printable map of The Rocks here: Map of The Rocks - pdf
For step-by-step directions and a map just click on the Map & Directions Tab at the top of this page.
Directions
| Mode Line | Nearest Station | Walking Time |
| --- | --- | --- |
| L2, T2, T3, T8 or Ferry | Circular Quay | 2 minutes |
How to get to The Rocks Walking Tour by Mode
Directions for The Rocks Walking Tour in Sydney
To begin your walking tour of The Rocks make your way to Circular Quay by Light Rail,Train orFerry.
Start by walking west along the Quay and go right at George Street then left onto Globe Street (in front of the Russel Hotel). Places of interest: Museum of Contemporary Art.
Go right on Harrington then left up the stairs at the sign for Susannah Place and Sydney Harbour Bridge. Places of interest: Susannah Place Museum.
Go right onto Gloucester Street just past the Susannah Place Museum. Follow Gloucester Street to Cumberland Street and go right again. Places of interest: Sydney Harbour Bridge.
Follow Cumberland to where it passed above Argyle Street and take the Argyle Stairs on your right down to Argyle Street. Directly across from the stairs head south on Cambridge Street. Places of interest: Argyle Cut, Argyle Steps and Clocktower Square.
At Susannah Place take the stairs on your left down to Harrington Street and go left.
Follow Harrington north back to Argyle Street and go left. Take the Argyle Steps located just ahead on your right up to Gloucester Walk. Places of interest: Foundation Park.
Follow Gloucester Walk north until it merges with George Street and continue until just below the Harbour Bridge and go right up to Dawes Point Park. Places of interest: Dawes Point Park and Hickson Road Reserve.
Follow Hickson Road back from Dawes Point then go right on George Street followed by an immediate left onto Playfair Street. Places of interest: Westpac Museum, Ken Done Gallery, The Rocks Market - Friday - Sunday
Follow Playfair Street south back to Argyle Steet and go left, then left again into Kendall Lane and then right at Mill Lane. Places of interest: The Rocks Square, Argyle Gallery, Gannon Gallery, Spirit Gallery, The Rocks Discovery Museum.
Go right on George Street and watch for the sign for the Suez Canal on your right. Follow the Suez Canal to the Nurses Walk and go left all the way to Globe Street. Places of interest: Craft NSW, Billich Gallery, Ken Duncan Gallery, Unwins Stores, Cadmans Cottage, The Crystal Gallery, Gallery of Sydney, Gallery M.
Go left on Globe Street and cross over George Street and make your way across First Fleet Park back to Circular Quay.
That's the end of our Rocks Walking Tour. There is so much to explore here. In addition to the many galleries and small museums you will find many boutique and specialty shops, quaint cafes and 'watering holes', old hotels, terrace homes and warehouses from way back when. If you visit the Rocks on the weekend you can also browse through the huge outdoor marketplace. We hope you enjoy your explorations of this intriguing neighbourhood.
Finding Your Route - Please Wait
Photo Gallery
Your walking tour of the Rocks will take you down the oldest streets in Sydney cc licensed photo by Doug

People enjoying the weekend outdoor market in The Rocks cc licensed photo by yTravelBlog

Photo Credit: mertie. - cc license via Flickr

Photo Credit: mertie. - cc license via Flickr

Photo Credit: mertie. - cc license via Flickr

Photo Credit: Bernard Spragg - cc license via Flickr

Photo Credit: ultrakml - cc license via Flickr

Photo Credit: johncooke - cc license via Flickr

Photo Credit: sv1ambo - cc license via Flickr

Photo Credit: sv1ambo - cc license via Flickr

Photo Credit: mertie. - cc license via Flickr

Photo Credit: johncooke - cc license via Flickr
Video