Sydney Travel Tips
Our TOP TIPS and FREE things to do in Sydney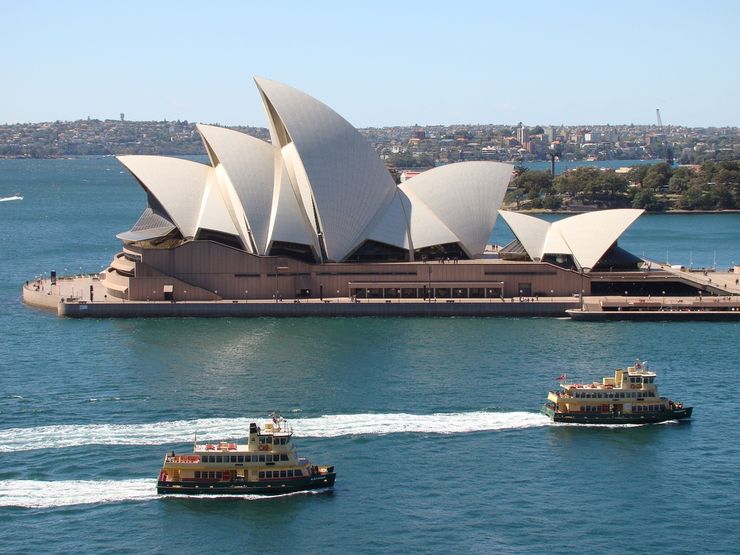 Want to make your visit to Sydney even better? Then be sure to read all of our top Sydney travel tips. Theres plenty of advice to make your trip more enjoyable and save you money.
Below you'll find our very best tips for planning your trip to Sydney — Tips on getting around, dining, things to do, hidden gems and free alternatives to some of the more expensive activities.
In Sydney, as in the rest of Australia, it isn't common practice to tip in restaurants. Having said that, if you feel the service and food were top notch, a tip is appreciated even if not expected.
In most smaller cafes and restaurants, rather than paying your server at the table, you just go up to the counter to pay.
It's easy to get around Sydney on public transport. The best bet is usually to by an Opal Card and load it with some funds. The maximum that will be deducted from your card is $15 a day and that includes trains, buses, light rail and ferries.
Take maximum advantage of Sydney Ferries. They are an awesome option for sightseeing and, because your transit pass includes them, they provide a very inexpensive way to see the city. Board the Ferries at Circular Quay which is also served by Sydney Trains.
We highly recommend taking the F7 to Watsons Bay, the F1 to Manly, and the F3 to Parramatta. Spectacular! Do all three if you can. You should really set aside a full day for visiting Manly.
Like all major cities, public transit gets real busy during the morning and afternoon rush hours. Try to avoid riding transit during those times if you can and you'll have a more relaxed trip.
Be sure to use sunscreen and wear hats when spending a lot of time outdoors, especially by the beaches and on the water. The sun is very intense and you can burn quickly.
While the views from Sydney Tower or the exciting Sydney Bridge Climb are outstanding, there are great free alternatives that also offer spectacular views. A walk across the Harbour Bridge is free and a climb up the Harbour Bridge Pylon is less expensive than the proceeding options and offers an impressive 360° view. From either you can watch the ferries come and go from the quay and you'll get an awesome view of the Sydney Opera House and the CBD.
Another excellent elevated view of the city is from Observatory Park.
Sydney is very walkable city, at least as far as the CBD is concerned. Wear comfortable shoes for walking and you can see much of the city on foot. We have a couple of self-guided walking tours mapped out.
Be sure to walk around The Rocks — Sydney's oldest neighbourhood that is rich in history.
Go for a walk along the boardwalk around Darling Harbour. There are many tourist attractions located in this area.
Don't miss visiting the Royal Botanic Garden. While you are there you may as well walk north to the Sydney Opera House for an up close look. It is indeed an impressive structure.
Centennial Park is a large and beautiful park — a good place for a reprieve from the hustle and noise of the city.
Sydney has some spectacular beaches and most visitors try to get out to the renowned Bondi Beach at some point during their stay. Even if you don't want to swim there, you can enjoy an awesome walk along the coast from Bondi to Coogee Beach.
For those that like architecture and historical buildings, Sydney has quite a few. Central Station, Customs House, Government House, Sydney Town Hall, Saint Mary's Cathedral, Saint Andrews Cathedral, and the remarkable Queen Victoria Building which is also a spectacular shopping centre inside. We already mentioned the Opera House.
The University of Sydney not only has some great architecture, it also has 2 museums and an art gallery that you can visit for free.
Visiting the Museum of Contemporary Art which is located next to Circular Quay n the Rocks is free.
A portion of the Sydney Observatory exhibits are free.
Enjoy a free lunchtime concert, a 40 year tradition, at Saint Andrews Cathedral.
If you have time to get out of the city, we highly recommend a day trip by train to Katoomba in the Blue Mountains or Kiama on the coast. You can get all the details from the above links.
A great time to visit Sydney is in late May and early June during the annual Vivid Sydney festival. Besides the spectacular light shows on buildings and structures throughout the city, there are many other events happening including concerts and interactive exhibits.
The warmest months of the year to visit Sydney are from November through April, but it is never what you would consider cold in Sydney. Even during winter afternoon highs are usually in the mid to upper teens Celsius.
As long as this list is, and even though most of the activities and things to do on it are free, there are many more attractions and things to see and do throughout Sydney, so be sure to browse our complete list before you go.