Sydney Highlights Walking Tour
Our Sydney Highlights Walking Tour will take you to some of Sydney's most popular landmarks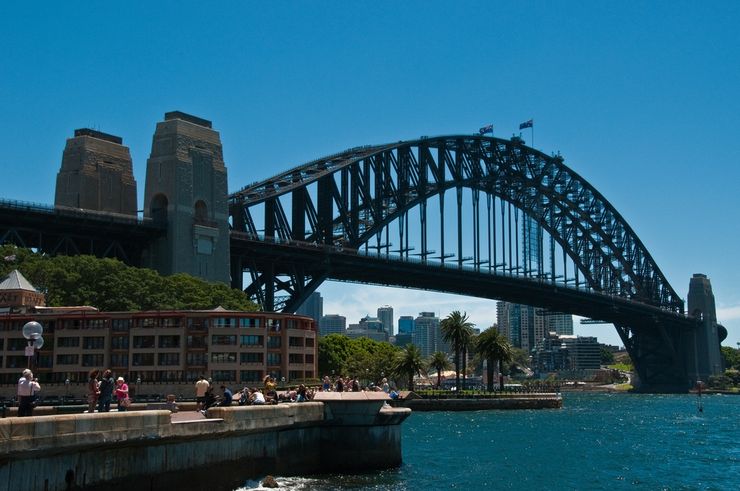 Our Sydney Highlights Walking Tour is a self-guided walk that will introduce you to many of Sydney's most famous landmarks. This is a great tour to take in order to get an overview of Sydney at the start of your vacation. It will help you get orientated and give you lots of ideas for places you may want spend more time seeing. It is also a great option if your time in Sydney is very limited and you just want to see some the top highlights of the city.
This walking tour is 10 kilometres in length which is about a 2.5 hour walk at a normal pace, but we recommend allowing at least 5 hours for a leisurely pace and some refreshment stops along the way. The walk follows a complete loop so you can begin and finish at numerous different train stations (see 'Getting There' section below). You can also choose to do a shorter segment of the walk if your time is limited.
For step-by-step directions and a map just click on the Map & Directions Tab at the top of this page.
Accommodations near Sydney Highlights Walking Tour:
Directions
| Mode Line | Nearest Station | Walking Time |
| --- | --- | --- |
| Ferry, L2, T2, T3, T8 or Bus | Circular Quay | 0 minutes |
How to get to Sydney Highlights Walking Tour by Mode
Sydney Highlights Walking Tour directions
Our Sydney Highlights walking tour as described above starts and finishes at Circular Quay, however, this tour is very versatile and can easily be started from numerous other transport stations. Other good starting points include Martin Place, St James, Town Hall or Wynyard railroad station.
The directions below are based on beginning your walk at Circular Quay, but as stated above there are numerous other points at which you can begin and end this walk from. We suggest a number of different starting points in the "Getting There" section below.
Begin at Circular Quay Station.
Follow the waterfront east and north all the way to and around the Sydney Opera House.
Continue south to the grounds of Government House where you can get a great view of the gardens and Government house itself.
Continue to follow the walkway south making your way back down to the waterfront and when you get to the southern end of Farm Cove turn towards the west.
Make your way west past the Royal Botanic Gardens and spend some time exploring if you wish and have time.
Exit the park at Bridge Street just west of the Sydney Conservatorium of Music and go left (south) on Macquarie Street. Watch for the historic Parliament House on your left.
When you get to the end of Macquarie Street follow the edge of Hyde Park to your left. Look for Hyde Park Barracks and St Mary's Cathedral.
Once opposite St. Mary's Cathedral follow the path into Hyde Park to the fountain and then go left down the centre of the park to the Anzac War Memorial, the go left out of the park to Elizabeth Street.
Go right (north) on Elizabeth Street to Market street then go left (west. The Sydney Tower is high above on your right and then the famous Pitt Street Mall shopping street is also to your right just beyond that.
Go left on George Street and spend at least a few minutes exploring the exterior and interior of the beautiful Queen Victoria Building.
Continue south on George Street past Sydney Town Hall and St Andrew's Cathedral.
Go right on Bathurst Street (by St Andrew's Cathedral); right on Kent Street and left on Market Street.
Head up the pedestrian ramp on the left-hand side of Market Street and make your way partway across the Prymont Bridge where you can take in some great views of Darling Harbour.
Double back along the bridge to the stairs and go down and follow the waterfront north around the Sydney Aquarium and Wild Life Sydney.
Proceed east along King Street then go left (north) on Kent Street, walking north past the freeway underpass to High Street.
Take the stairs on your right directly across from High Street up into the Sydney Observatory and Park.
Follow the path northeast out of the park and continue along the road as it curves downhill to your left. Watch for the staircase on your right and descend the steps and cross Argyle Street onto Little Fort Street in front of the historic Garrison Church.
Continue along Lower Fort Street and around the walkway at Dawes Point right beneath the Sydney Harbour Bridge where you will enjoy some beautiful views across to the north side of the harbour.
Follow the walkway around the point, then back towards the bridge and go left onto Hickson Road which leads into the historic Rocks district.
Go left at George Street and follow it south to Argyle Street and go left again to the waterfront.
Go right (south along the waterfront in front of the Museum of Contemporary Art and then left back to Circular Quay.
That's it! An awesome walk that takes you past nearly 20 major Sydney landmarks and attractions, many of which you will want to return to and explore in depth.
Finding Your Route - Please Wait
Photo Gallery
A view of Government House from our Sydney Highlights Walking Tour cc licensed photo by avlxyz