Sydney Harbourfront Walking Tour
The Sydney Harbourfront Walking Tour is up to a 10 kilometre walk that hugs the waterfront providing continuous views of Sydney's beautiful harbour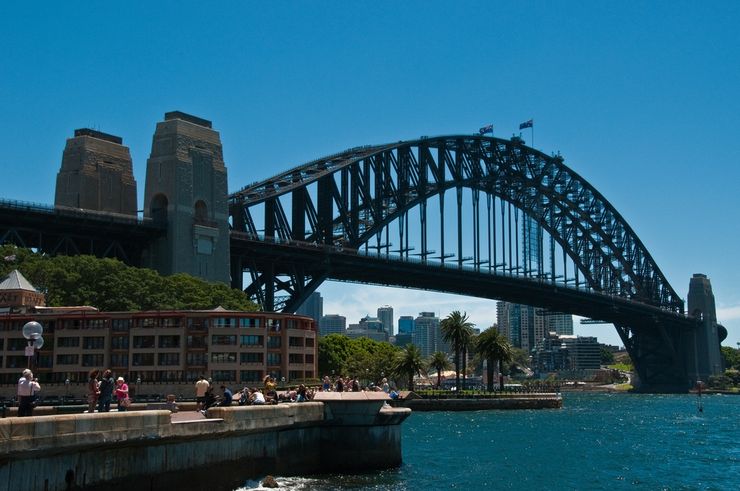 Our Sydney Harbourfront Walking Tour follows the water's edge throughout its length except for the last kilometre where it turns back into the city passing through Hyde Park along the way. At 10 kilometres it is a fairly long walk. To allow for a leisurely pace, stopping to take pictures, and perhaps get some lunch we recommend allowing at least 4 hours.
This beautiful walk takes along a total of 5 bays and coves and passed by a good number of Sydney's major attractions and landmarks along the way. The attractions along this walk are all linked to in the directions below.
It should be noted that part of this walk follows the Barangaroo Foreshore Walk which is only open between dawn and dusk and is sometimes closed for special events. If either situation affects you, just parallel the harbour northward along adjacent Sussex Street and Hickson Road for that portion.
The walk begins at Pyrmont Bay Light Rail Station and concludes at St. James Railroad Station. The end point is also just slightly north of Town Hall Station. If you wish to do a considerably shorter version of this walking tour you could also end at Circular Quay which will reduce the walk to just under 6 kilometres.
For step-by-step directions and a map just click on the Map & Directions Tab at the top of this page.
Directions
| Line | Nearest Station | Walking Time |
| --- | --- | --- |
| Light Rail L1 | Pyrmont Bay | 0 minutes |
| L2, T2 , T3, T8 or Ferry | Circular Quay (6km Walking Tour) | 0 minutes |
How to get to HIckson Road Reserve by
Directions for the full length Sydney Harbourfront Walk
Note: For the shorter 6 km walking tour starting from Circular Quay proceed directly to step 5.
Make your way by public transport to Pyrmont Bay Light Rail Station on the west side of Darling Harbour
Head west across the Pyrmont Bridge where you will enjoy great views of Darling Harbour. Attractions include the Australian National Maritime Museum and Darling Harbour.
At the far end of the bridge take the stairs or elevator down to the plaza and follow it north around the Sydney Aquarium and Wild Life Sydney.
Continue north on the Barangaroo Foreshore Walk (only open from dawn to dusk) as far north as it goes then continue to your right and around the 1st, 3rd and 4th piers that you come to which also include the Wharf Theatre
Continue to follow the walkway around Dawes Point, beneath the Sydney Harbour Bridge, south along the west side of Sydney Cove and then east across Circular Quay and finally north again up the east side of Sydney Cove.
Proceed right around the spectacular Sydney Opera House and back south again beside Farm Cove. Watch for the beautiful Government House on your right.
As you reach the southern end of Farm Cove you may want to detour farther south and spend some time exploring the Royal Botanic Gardens if you have time, otherwise just continue following the shoreline as it turns north and then back south once again along the west side of Woolloomooloo Bay.
Just before the marina keep to your right on the path and follow it up to Mrs. Macquaries Road. Keep walking southwest as the road becomes Art Gallery Road and passes the Art Gallery of New South Wales.
Continue on past St Mary's Cathedral and into Hyde Park.
Follow the southwesterly path into the park to Archibald Fountain and then the westerly path to St. James Station.
That's pretty much it. You can reconnect with public transport at St. James Station.
Finding Your Route - Please Wait