Getting Around Vancouver on Public Transit
Complete Visitor Guide to Getting Around Vancouver BC on Public Transit
Updated on June 29, 2023
Vancouver boasts one of the largest integrated transit systems in North America. Comprised of SkyTrain (light rail), Buses and the SeaBus, Vancouver Public Transit operates under the governing body of Translink.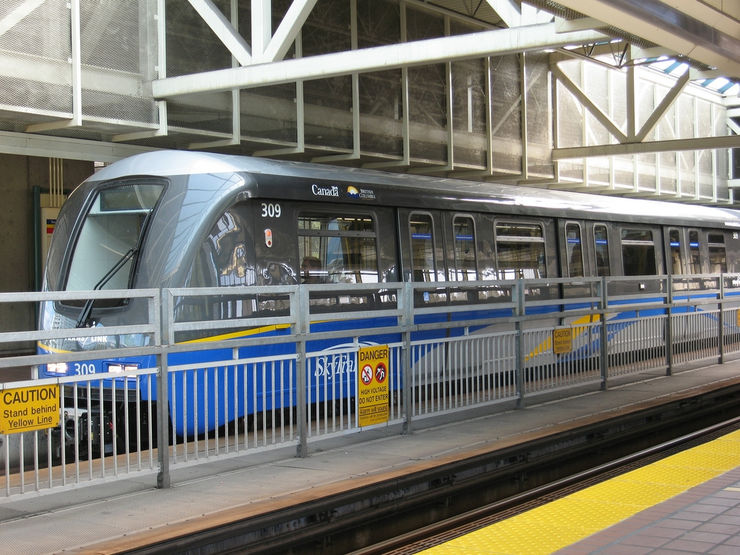 Its vast service area covers 1800 square kilometres and includes more than 200 bus routes in addition to the SkyTrain and SeaBus. It is possible to travel throughout the system all three modes on the same pass or fare. Metropolitan Vancouver is divided into 3 fare zones, however, the zones don't apply during Weekends, Holidays, Weekdays after 6:30 pm and all day every day on buses. You are also exempt from zones if you purchase a day pass - usually the best value for tourists. A day pass costs $11.25 or $8.85 for seniors age 65 and up. Children 12 and under ride for free. Day passes are valid from the first bus in the morning to the last bus at night in any direction through all 3 zones. See our page on fares for a complete list of transit fares in Vancouver.
In addition to getting you to most of the tourist attractions throughout the city, riding the SkyTrain and SeaBus is a great way to enjoy some inexpensive sightseeing. Many sections of the SkyTrain system provide excellent views they traverse the city on elevated tracks above the houses and traffic. The SeaBus offers superb views of the Vancouver Harbour, Downtown Vancouver, Stanley Park, Lions Gate Bridge and the North Shore Mountains.
Compared to using taxis, a rental car or private tours to see the city, you will save money using public transit to get around during your visit. It's easy if you follow the tips and resources on our site. All the Vancouver attractions on our site include a map and detailed transit directions for gettng to them.
Metro Vancouver — Many cities within a city
It's good to know that Metropolitan Vancouver is actually a composite of many smaller cities. These include Vancouver, West Vancouver, North Vancouver, Burnaby, New Westminster, Coquitlam, Port Coquitlam, Port Moody, Surrey, Delta, Langley, Richmond, Ladner and White Rock. You can expect to find attractions located within many of these cities within a city, however, they're all served by the same public transportation system making it easy to get around the entire region.
Official Website: https://www.translink.ca/