Vancouver Bike Share and Bike Rentals
Vancouver's new mobi bike share program combined with an extensive network of bike lanes and the seawall provide a great option for exploring the city.
Updated on August, 27, 2021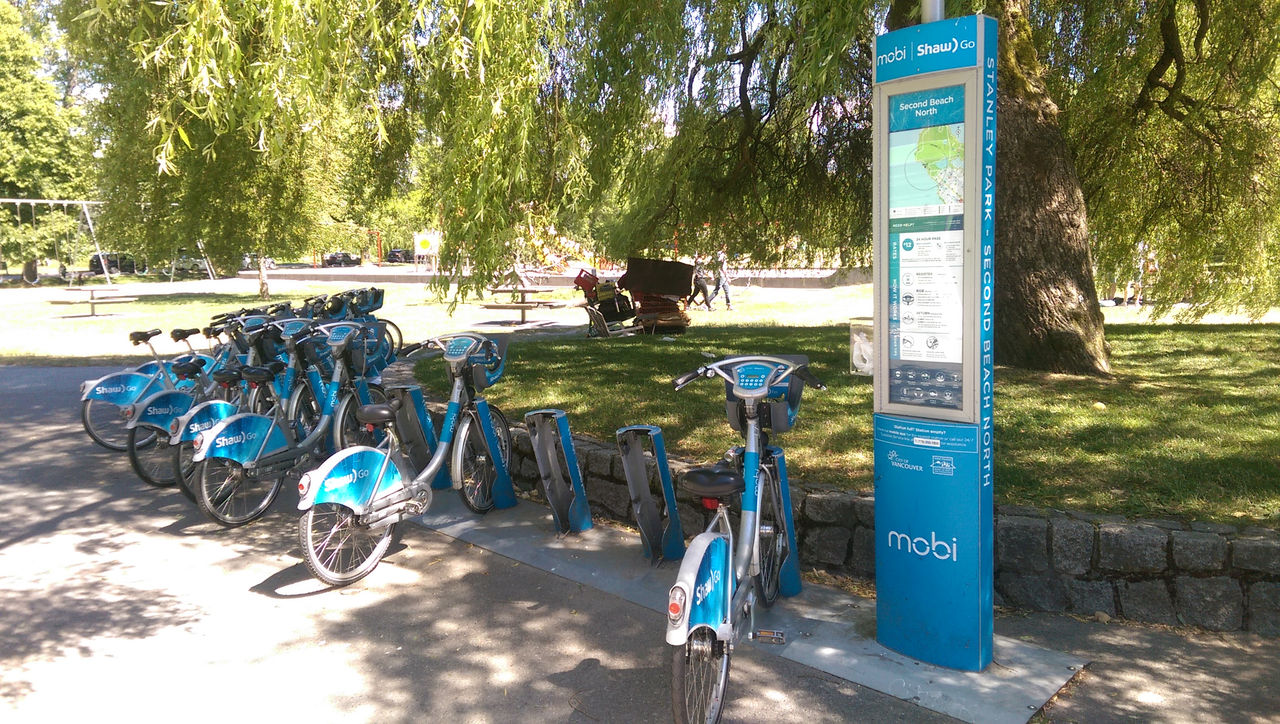 A new option for visitors to explore Vancouver is the new bike share system by Mobi. As of May 2018, Vancouver Bike Share has 143 stations and 1400 bikes located throughout the downtown peninsula, False Creek, Kitsilano and Mount Pleasant. The goal is to increase this to 150 stations and 1500 bikes.
In addition to a 30 day and an annual pass, a 24 hour pass is available. While the latter may sound perfect for a tourists, if you're visiting the city for three days or more, consider a 30-day pass. It costs the same amount as two 24 hour passes.
While negotiating downtown Vancouver on a bike may not be for everyone, there are miles of dedicated bike lanes and bike paths to enjoy. Ideal uses for a mobi bike include a leisurely ride around the Stanley Park Seawall or around False Creek. Both options offer stunning views. Renting a bike to explore Stanley Park has been a popular activity with Vancouver visitors for decades and many private bike rental outlets are located close to the park. Some even offer guided bike tours. Now, the new bike share program provides visitors with one more choice and there are several docking stations convenient to the park entrance.
A day pass is $15.00 and gives you unlimited 30-minute rides. Unfortunately, if you go over the 30 minutes without docking the bike in between you will be charged an additional $6. This means a single leisurely ride around the Stanley Park seawall will likely cost you at least $18.00 if you don't dock the bike every 30 minutes; more than some of the local bike rental companies where rates start as low as $8.57 for one hour including a helmet and bike lock. The private rental companies also offer a wider range of bikes, including tandem bikes.
Whichever option you end up choosing, the introduction of mobi bikes has led to lower rental rates as private shops endeavour to remain competitive. Either way, you win.
Mobi bikes do offer the best value if you'd like to have intermittent access to a bike for an entire day or several days.
If you need to stop where there's no docking station, each mobi bike is equipped with a lock, but keep in mind you are responsible if something does happen to the bike. Each bike is also equipped with a helmet, so you don't have to worry about bringing your own. While many riders elect not to wear their helmet, BC law requires it, so you could put yourself at risk of a ticket. The greater risk is getting hurt, so we recommend wearing the provided helmet.
For more information about the mobi bike share system in Vancouver visit there official website below.
Official Website: https://www.mobibikes.ca/
More Info for Getting Around Vancouver on Public Transportation