Vancouver Airport to Downtown
Maps, information and options for getting from Vancouver Airport (YVR) to Downtown Vancouver on the SkyTrain and more.
Updated on May 29, 2023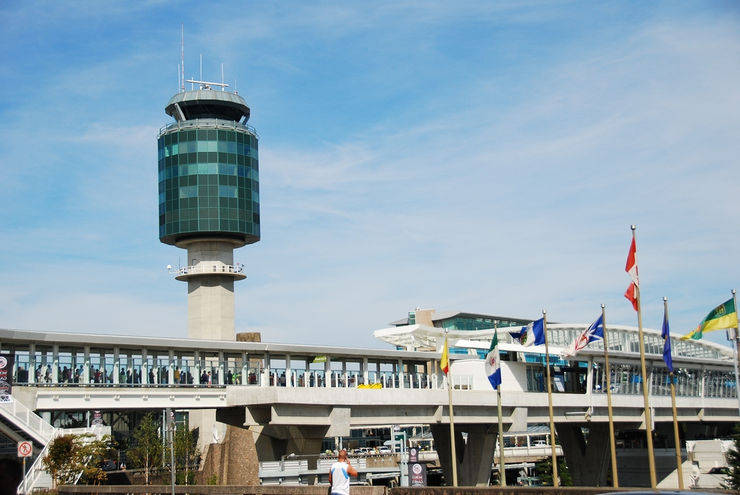 There are numerous options for getting from Vancouver Airport to Downtown Vancouver, ranging from public transit to taxis and private limousine services. We outline the various options below, starting with our #1 recommendation: Vancouver SkyTrain - Airport to Downtown. It is less expensive and faster than a taxi or limo.
Vancouver SkyTrain - Airport to Downtown
Ever since the 2010 Winter Olympics, Vancouver Airport transportation has been much easier, thanks to the Canada Line, an integral part the of Vancouver Skytrain System. Without transferring, you can get from Vancouver International Airport to Vancouver City Centre Station in just 24 minutes! The SkyTrain station is directly connected to the airport terminal. The modern air conditioned trains run along an elevated track and over a bridge before descending below grade for the rest of the trip into downtown Vancouver.
Canada Line trains operate at 6—7 minute intervals midday and peak hours, 12 minute intervals during the early morning and evening, dropping to 20 minutes as the night progresses. The first train departs YVR for Waterfront Station in downtown Vancouver at 5:10 AM; the last, at 12:57 AM.
An additional $5.00 is added to single ticket fares from Vancouver Airport, but you can avoid this by purchasing a Compass Card and loading it with a day pass or stored value at the start of your trip.
Fares can be purchased from ticket vending machines at the station entrance or at the 7-Eleven or Pharmasave store located on Level 1 of the domestic terminal.
If you are buying a single adult ticket you don't need to go to a ticket machine. Save time and go paperless: you can tap your contactless debit or credit card right at the fare gate. Interac, Amex, Mastercard, and Visa are accepted. It's a convenient and environment-friendly option for single travelers. For more information see the contactless payment section on our fares page.
Major transfer points include Bridgeport Station where you can transfer to Richmond BC or take an express bus to the Tsawwassen Ferry Terminal and Waterfront Station where you can transfer to the Expo Line or connect to the SeaBus which crosses Vancouver Harbour to North Vancouver.
Getting from Vancouver Airport to Downtown by Taxi
There's a continuous queue of taxis waiting outside the arrivals level at YVR that will take you downtown, or nearly anywhere else you may wish to travel. Getting from Vancouver Airport to downtown by taxi is more expensive than the Canada Line, however, the price per person goes down when sharing a cab with additional passengers, becoming comparable when three or more are sharing.  It will usually take longer than the train, except late at night when traffic is light.
Be sure to ask your driver up front if you can pay by credit card (unless you plan to pay with cash).  There are frequent reports of taxi drivers not accepting credit cards, even though they are supposed to.
Taxi Fares from Vancouver Airport to Downtown
Taxi fares from Vancouver Airport are regulated by a zone system with fares ranging from $20 to $43. Trips to downtown Vancouver fall near the top end of the range — between $34 and $41 including GST. Keep in mind it is normal etiquette in Vancouver to add a tip of about 10-20% on top of the required fare. Download a PDF Vancouver Airport Taxi Fare Zone Map.
UBER and Lyft
As of January 2020, UBER and Lyft have been approved to operate throughout Greater Vancouver.
Private Transfers and Limousine Service
If you prefer a private transfer in a luxury limousine or SUV, check out the services below. Keep in mind that the rates shown are per person, based on filling the vehicle and increase as the number of passengers drops. It's a good idea to book at least 48 hours before your arrival.
Vancouver SkyTrain System Map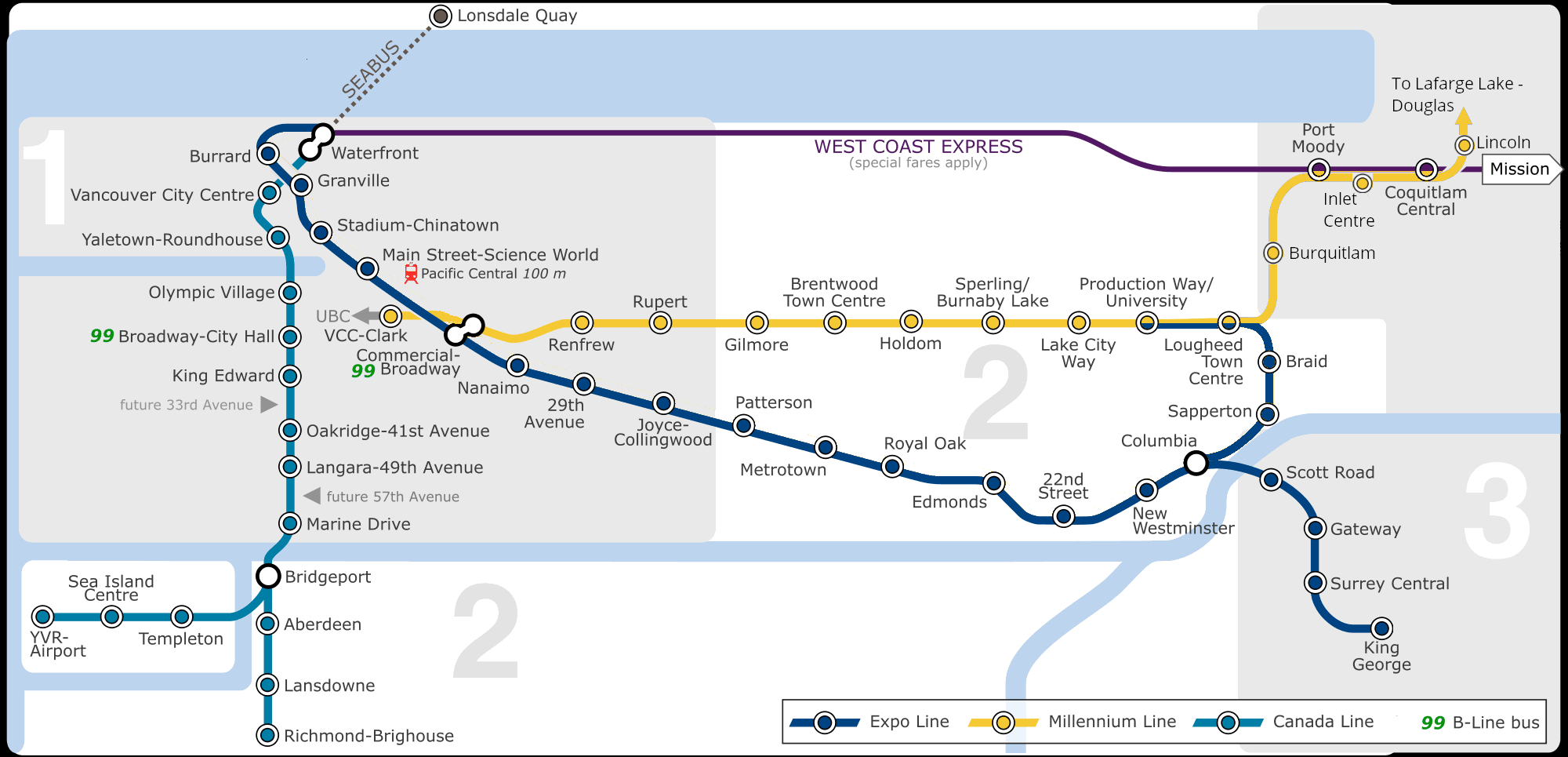 Click or tap any station to view a street map of the surrounding area.View Full Screen
Hold device in Portrait Mode, Zoom-in, Tap station and Zoom-out to view it on a street map.View Full Screen
cc licensed Map of Vancouver Skytrain and the Canada Line from YVR by DavidArthur
More Info for Getting Around Vancouver on Public Transportation
Photos
Canada Line Train from Vancouver Airport to Downtown Vancouver crossing over the Fraser River cc licensed photo Robert Ashworth

Canada Line Train pulling into Waterfront Station Downtown Vancouver