Vancouver Buses
Visitors guide for getting around Vancouver by bus
Updated on Updated on May 29, 2023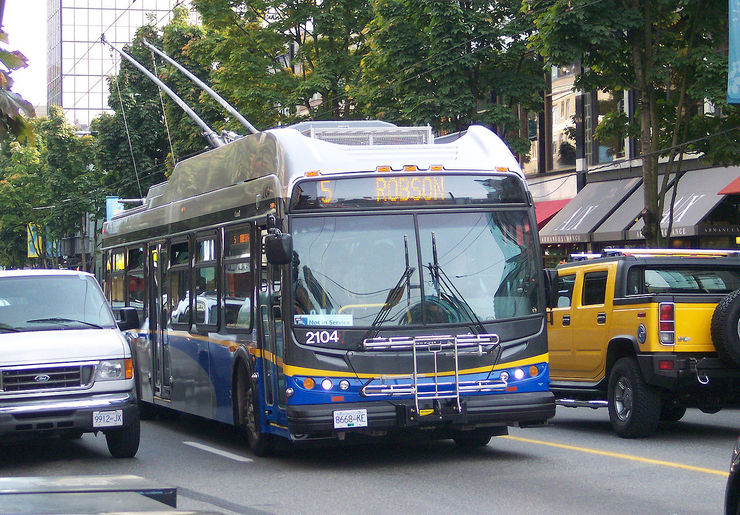 Overview
While many destinations and attractions in Vancouver are just a short walk from a SkyTrain Station others will require a connection via a Vancouver bus. Vancouver's bus system serves the 2700 square kilometre Metro Vancouver area making it one of the largest unified bus networks in North America. When you purchase a SkyTrain or SeaBus fare, you can use it to transfer to a city bus during its validity period. The bus system is easy to use, but be sure to read Transit tips before you go. Navigating the city by bus is the most likely area for visitors to experience problems if they are not prepared. As a former Metro Vancouver transit operator, I interacted with 1000s of tourists, many confused as they try to navigate around the city. I am sharing my experience here to help you have smooth and enjoyable trips.
Metro Vancouver transit buses are operated by Coast Mountain Bus Company except for West Vancouver "Blue Buses" which are operated by the District of West Vancouver. Governance and funding for both are through Translink. Much of Vancouver is serviced by enviromentally friendly electric trolley buses which get their power through overhead wires and switches. Buses travelling into the suburban areas run on diesel, hybrid or compressed natural gas. Most new buses in the system are now Hybrid (diesel and electric combined). All buses have bike racks which accommodate two bikes on the front and almost all buses are wheelchair user accessible.
Paying your Vancouver Bus Fare
When boarding the bus you have multiple payment options available:
Using a Compass Card, Compass Ticket, contactless payment cards, or mobile wallet:
Simply tap your card, ticket, or mobile wallet on the card reader located near the bus doors when you board. There's no need to tap out when exiting.
Using cash:
If you prefer to pay with cash, follow these steps:
Place coins or bills into the fare box. Please note that no change will be given.
The bus operator will provide you with a bus transfer, which serves as your proof of payment. Bus transfers can be used for transfers between buses for up to 90 minutes which will be indicated on the transfer, but they cannot be used on the SkyTrain, SeaBus, or West Coast Express.
See Fares - how much and where to purchase for more information on purchasing your Vancouver bus fare.
Obtaining a Vancouver Bus Map
Transit system maps showing bus routes can be downloaded from Translink. You can download a complete system map which will give you a good overview of the entire region showing all SkyTrain lines and major connecting bus routes, but you may find the more compact printable Downtown Vancouver Bus Map more helpful for getting around the downtown core where many of the tourist attractions are located. Sometimes, if you are lucky, you will find a Vancouver bus map and schedule booklet on the bus, but their availability is pretty hit and miss.
Best Vancouver Bus Routes for Sightseeing
Vancouver has some good bus routes for sightseeing on public transit. Between the 5 Robson and the 6 Davie bus you can enjoy a circuitous route through Vancouver's West End passing by English Bay, trendy Robson Street and within walking distance of Stanley Park.
An outstanding route for sightseeing is the #250 Horseshoe Bay Blue Bus which you can catch westbound along West Georgia Street in downtown Vancouver. It makes its way through Stanley Park, crossing the Lions Gate Bridge high above Burrard Inlet, then continues west along Marine Drive where you will see some of the city's most expensive homes overlooking the water. Eventually you'll arrive at the little seaside village of Horseshoe Bay, where you'll enjoy watching the Ferries and boats come and go. There's also a #257 Express Bus to Horseshoe bay, but its route is less scenic, although it still passes through Stanley Park and over the Lions Gate Bridge.
Another enjoyable route is #23 which operates between English Bay and Yaletown. It takes you along Beach Avenue past Sunset Beach where you will enjoy spectacular views across the water towards Vanier Park and Point Grey. You also get som good views of the historic Burrard Street Bridge. You can always get off and enjoy the park and then hop on a subsequent bus to continue your trip.
On the weekend you can enjoy a ride on route 42 from West 10th Avenue and Alma out to the University of British Columbia. Its route follows part of NW Marine Drive passing by Jericho Beach and Locarno Beach Park and many beautiful homes along the way.
We provide easy instructions for getting to every attraction listed in our page about what to see in Vancouver. Review the information on Transit tips too; a little knowledge will go a long way toward making your travel go smoothly.
Where's My Bus? - Vancouver Real Time Bus Map
Find the current location of any bus in Metro Vancouver with this real time bus map. Click on any bus icon for more information
Early or Late Icon Legend
Early (More than 0.5 minutes)
On Time (Within 0.5 minutes)
A Bit Late (0.5 to 5 minutes)
Very Late (5 to 10 minutes)
Extremely Late (Over 10 minutes)
Next Bus Departing Near Me
Click&Go Map and Route Finder. Enter your destination and click to find the next Train, Bus or Ferry departing near your location. Your complete route, all connections and total time are shown.
Enter Destination
Click Blue Button
Scroll down for route map and details including connections and times
Finding Your Route - Please Wait
More Info for Getting Around Vancouver on Public Transportation
Photos
Interior of a CMBC Bus cc licensed photo by Venture Vancouver

CMBC Bus Farebox - Lightly insert your ticket/daypass into the slot on the top left with the arrow down and the magnetic strip facing you. The ticket will be returned to you immediately and the farebox will indicate the validity to you and the operator cc licensed photo by Oran Viriyincy

Photo Credit: sillygwailo - cc license via Flickr

Photo Credit: roland - cc license via Flickr

Photo Credit: roland - cc license via Flickr