Capilano Suspension Bridge Park
Capilano Suspension Bridge suspended high above the Capilano River has long been one of Vancouver's top tourist attractions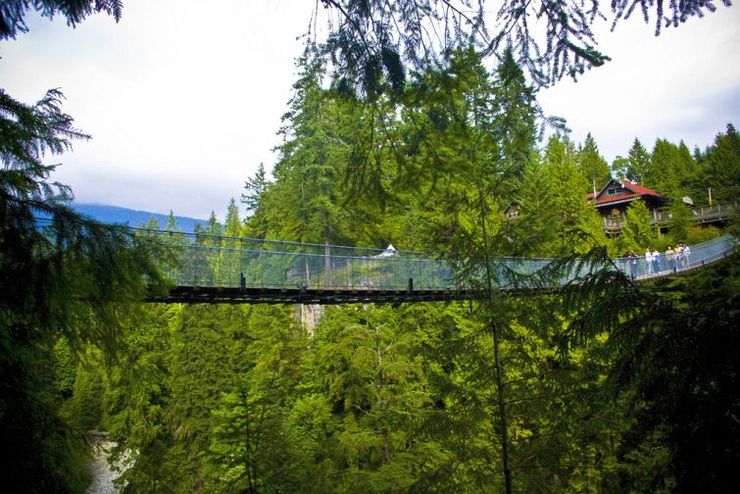 Capilano Suspension Bridge Park attracts about 800,000 visitors every year. The main attraction is a 'people only' 446 foot long foot bridge suspended a dizzying 230 feet above the Capilano River. The original bridge was built in 1889 by Scottish engineer and parks commissioner George Grant Mackay using hemp rope and cedar planks providing access to his remote cabin. In 1903 the suspension bridge was reconstructed using more robust wire cable and in 1956 it was rebuilt again.
The current owner (since 1983) added the Treetops Adventures attraction - a series of seven footbridges suspended between large Douglas Fir trees. The footbridges offer visitors the unique perspective of viewing the forest from up in the trees.
In 2011 Cliffwalk, a thrilling series of walkways and platforms cantilevered out from the canyon's granite cliffs opened. Definitely not for the faint of heart!
Park guests can also view nature trails, gardens and totem poles. All told, the park offers visitors a great way to experience the rugged nature of the West Coast.
You'll definitely want to visit the park in December. Hundreds of thousands of colorful lights and floodlights transform the park with a dazzling holiday display. You'll also witness the tallest live Christmas tree in the world! This is a great way to get into the festive spirit. A portion of the proceeds help the BC Professional Fire Fighter's Burn Fund.
The park is easy access by public transit, but they also provide guests a convenient year-round free shuttle bus service that makes scheduled pick-ups at numerous downtown Vancouver locations throughout the day.
Capilano Suspension Bridge is a privately owned attraction and admission charges do apply. The park is open every day except Christmas. Hours of operation vary through the year, so please see their official website for details.
Facts For Your Visit
Fee:
From:
$44.05 CAD
...May vary slightly due to currency fluctuations
Only minutes away from downtown Vancouver, Capilano Suspension Bridge lets you experience the natural splendor of British Columbia. Breathe in the cedar-scented rainforest air as you make your way across the spectacular suspension bridge, walk through the rainforest on the Treetops Adventure and feel like a bird as you soar over the evergreens on the new Cliffwalk!With mobile tickets, simply scan your phone for direct entry into the Capilano Suspension Bridge Park.
Open Now: No
Hours This Week:
Monday: 9:00 AM – 5:00 PM
Tuesday: 9:00 AM – 5:00 PM
Wednesday: 9:00 AM – 5:00 PM
Thursday: 9:00 AM – 5:00 PM
Friday: 9:00 AM – 5:00 PM
Saturday: 9:00 AM – 5:00 PM
Sunday: 9:00 AM – 5:00 PM
Address: 3735 Capilano Rd, North Vancouver, BC V7R 4J1, Canada
Phone: (604) 985-7474
Official Website: Capilano Suspension Bridge
Directions
| Skytrain, Seabus and Bus Line | Nearest Station | Walking Time |
| --- | --- | --- |
| Expo Line / Canada Line | Waterfront Station | 3 Minutes |
How to get to Capilano Suspension Bridge by Skytrain, Seabus and Bus
From Waterfront Station take the Seabus over to Lonsdale Quay. Exit the Seabus walk to Bay 8 in the bus loop. Catch the #236 Grouse Mountain bus. Take it to the Suspension Bridge Stop on Capilano Road. Note: This route passes near three other attractions. If you are planning to visit them, you may want to go on the same day. They are Lonsdale Quay Public Market, Cleveland Dam, and Grouse Mountain
You can also take advantage of a free shuttle bus between Downtown Vancouver and the park. For details refer to the link in the above article.
Map & Instant Route Finder
Click&Go Map and Route Finder with public transit, walking, driving or cycling directions. Get up-to-the-minute transit times for your route.
Finding Your Route - Please Wait
Reviews
Something you don't want to miss! Save your money and go because it IS worth It! BUT, be the first out there because it gets VERY busy quick. We went in off season (Oct 3rd) and waited to buy the tickets and they finally sent us across the street and told us that that location too would sell them. We were the first ones in the parking lot and by the time we got sent over there were many in front of us. We got great pics because we ran to the back towards the suspension bridge first and the platform while everyone wandered through the front half first.

Sherri Gerstmann - 7 days ago
Worth at least one visit. Don't think i would go back a second time though. Great views. Nicely created paths in trees and along a cliff side worth one visit for sure. Food was pricey and the lines can long during peak hours. There is a discounted admission in the evening after 4pm (or 5 cant remember exactly).

Frank Wong - 12 days ago
Really loved the park, not too busy and very nicely laid out, but our visit ended on a sour note when we found out we were stranded because the shuttle bus (which is included in the ticket price) finishing an hour BEFORE the park closed. Had to catch 2 public transport buses back to downtown at our own expense. Thankfully the information desk were able to explain how and which buses, but had we left later as they closed we'd have been stumped. This could easily be avoided by having a final shuttle time sign up either on the shuttle or at the entrance as you arrive.

Heather C - 13 days ago
On a sunny day, when it is not peak season, this is a fun place to explore. The atmosphere and light among the old trees is lovely, the walkway suspended over the canyon suitably impressive, the bridge itself nicely scary, yet not too scary. The treetop walkway was beautiful. Being here certainly helped in pleasantly passing a couple of hours before we headed to catch a flight. I would not pay the high admission price if I thought the weather might be rainy, or it was peak tourist season when the lines and crowds would be horrible. I enjoyed my visit with my grown up family, and unless I really am stuck for something to do for a couple of hours on a pleasant day I doubt I will return.

Mark Germain - 23 days ago
Capilano Suspension park is pretty freaking cool. Lines can get long, so make sure you get there in the morning. They do offer a free shuttle service, which is so handy for a tourist, gang. So handy. The park isn't as big as you might imagine, which is what through me off. There's the suspension bridge, a cliff walk, and the tree top walk. Those are basically the main sights. They also have a place to eat and some shopping, which rounds out your whole trip. You don't really need more than a couple hours max, so plan accordingly.

Melia Metikos - 1 month ago
Read all Reviews

Video
Photo Gallery
Braving the new Cliffwalk attraction at Capilano Suspension Bridge Park cc licensed photo by coolinsights

Canyon Lights Event at the Treetops Adventure Photo courtesy Capilano Group

Canyon Lights at the Capilano Suspension Bridge Photo courtesy Capilano Group

Largest live Christmas Tree in the World Photo courtesy Capilano Group

Vancouver British Columbia cc licensed photo by Bob n Renee

0073 Owl Vancouver cc licensed photo by Mark Morgan Trinidad A

Damp dusk on the North Shore cc licensed photo by Ruth and Dave

Vancouver British Columbia cc licensed photo by Bob n Renee

Vancouver British Columbia cc licensed photo by Bob n Renee

Vancouver British Columbia cc licensed photo by Bob n Renee

Vancouver British Columbia cc licensed photo by Bob n Renee

Vancouver British Columbia cc licensed photo by Bob n Renee

Vancouver British Columbia cc licensed photo by Bob n Renee

Vancouver British Columbia cc licensed photo by Bob n Renee