Vancouver SkyTrain Map and Guide
Interactive Vancouver SkyTrain Map: Click or tap any station to see the surrounding area. Complete guide and tips for riding the SkyTrain including airport transportation via the Canada Line.
Updated on December, 08 2019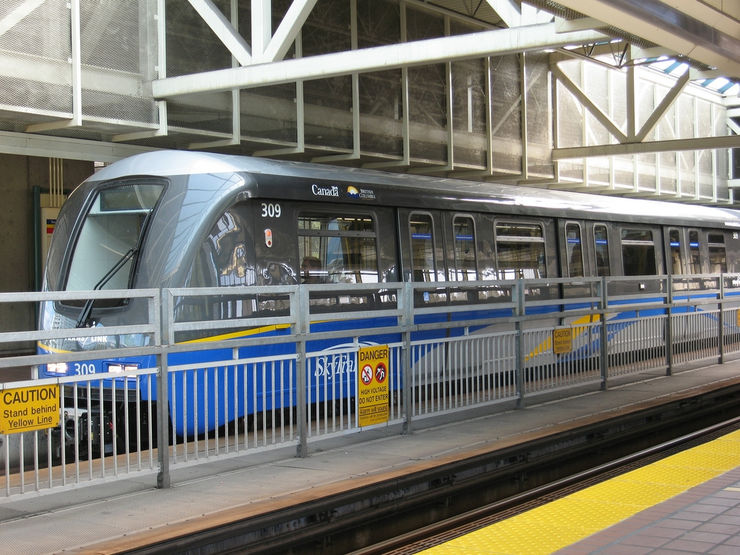 Below you will find maps, information and tips for getting around Vancouver on the SkyTrain system.
With the reopening of the Evergreen extension into Coquitlam, the Vancouver SkyTrain has regained its rank as the world's longest 100% automated (driverless) light rapid transit system.
In spite of its name, some portions of the SkyTrain system are underground, however, the trains mostly operate on elevated tracks and bridges providing nice views while making your way around the city.
Each station on the Millennium line features an interesting and unique architectural design. Check out the video under our Photos & Video Tab to see why riding the SkyTrain is a fun, inexpensive and quick way to explore Vancouver.
SkyTrain Lines
The Vancouver SkyTrain system consists of 3 lines - the Expo Line (completed in time for Expo 86), the Millennium Line (2001 plus the 2016 - Evergreen Extension) and the Canada Line (2010) connecting 53 stations throughout Metro Vancouver. The Canada Line has the longest portion that runs underground. The Expo Line runs underground in Downtown Vancouver and the Millennium Line runs underground through part of Coquitlam.
The Expo Line runs from Waterfront Station, which is also the terminal for the SeaBus, and loops around through downtown Vancouver passing many major venues and landmarks before angling southeast across the city into Burnaby, and New Westminster. At Columbia Station in New Westminster, it branches in 2 directions - west across the Fraser River to Surrey and north into Burnaby where it meets the Millennium Line. Travelling from downtown Vancouver you can board any Expo Line train for destinations east to Columbia Station. For Surrey, destinations you will want to take a train destined for King George Station. For stations north of Columbia Station in New Westminster and Burnaby take a train destined for Production Way/University Station.
The Canada Line provides transportation along a north-south corridor between Richmond and Downtown Vancouver. A branch from Bridgeport Station to Vancouver Airport enables SkyTrain service directly from Vancouver International Airport to Vancouver City Centre in just 24 minutes! See Getting from Vancouver Airport to Downtown for more information.
The Millennium Line starts at VCC / Clark station in the west, meets-up with the Expo Line at Commercial Broadway Station, then continues due east into Burnaby where it again connects with the Expo Line at Production and Lougheed Station before turning north and then west again into Port Moody and Coquitlam.
Major Transfer Points and Getting between Lines
In Downtown Vancouver Waterfront Station provides access to the SeaBus, Expo Line and Canada Line. It is also just a short walk to tranfer between Granville Station on the Expo Line and Vancouver City Centre on the Canada Line.
Commercial-Broadway Station is the westernmost transfer point between the Expo Line, the Millennium Line and 99 B-line Express Bus which serves major stops along the busy Broadway corridor and beyond to the University of British Columbia.
Production/University Station and Lougheed Station are the easternmost transfer points between the Expo and Millennium Line. At Production/University Station you can transfer between lines without changing platforms.
Unless you are close to a transfer point it's quicker to take a north/south bus between the Expo and Millennium Line, rather than going all the way around, when travelling to an adjacent station on the other line. Two bus routes will get you quickly between the Millennium (northern) line and Expo Line. To cross between Joyce Station on the Expo Line and Rupert Station on the Millennium line, take the #27 bus (travel time is under 10 minutes). Between Metrotown Station on the Expo Line and Brentwood Station on the Millennium Line, take the #130 bus (travel time is under 18 minutes).
SkyTrain Times and Frequency
The trains travel at speeds up to 90 kph between stations, unimpeded by the traffic below. In fact, the Expo line has the fastest end to end service in Canada for the distance travelled. Service is frequent, ranging from 2-20 minutes depending on your location and the time of day. Even during non-peak hours, the trains run every 6-8 minutes through most stations. The SkyTrain system is fully integrated with the SeaBus and Vancouver city buses. Your SkyTrain fare will allow you to transfer to either. See our page on fares for more details.
If you're out late at night, pay close attention to the SkyTrain operating times. The system does not operate 24/7 and first and last train departures vary according to the line and the day week. Schedules are divided into three sections: Monday-Friday, Saturday, Sunday & Holidays. Barring extraordinary circumstances, count on service from 5:30am until Midnight on weekdays, 6:30am until Midnight on Saturdays, and 8am until 11pm on Sundays and Holidays. Some lines and portions thereof operate trains both earlier and later than the aforementioned safe times. You can find exact operating times, including first and last train and travel time between stations, on the official Translink website.
Accessibility
The system is fully accessible for wheelchair users. Elevators are available in the stations and all platforms are level with the train floors. You can just ride right on if you are in a wheelchair.
Additional Resources
Official Website: Translink
Robert Schwandl of UrbanRail.net has written an interesting and objective review of the SkyTrain system based on his personal experience riding the system while visiting Vancouver. We don't agree with every point, but it does offer a good perspective of the Vancouver transit system from a visitor who's riden many systems around the world.
Scroll down to see pictures and a video of the system in action.
Vancouver SkyTrain Map
This map combines the best of both worlds — a schematic SkyTrain Map and clickable stations that open a street map of the surrounding neighbourhood.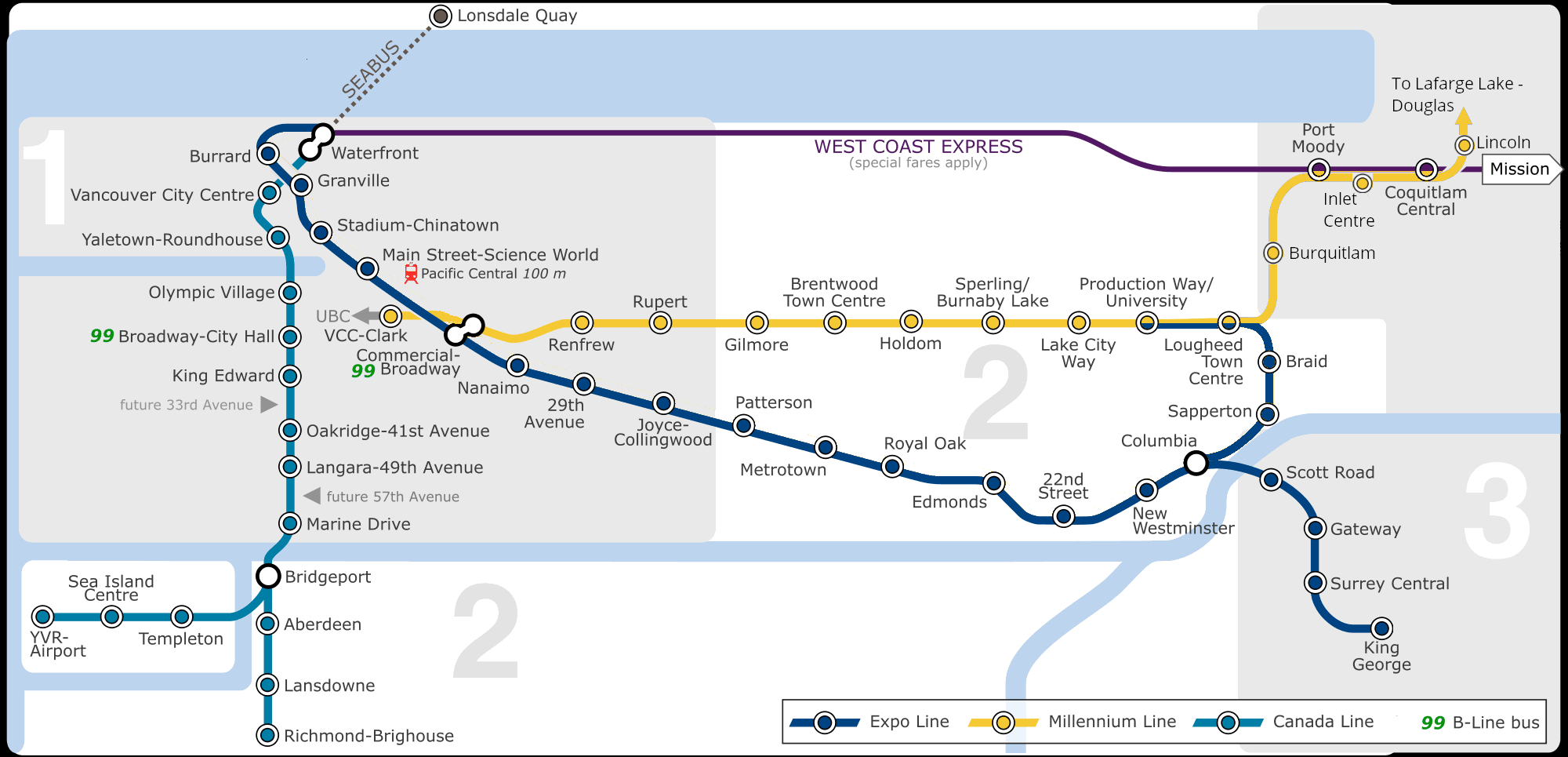 Click or tap any station to view a street map of the surrounding area.View Full Screen
Hold device in Portrait Mode, Zoom-in, Tap station and Zoom-out to view it on a street map.View Full Screen
Derivative of cc licensed Vancouver Skytrain Map by DavidArthur
Interactive SkyTrain Map with Streets and Attractions
Open an Interactive Vancouver SkyTrain Map with Streets. Find the next departure near you with our Click&Go Map and Route Finder.
More Info for Getting Around Vancouver on Public Transportation
Photos