Paris Airport Transportation
How to get to central Paris from the CDG or Orly Airport
Updated on January, 15 2021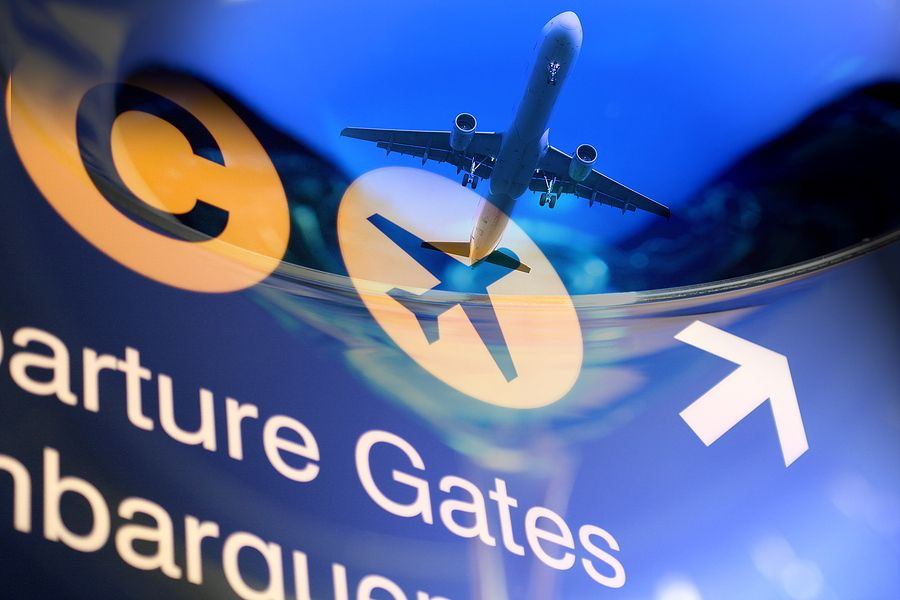 There are two main airports serving Paris - Charles-de-Gualle and Orly. Most international flights arrive through Charles-de-Gaulle (CDG) located about 27 kilometres northeast of the city. Orly airport which is located about 14 kilometres southeast of the city is used mostly by smaller discount and regional airlines serving France and nearby European countries. Both airports are located on the RER B train line to Paris. Some hotels provide their guests with shuttle bus service from the airport to the hotel, so check with your's to see if they offer this.
If you prefer the convenience of a private transfer between the airport and your Paris hotel you can get an immediate quote and make your booking through our sponsor Welcome Pickups.
Otherwise, read on for information on getting to central Paris by public transport from either airport.
Transportation from Charles-de-Gaulle Airport
By Train (RER) / 11.40€ - 35 to 45 Minutes: The quickest and one of the least expensive ways to get into central Paris from CDG airport is on the RER. The RER departs every 7 to 8 minutes and takes a 5-zone fare ticket called Billet Ile-de-France, or your can purchase a Paris Visite Pass for all zones and use that (see Fares for more details). The drawback to the train is that you may have to manage your luggage up several flights of stairs or escalators from some stations, as not all exits have elevators.
The RER B has stations in Terminals 2 and 3, (Note: RER B "Aeroport Charles de Gaulle 1" is located at Terminal 3, not Terminal 1). There is a free shuttle called the CDGVAL that will connect you from Terminal 1. Note: When riding the CDGVAL shuttle from either Terminal 1 or Terminal 2, Terminal 3 is the next stop as it is located between T1 and T2 (they are not located in numerical order on the line). Once you get to the RER B station you can purchase a ticket from one of the blue ticket vending machines with French coins or a chip credit card (non-chip cards will not work). If you have a non-chip credit card or you want to purchases a Paris Visite pass you must go to the ticket window.
Roissybus / 13.70€ - 60 to 90 Minutes+: The Roissybus is an a comfortable air conditioned bus operated by RAPT that provides service from all three terminals at CDG airport right into Opéra Station in Central Paris. Actually Terminal 2 is really made up of seven smaller terminals designated 2A through 2G. You can also use a Paris Visite pass on this bus. The upside is that the bus picks up right outside each terminal making it easy to access. The downside is that the infamous Paris traffic can make this trip a long one, occasionally approaching 2 hours, depending on the time of day and traffic conditions. The Roissybus runs every 15 to 20 minutes from 6 am until 10 pm and every 30 minutes from 10 pm until 11pm.
Night buses or "Noctilien" If your flight arrives late at night (after 12:30am )you will have to take a Night Bus. Take either the N140 or N143 from Terminal 3.
Transportation from Orly Airport
Orlyval + (RER B) / 12.10€ - 30 to 35 minutes: There are two ways to connect with the RER from Orly airport. One is the Orlyval, a shuttle that takes you to Antony Station on the RER B line. The Orlyval runs every 7 to 8 minutes from both Orly West and Orly South. The fare for this is higher than from GDG airport due to the portion that covers the Orlyval shuttle.
Orlybus / 9.50€ + RER B or Metro - 30 Minutes+: The Orly bus takes you from Orly Airport to Denfert Rochereau Station near the southern edge of Central Paris where you can connect to the RER B or the Metro depending on which is most ideally suited to your final destination. It is also possible to connect to the RER C line from Orly Airport via RAPT city buses, but we do not recommend this option for visitors as it is more confusing and less convenient. The fare for the Orlybus does not include riding the RER or Metro.
Night buses or "Noctilien" If your flight arrives late at night you will have to take a Night Bus. You can take N31 or N131 from Orly South or N131 from Orly West.
Before starting your trip from the airport be sure to determine from the maps what station is closest to your destination or transfer point and perhaps what station proceeds it so you have some warning.
Helpful Resources
Visit the official Roissybus website more information about Charles de Gaulle Airport to Paris Transportion visit the Roissybus website. For more information about Orly Airport to Paris Transportion visit the Orlyval Website.
For an instant quote and to book a private transfers to your Paris hotel visit our sponsor Welcome Pickups.
More Info for Getting Around Paris on Public Transportation
Escalators to the trains at Charles de Gaulle Airport cc licensed photo by Román Emin