Musée Eugene Delacroix (Art Museum)
The Musée Delacroix is dedicated to the works its namesake, the artist Eugène Delacroix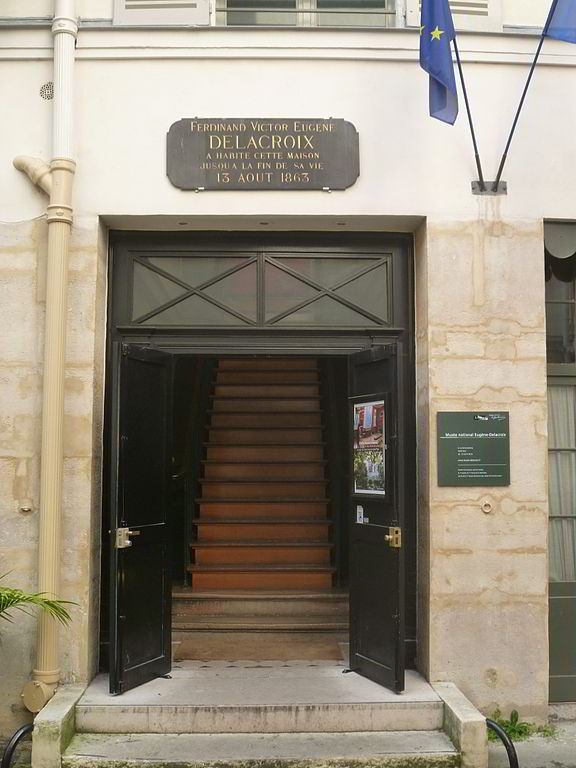 The Musée Delacroix is a museum that is dedicated solely and exclusively to the great life and times of the artist Eugène Delacroix and houses all or at the very least most of the works of his entire life. The museum is quite distinct in that the actual museum is, in fact, the last apartment that Eugene Delacroix lived in. The apartment is situated in the 6th arrondissement at 6, rue de Furstenberg, Paris, France. Delacroix moved into this apartment in 1857 and he both lived and worked there until his death in 1863.
The apartment where he spent his final few years only contains a small portion of his many art works and sketches. This apartment was on the ground floor and also features a garden where Delacroix had built a good sized artist studio so that he was able to do his work in an inspired and inspiring environment of his own creation. It is precisely within the walls of his own studio that he created and painted the various murals for the St Sulpice Church and it is in fact still possible to view these magnificent frescoes.
This is not all that there is to see in this beautiful and intimate museum. The museum often hosts other exhibitions that are also related to Delacroix's works including a number of very interesting, so called "experimental" works that Delacroix did within the photographic medium which yielded some very interesting results. It seems fitting, when viewed in retrospect, that Delacroix was meant to live out his days here in one of the most romantic squares in all of Paris as the leading romantic painter of his day and generation. All in all, a visit to this beautiful and romantic corner of Paris is well worth the effort. Just being able to see how one of Frances most beloved artists lived out his days, a true and intimate glimpse into the life of an artist is, for the true art lover, a truly priceless opportunity.
You can learn more about Eugène Delacroix and see numerous examples of his work on Artsy.
Nearby attractions: Latin Quarter and Musée Cluny
Facts For Your Visit
Official Website: Musée Eugene Delacroix
Fee:
Yes, however entry is free on the first Sunday of every month. A full day access pass to the Louvre is also valid for the Musée Delacroix. Please see official website for further details.
Address: 6 Rue de Furstemberg, 75006 Paris, France
Phone: 01 44 41 86 50
Official Website: Musée Eugene Delacroix
Reviews
Rated 4.1 out of 5

I truly enjoyed this simple museum that gives a glimpse into the artistic and home life of Eugène Delacroix. Many of his best works are elsewhere, but if you are intrigued by his love of theatre and music and its influence on his art, this is a lovely museum to gain perspective.
Hayley Platt - 6 months ago
Up close look at the life of the grand painter best known for "Liberty leading the people." His paint palettes are here and he has a beautiful garden!! Restroom on site We went the day after seeing the louvre for free entry (you can get in the same day or next day of a louvre ticket).
Teresa Woodcock - 7 months ago
It's a small museum sitting in a quiet corner. There are some sketches and a few paintings, including a sketch of the famous Liberty Leading People which was shown at Louvre. Other than that, not too much to see. The backyard garden is really nice though. I got free entry with the Museum Pass.
Aggie Wang - 1 year ago
The museum where the great painter Delacroix lived. Can be a little bit disappointing because it's quite small(3 rooms, 1 atelier and small garden) and doesn't have many masterpieces there. There are some sketches of paintings and his portraits only. And because it's not big enough to accommodate many visitors, it maybe hard to reserve the ticket during tourist peak season. Nevertheless, I strongly recommend to give a visit. And If you have a ticket of the Louvre museum, you don't have to pay the ticket of this museum on the visit day of Louvre and the next day. But still, you need to reserve the visit time.
공과장 (Manager Kong) - 1 year ago
A small museum with a lovely garden 🪴
Rachel Ngn - 2 months ago
Read all Reviews

Accommodations near Musée Eugene Delacroix:
Directions
| Metro / RER Line | Nearest Station | Walking Time |
| --- | --- | --- |
| M4 | Saint Germain des Prés | 5 minutes |
| M10 | Mabilon | 5 minutes |
How to get to Musée Eugene Delacroix by Metro / RER
The entrance to this museum can be hard to locate as it is inside a hidden courtyard. The courtyard is located through the doors right at the corner of the 2 buildings which you see straight ahead when you click on the Toggle Street View button above the map. There is a sign on the wall next to the door.
From Metro Line 4 exit at Saint Germain des Prés Station look for the sign giving walking directions to the museum. This will direct you north on Rue Boneparte the right (East) on Rue de l'Abbaye then left (North) on Rue de Fubergrsten. The museum entrance is easy to miss. It is at the corner of the buildings on the northwest edge of the small circle (See the streetview image below.) The actual entrance to the museum is off a courtyard beyond the entrance you see from the road.
From Metro Line 10 exit at Mabilon Station and cross Rue du Four (Northwest) then Blvd Saint-Germain (North). Go left (West) up the alley on your right just past Rue de l'Echaude to Rue de l'Abbaye and go left then right (North) on Rue de Fubergrsten.
Map & Instant Route Finder
Click&Go Map and Route Finder with public transit, walking, driving or cycling directions. Get up-to-the-minute transit times for your route.
Finding Your Route - Please Wait
Photo Gallery
Video