Musée Eugene Delacroix (Art Museum)
The Musée Delacroix is dedicated to the works its namesake, the artist Eugène Delacroix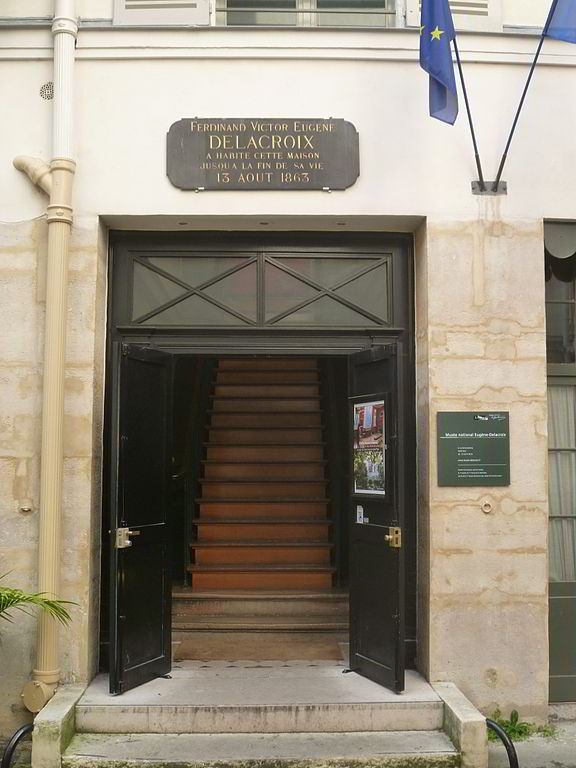 The Musée Delacroix is a museum that is dedicated solely and exclusively to the great life and times of the artist Eugène Delacroix and houses all or at the very least most of the works of his entire life. The museum is quite distinct in that the actual museum is, in fact, the last apartment that Eugene Delacroix lived in. The apartment is situated in the 6th arrondissement at 6, rue de Furstenberg, Paris, France. Delacroix moved into this apartment in 1857 and he both lived and worked there until his death in 1863.
The apartment where he spent his final few years only contains a small portion of his many art works and sketches. This apartment was on the ground floor and also features a garden where Delacroix had built a good sized artist studio so that he was able to do his work in an inspired and inspiring environment of his own creation. It is precisely within the walls of his own studio that he created and painted the various murals for the St Sulpice Church and it is in fact still possible to view these magnificent frescoes.
This is not all that there is to see in this beautiful and intimate museum. The museum often hosts other exhibitions that are also related to Delacroix's works including a number of very interesting, so called "experimental" works that Delacroix did within the photographic medium which yielded some very interesting results. It seems fitting, when viewed in retrospect, that Delacroix was meant to live out his days here in one of the most romantic squares in all of Paris as the leading romantic painter of his day and generation. All in all, a visit to this beautiful and romantic corner of Paris is well worth the effort. Just being able to see how one of Frances most beloved artists lived out his days, a true and intimate glimpse into the life of an artist is, for the true art lover, a truly priceless opportunity.
You can learn more about Eugène Delacroix and see numerous examples of his work on Artsy.
Nearby attractions: Latin Quarter and Musée Cluny
Facts For Your Visit
Fee:
Yes, however entry is free with the
Paris Pass
and on the first Sunday of every month. A full day access pass to the Louvre will also be valid for the Musée Delacroix. Please see official website for further details.
Currently Closed
Hours This Week:
Monday: 9:30 AM – 5:30 PM
Tuesday: Closed
Wednesday: 9:30 AM – 5:30 PM
Thursday: 9:30 AM – 5:30 PM
Friday: 9:30 AM – 5:30 PM
Saturday: 9:30 AM – 5:30 PM
Sunday: 9:30 AM – 5:30 PM
Address: 6 Rue de Furstemberg, 75006 Paris, France
Phone: 01 44 41 86 50
Official Website: Musée Eugene Delacroix (Art Museum)
Map of nearby accommodations:
Directions
| Metro / RER Line | Nearest Station | Walking Time |
| --- | --- | --- |
| M4 | Saint Germain des Prés | 5 minutes |
| M10 | Mabilon | 5 minutes |
How to get to Musée Eugene Delacroix (Art Museum) by Metro / RER
The entrance to this museum can be hard to locate as it is inside a hidden courtyard. The courtyard is located through the doors right at the corner of the 2 buildings which you see straight ahead when you click on the Toggle Street View button above the map. There is a sign on the wall next to the door.
From Metro Line 4 exit at Saint Germain des Prés Station look for the sign giving walking directions to the museum. This will direct you north on Rue Boneparte the right (East) on Rue de l'Abbaye then left (North) on Rue de Fubergrsten. The museum entrance is easy to miss. It is at the corner of the buildings on the northwest edge of the small circle (See the streetview image below.) The actual entrance to the museum is off a courtyard beyond the entrance you see from the road.
From Metro Line 10 exit at Mabilon Station and cross Rue du Four (Northwest) then Blvd Saint-Germain (North). Go left (West) up the alley on your right just past Rue de l'Echaude to Rue de l'Abbaye and go left then right (North) on Rue de Fubergrsten.
Map & Instant Route Finder
Click&Go Map and Route Finder with public transit, walking, driving or cycling directions. Get up-to-the-minute transit times for your route.
Finding Your Route - Please Wait
Reviews
Rated 4 out of 5

Small museum. Not many art pieces Delacroix displayed. Shop downstairs have good books for sale.

Douglas Wong - 2 months ago
Charmingly hard to find this is an interesting museum. Part of the Louvre 'group' this would have had more stars if there was more accessability forcpeople who have limited French as the captions are all in French and there is mo Giide available. Large pandls with genersl jndo are in English too which helped

Julia Bateson - 3 months ago
Homey little museum dedicated to this realist painter with examples if his work . There is a lovely quiet garden where you can rest your feet and collect your artistic thoughts

Eliot kamenitz - 4 months ago
Lovely museum. Sadly when I visited the atelier was not open but I appreciated the exhibition anyway. I advice to see the church described in the gallery afterwards, it's very close to the museum. Would recommend

Maria Elisa Masotti - 6 months ago
Read all Reviews

Video
Photo Gallery
Inside the bedroom at the Musée Delacroix in Paris cc licensed photo by DIMSFIKAS

Entrance to Musée Delacroix from the studio garden cc licensed photo by DIMSFIKAS

Le Jour ni l'Heure 1881 : Eugène Delacroix, 1798-1863, Turc assis (Le chanteur Paul Barroilhet, 1810-1871), dét., 1826 (?), Paris, musée Eugène-Delacroix, dimanche 26 février 2017, 15:27:46 cc licensed photo by Renaud Camus