Paris Travel Tips
Our TOP TIPS and FREE things to do in Paris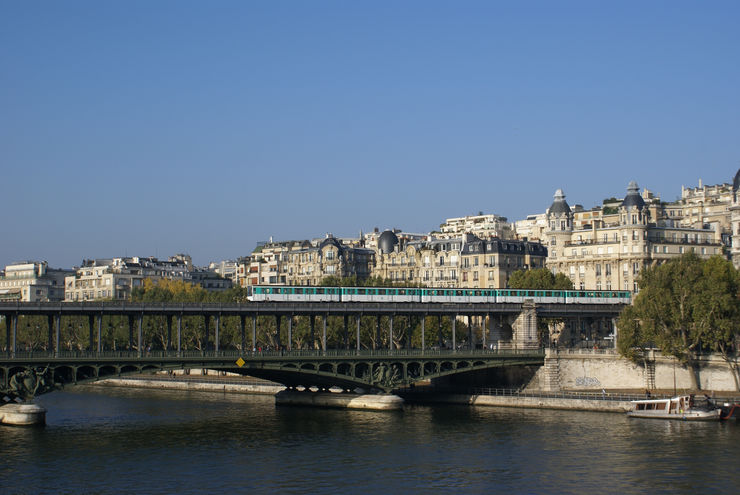 Want to make your visit to Paris even better. Then be sure to read all of our top Paris travel tips. Theres plenty of advice to make your trip more enjoyable and save you money.
Below you'll find our very best tips for planning your trip to Paris — Tips on getting around, dining, things to do, hidden gems and free alternatives to some of the more expensive activities.
The one time you may want to invest in a cab is for your trip from the airport or Gare du Nord to your hotel, especially if you have a lot of luggage. Dealing with a lot of luggage on the Metro can be stressful.
It's easy to get around Paris on the Metro and RER. There are one or more stations within a short walk of virtually anywhere you would want to go. Purchase a one day or multi day or Paris Visite Pass for convenience and savings. There are also the Vélib bike rentals throughout the city.
Avoid riding the Metro between the hours of 8 to 9am and 6 to 7:30pm and you'll avoid the most crowded part of the day.
Wear comfortable shoes for walking. You'll spend a lot of time exploring Paris on foot. Just exploring the inside of the Louvre involves a lot of walking.
Be aware of the opening hours for businesses and restaurants. Paris is not a 24/7 kind of place. Many restaurants will close after lunch and then reopen again for dinner which, in many cases, doesn't start until as late as 7pm. Other businesses often close up at lunch time. This is even more prevalent outside the city. Even museums are rarely open 7 days a week.
Try to learn a few basic French phrases before you go. Parisians appreciate it. Many do not speak English, but you will find that most service employees in the popular tourist locations do know at least some English. The ability to speak some French is even more helpful when you travel outside the city. One of the most helpful words is "bonjour". It is always a good way to begin your conversation.
Dining out, especially for dinner, is expected to be a leisurely affair often lasting for several hours. Don't be surprised that the service is unhurried, they just don't work that way. The food in Paris is usually awesome making it well worth the wait and not something to be rushed. You'll usually have to initiate getting the waiter's attention to bring the bill when you are ready to leave. This is best accomplished by making eye contact and saying "Excusez-moi, L'addition s'il vous plaît".
Finding cafes and restaurants off the beaten path from the main tourist areas will save you money on dining.
Unlike many countries, tips at restaurants are not an expectation, however, a small tip or even rounding up the bill to the next euro is always appreciated.
Try to prepurchase tickets online for the most popular attractions, such as the Eiffel Tower and the Louvre. It will save you from a lot of time waiting in queues.
If you are visiting museums, try to give yourself plenty of time. If visiting the Louvre (you should) we would recommend allowing at least 4 hours. It's best to limit yourself to one large museum or a couple of smaller museums in any one day, otherwise, you'll suffer 'museum burnout' and won't enjoy the experience nearly as much. It's a good idea to decide ahead of time which museums you want to visit. You can read up on them here.
Beggars and pickpockets are known to be a problem in Paris. Watch out for scam artists. Keep your wallet in your front pocket rather than your back pocket or, even worse, jacket pocket. When possible you should avoid carrying handbags or purses that can easily be grabbed. Avoid the northern Metro lines in the 18th and 19th arrondissement and beyond, especially if travelling alone or in a small group at night.
You don't have to spend a lot of money to enjoy Paris. Just walking along the banks of the Seine surrounded by the incredible Paris architecture is very enjoyable. There are many beautiful and romantic parks to enjoy as well. People-watching is a great activity to enjoy for free. Purchase a bottle of wine, cheese and a baguette and enjoy an inexpensive lunch in a park or beside the river. Jardin de Luxembourg, Parc de Monceau, Parc des Buttes-Chaumont are all good choices. Try one or more of our self-guided Paris walking tours.
You may find many Parisians in the service industry seem somewhat offhand and not very helpful. There is some truth to this, so come prepared and don't take it personally. The funny thing is that most Parisians are very friendly and helpful when they are not working.
By European standards, and especially by North American standards, accommodations in Paris are small and sharing facilities is quite common. You can get a more for you money by staying farther out from the tourist areas and using the Metro to come into the city, but you'll want to factor in the lost time and convenience. Booking well in advance will also help you get a better price and give you more time to look for that great deal. As hotels fill up they are more likely to raise the rates, not lower them, making last minute deals unlikely, especially at the best places to stay.
Although highly recommended, the Eiffel Tower is not the only place to enjoy a view of Paris from above. The 56th floor of Tour Montparnasse has incredible views of the city which also include the Eiffel Tower itself. The view from the Sacré Coeur which sits atop the highest point in Paris is also quite spectacular. You should not miss seeing the Basilica anyway.
If you can fit it into your schedule, venture beyond the city and enjoy a day trip.