Vélib Bicycle Rentals
The Vélib is an innovative and inexpensive bicycle rental program with a myriad of stations located throughout the city
Updated on August, 27 2021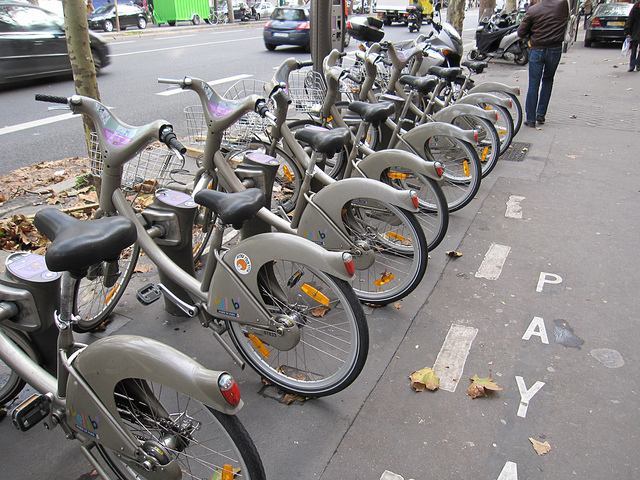 We would be totally remiss if we didn't include the innovative Vélib bicycle rental program as a viable form of transport in Paris.
Vélib is a feasible, economical and fun way to see the sights of Paris while getting some fresh air and exercise, but with some cautionary notes that we will tell you about below. Vélib is the largest bicycle sharing program in the world. So how does it work? There are 20,000 regular and electric bikes available around the clock (yes they have lights) from 1400 bike stations located within 300 metres of each other throughout the city. You can take a bike out from any station and return it to any other station as many times as you wish. You can literally see the entire city using Vélib.
Single rides start from €1 for up to 30 minutes in a regular bike or €3 for up to 45 minutes on an electric bike. Vélib short-term subscriptions are available: 24 hours runs €5 for regular bikes or €20 gives you 3 days access to both regular and electric bikes. You can pay using a bank or major credit card with a chip right at the Vélib docking station. This gives you a 4-digit code that allows you to checkout a bike from any station.
Be sure to check that the bike is in good repair before taking it, especially the tires, chain, pedals, and brakes. If the seat is turned backward, it is a courtesy sign from the previous rider that the bike has some issues. When returning the bike make certain that it is properly docked at the station. Be patient and wait for the two beeps and the green indicator light. If you fail to do this you could loose your full deposit.
The Vélib is intended for use in short periods of 30 minutes of less for standard bikes and 45 minutes or less for the electric bikes. If you go over the time limit, your card will be charged an extra €1 for each hour you go over. If you are wanting to ride farther just switch bikes at a station within 30 minutes. However, if you want to return your bike to a station that is full, (this happens quite often) you can use your pin number to add 15 minutes to your free time so you can find another station with available parking spots. You also get 45 minutes if you return your bike to a V+ Station.
Riding a bike around Paris can be nerve racking for some, especially if you are not used to riding bicycles in a busy city environment. There are many marked bike lanes to guide you and you may also ride in the bus / taxi lanes. There are some really nice places to ride along the banks of Canal St-Martin and the River Seine. Side streets are narrow and there are many pedestrians to watch for. Major streets including Avenue des Champs-Elysées', 'Place de l'Étoile', and 'Voie Georges Pompidou' (the lower express lanes along the banks of the Seine) are definitely places to avoid. Consider riding at night when the streets are quieter and the major landmarks are beautifully lit.
You can find our more about the Vélib bicycle rental program at the official website link below.
Official Website: https://www.velib-metropole.fr/
More Info for Getting Around Paris on Public Transportation