Paris Transit Fares
Complete traveller's guide to choosing the best and most convenient fare options for getting around Paris during your vacation
Updated on January, 15 2021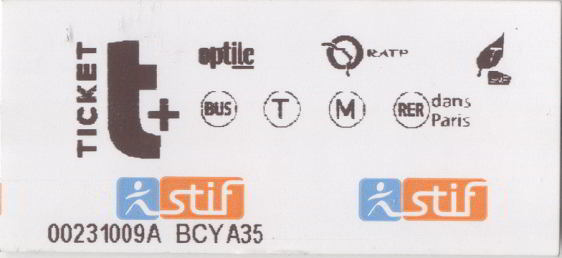 The fare system in Paris is actually reasonably straight forward and pretty easy to learn, but there are a few things you should know before travelling there.
Most Public transport in Paris is overseen by the RATP and the fares are co-ordinated by them for the various modes of transport. Regional Trains are operated by SNCF and have a separate fare structure and tickets with the exception of rides on the SNCF Transiliean and RER Network being covered by Paris Visite Pass.
Keeping it simple for you.
For the ultimate in convenience and flexibility we recommend the Paris Visite Pass which gives you unlimited travel on the Metro, RER, Buses, Trams, and SNCF Transiliean Trains within the designated zones. Go for the 5-Zone pass if you are planning on going to Disneyland Paris, Chateau Fontainebleau, Chateau de Versailles, France Miniature, or Provins Medieval City World Heritage Site. A good option if arriving by plane is to purchase a 5-zone at the airport for the day you arrive plus enough additional days to visit any of the above attractions you wish to see and then purchase a 1-3 Zone Paris Centre pass for the number of days you want to explore the more central attractions. We would not recommend purchasing or activating your Paris Visite Pass if you arrive late in the day or evening, as your first day of use will expire by 1am. In that case just purchase an individual fare to get from the airport to your hotel, or see if your hotel offers a free shuttle service. Days on the Visite pass are consecutive and begin on the day that you first use (validate) the pass. Additional advantages of the Paris Visite Pass are that it gives you a significant discount at many major attractions and shops, which combined can add up to more than the cost of the pass and it saves you time having to line up to purchase individual tickets. Get more information on the on the Paris Visite Pass from RATP.
Individual Tickets
t+ Tickets: Paris uses a zone system for calculating fares. Most tourist attractions are located in Zones 1 to 3. You can travel through these zones on a fare called a t+ which is available either individually or in books of 10 called a carnet which is cheaper per ticket. Valid for 2 hours of travel anywhere on the Metro and within Zone-1 on the RER or for 90 minutes on Bus and Trams. Transfers are allowed between Metro and RER (providing you do not have to exit the station to transfer) or between Bus and Tram, but not between Metro/RER and Bus/Tram. Get more information on pricing and purchasing individual or books of 10 t+ tickets from RATP.
Billet Ile-de-France: For rail trips that go beyond zone-3 or zone-1 on the RER and SNCF Transilean you will need to purchase a ticket called a Billet Ile-de-France. The price of these tickets vary according to the distance travelled. Stations have separate ticket vending machines and separated ticket offices for different services, so be sure to que up at one with signage for the Billet Ile-de-France. Be sure to specify whether you require a one way (Aller-Simple) or round trip (Aller-Retour) ticket
Grandes Lignes (TVG): Tickets for high speed and intercity trains such as Grandes Lignes and the TVG can also be purchased at designated machines and ticket offices inside the stations that are served by them. Seats on these trains must be reserved, and while you may be able to book a seat at the last minute it is best to plan ahead and pre book. For that we recommend visiting SNCF's website.
If you are travelling in central Paris with young children under 4 years old, they are free.
| Common Ticket Options and Passes for Tourists | Adult | Children 4 to 10 |
| --- | --- | --- |
| t+ Valid for 2 hours travel on the Metro and Zone-1 RER or 90 minutes on Buses and Trams. | 1.90 € or 16.90 € for book of 10 (carnet) | 1.90 € or 8.45 € for book of 10 (carnet) |
| Paris Visite Pass Zones 1 to 3 | | |
| 1 Day | 12.00 € | 6.00 € |
| 2 Days | 19.50 € | 9.75 € |
| 3 Days | 26.65 € | 13.30 € |
| 5 Days | 38.35 € | 19.15 € |
| Paris Visite Pass - All Zones | | |
| 1 Day | 25.25 € | 12.60 € |
| 2 Days | 38.35 € | 19.15 € |
| 3 Days | 53.75 € | 26.85 € |
| 5 Days | 65.80 € | 32.90 € |
| Roissybus from Charles de Gaulle Airport | 13.70 € | 13.70 € |
| RER B from Charles de Gaulle Airport | 11.40 € | 11.40 € |
| Orlyval + RER B from Orly Airport | 12.10 € | 12.10 € |
We have deliberately left out some available fare options, since they are designed more for the needs of commuters and only provide a better deal for visitors in very unusual situations.
Where to Purchase:t+ tickets for the Metro, RER, Buses, and Trams, including books of 10, can be purchased from ticket vending machines or ticket offices in any Metro or RER Station. Billet Ile-de-France: tickets for the RER and SNCF Transilean Trains can likewise be purchased at any stations serving those lines. Paris Visite Passes can be purchased from ticket offices at any of the above stations. SNCF Grandes Lignes, TER and TVG tickets can be purchased at their designated stations or in advance from OUI.sncf to ensure you get a reservation.
Official Website: https://www.ratp.fr/en/visite-paris/english/preparing-your-trip-tickets-and-travel-passes-designed-you
More Info for Getting Around Paris on Public Transportation