Rio de Janeiro Ferries
A traveller's guide to riding the ferries in Rio de Janeiro for sightseeing and visiting attractions
Updated on June 28, 2022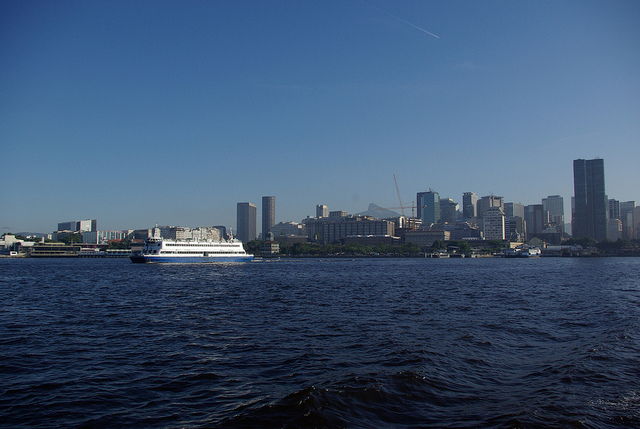 There are four ferry routes that operate from the Praça XV ferry terminal located a short walk from Carioca Station on Metro Line 2. These modern ferries serve a couple of islands in Guanabara Bay as well as Niteroi on the opposite side of the bay.
The ferries are operated by CCR Barcas and include both tradition vessels and catamarans. Nearly 30,000,000 passengers are carried by them every year. Used mainly by commuters, they are also useful for tourists for visiting the Niterói Contemporary Art Museum or for just enjoying a boat ride and some inexpensive sightseeing from the vantage point of the water.
To get to the Ferry wharf you can exit the Metro at Carioca Station on Line1 and make your way east across the plaza to Rua San Jose which is a pedestrian and bicycle thoroughfare that is lined with many shops and restaurants. Follow it east as far as it goes passing beneath the express way and into the square where you will see the ticket booths and turnstiles ahead. This is about a 10 minute walk.
To get to Niteroi you will want to take the ARARIBOIA SQUARE ferry which takes about 20 minutes each way. For sightseeing you could take any of the four ferry routes, but we would suggest the CHARITAS route which is also about 20 minutes each way. Charitas has a long stretch of white sand beach that stretching in both directions from the ferry terminal. Far quieter than the beaches on the Rio side of the bay, the Charitas beach is lined with sidewalks and palm trees and there several places to dine along the way making it a great place to explore on foot. The fare for the Charitas ferry is considerably more than for the Niteroi ferry, but it is still not expensive as part of a full day of sightseeing. See our page on fares for current fare information.
More Info for Getting Around Rio de Janeiro on Public Transportation
Photos