Favelas of Rio
The other side of Rio every visitor should experience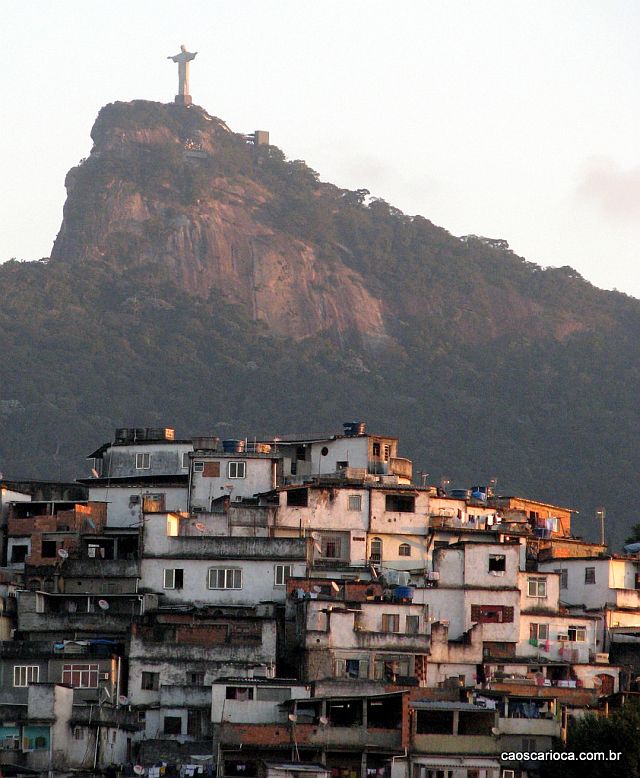 Something you won't see pictured in many of the tourism brochures are Rio's sadly famous favelas. These poor neighbourhoods spill down the mountainsides of the city where they collide with the opulent high-rise apartments of the wealthier residents. Having a little closer look at this side of life in Rio de Janeiro is an eye-opening experience and it would be a shame not to include it in your travel plans. For your personal safety we would recommend you opt for one of the guided tours linked to below.
There are in excess of 600 favelas in Rio de Janeiro that house about 20 percent of the population. Most of the people who live in the favelas are hard working people who are just trying the eck out an honest living, but it isn't easy to live in these crowded conditions and over the years poverty has driven many into a life of crime. Along with that came the formation of large gangs that, on the one hand look out for the people in the favelas, but on the other hand deal in drugs and cause much strife and conflict that sometimes reaches the breaking point.
Past efforts to deal with the crime element in the favelas have not been very successful, with corruption within the police force and even high levels of government not helping matters. Fortunately, a more recent program by the government, which is focusing on "pacifying" one favela at a time, is having some degree of success in at least making them a much safer place to live.
How did these favelas come to pass in the first place. The problem first began at the start of the 20th century when large numbers of people who resided in the country began moving to the city in search of employment and a better life. This large influx of people, with little resources, had nowhere to live except on the hillsides behind the city. With no building codes the crowded slum neighbourhoods crept up all over the hills of Rio creating the large social problem that exists today. Ironically from a distance the colorful jungle of buildings have a kind of perverse beauty about them. As night falls and darkness hides the run down structures, the glow from the myriad of lights can actually be quite beautiful.
Will there ever be a complete solution to the problem of these favelas in Rio? Certainly not in the foreseeable future, but hopefully significant steps can be taken toward improving the lifestyle and living conditions in these areas. Previous attempts of forced eradication and eviction were certainly a failure. Providing better education and training for the young people and involving them in maintenance and improvements to the buildings and neighbourhoods might be a good place to start. Investing in and improving job opportunities in rural areas may help reverse the migration into the city.
Visiting one of Rio's favelas will both educate you about the needs and social issues relating to them and give you a better appreciation and thankfulness for your own living situation. It truly is an eye opener.
The best way to experience visiting a favela is with an experience guide who knows the area and many of the residents. We have recommended a few good options below.
Favela Tour in Rio de Janeiro with Hotel pick-up and drop-off
Rating

From: $44.58 CAD...May vary slightly due to currency fluctuations
This half-day tour offers the opportunity to have a better understanding of the socioeconomic aspects of our city. We will get a glipse into the lives of people who live the favela. We can walk through the alleys, see how the locals live and understand more about their everyday life. Home to thousands of people, the favela is a place of resistance with vibrant culture and lots to see. We may visit the Favela da Rocinha or Favela do Vidigal, depends on the day. Be friendly, be respectful and enjoy the tour!
Rating

From: $47.84 CAD...May vary slightly due to currency fluctuations
Feel what life in a Favela is like. We take you to the top of the Rocinha Favela or Tavares Bastos and then descend on foot. On the way down, you get an unique insight into the vibrant spirit of the people, especially the kids. Descobre como és la vida dentro de la Favela. Llevamos usted hasta la parte más alta y despues bajamos caminando por las calles pequenas, donde se puede mirar todo muy cerca.
Favela Tour Rocinha and Vila Canoas in Rio de Janeiro
Rating

From: $41.83 CAD...May vary slightly due to currency fluctuations
FAVELA TOUR is indispensable if you look for a deeper perspective on many aspects of Brazil`s complex socioeconomic structure. Tour integrates visitors and locals revealing a new angle of favelas and its people, changing their reputation of exclusion only.You will go to Rocinha, largest favela in Brazil, and Vila Canoas, both nearby São Conrado area and from there you will see impressive views. We walk you through both residential and commercial area and around there you may also purchase nice handcrafts, if you wish. We will also lead you to a local school financed by FAVELA TOUR, and show other local community projects. Favelas are safer than most people believe, but no matter how adventurer you are, go to a favela with an organized tour. We are the pioneer of social tours to favelas since early 1992. If you really want to understand Brazil better, don´t leave Rio missing the FAVELA TOUR.We do not offer tours on sunday PM. Tours need minimum quorun to go.
From: $39.34 CAD...May vary slightly due to currency fluctuations
Not all tours are created equal! We put the Favela and community first! We strive to uplift those around us. Touring with us impacts positively those who live in Vidigal. Walk around the Favela with a local known for his love for Vidigal. You meet locals whose family lived here for half a century. Have the opportunity to see all the amazing secrets Vidigal has to offer with the best guides available.