Rio de Janeiro Travel Tips
Our TOP TIPS and FREE things to do in Rio de Janeiro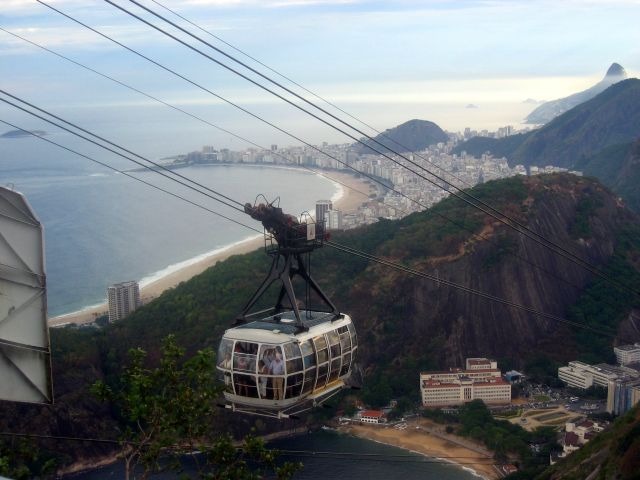 Want to make your visit to Rio de Janeiro even better? Be sure to read all of our top Rio de Janeiro travel tips. Theres plenty of advice to make your trip more enjoyable and save you money.
Below you'll find our very best tips for planning your trip to Rio de Janeiro — Tips on getting around, dining, things to do, hidden gems and free alternatives to some of the more expensive activities.
Rio has a clean, modern, easy to use Metro system along with the connecting MetrôRio Bus Service, however the rest of the bus service in Rio is provided by many different operators and can be quite confusing. If you don't speak any Portuguese it can be difficult to get information, so be sure to plan your trips well. Our attraction pages each include specific directions for buses where required.
The easiest way to travel is with the PrePaid MetroRio Card (see the page on fares) which can be used on both the Metro and the MetrôRio Buses (Metrô Na Superfície) Don't store too much value on it though in case you loose it or it malfunctions.
If you are travelling by bus, the bus stops are often indicated by a small blue sign on a light post which is not always easy to spot.
With the exception of the MetrôRio Buses on which you can use a PrePaid MetroRio card, you will need the exact coin fare for boarding a bus.
For getting to and from the airport with your luggage we would recommend you book a private transfer shuttle. It'll cost more that public transit but you'll for sure save yourself a whole lot of stress. There a better things to save your money on.
Most of the tourist attractions and activities in Rio de Janeiro are located in the South Zone (Zona Sul). This area is generally safer and more tourist friendly than areas to the north. As with any large city you should always be alert and try to blend in. Keep your valuables and essential identification in the hotel safe when out and carry just enough cash with you for the day's activities. In the unlikely event you are accosted, do not argue. They are serious. Be honest and give them what they ask for and you're unlikely to be harmed.
Rio's climate is subtropical and very warm all year round. The wettest months are from November to April, with most rainfall occurring in the late afternoon and evening. When it does rain it can be heavy, so you may want to carry a very lightweight waterproof jacket or poncho.
If you are visiting during the rainy season, plan to do your outdoor activities in the first part of the day and then check out museums or enjoy other indoor activities later.
Most restaurants in Rio don't take reservations, so go a bit early to avoid the crowds.
A tip or service charge of 10% is usually added directly to the bill at most restaurants. If the service exceeds your expectations, some extra change left on the table is a good way to show your appreciatiion.
If you want to try some local food, feijoãda is a national dish consisting of black beans and pork with rice seasoned with pepper and orange peel. Pão de queijo is a round cheese flavoured roll that is popular for breakfast, or as a snack. They are often available from street vendors. For a drink try an acai berry smoothie or drink coconut milk right from the coconut with a straw.
Do try to visit at least on of Rio's two most famous attractions, Corcovado - Cristo Redentor or Sugarloaf during your visit. They are costly, but also very memorable.
If you can only do one, we would recommend Corcovado, but do take the train, not a taxi, up the mountain, as that is a huge part of the experience. The best thing you can do is to purchase tickets online ahead of time to avoid the long queues. Try to get a seat on the right side of the train for the best views on the way up.
Do go for a pleasant walk along the Pista Cláudio Coutinho walking trail and if you are in decent shape and have suitable footwear you can branch off at the hiking trail up Morro Da Urca which is the location of platform connecting the two cable cars that go to the top of Sugarloaf. From there you will enjoy fantastic views and all for free.
Stroll or cycle (rentals are available) around the Rodrigo de Freitas Lagoon. You'll enjoy some gorgeous views and there are plenty of restaurants in the area.
Visit the Escadaria Selaron, a unique attraction, but go in the morning if you can, because they get pretty crowed by the afternoon.
Take a Ferry over to Niteroi and see the striking Niteroi Contemporary Art Museum. If you go on a Wednesday the admission is free.
Some other worthwhile museums and historic buildings in Rio that are free to visit include the Museum of Astronomy, the Bank of Brazil Cultural Centre, the Royal Portuguese Reading Room and the National Library of Brazil.
If you're heading down to one of Rio's famous beaches, you can rent umbrellas and chairs right at the beach. You also don't need to bring food or refreshments (it is almost frowned upon) as there are so many vendors on the beaches selling all kinds of food and refreshments and they are very dependent on the income from their sales. Best thing is to carry just enough cash for the day and no more.
That is a long list and should help you enjoy many days exploring the beautiful city of Rio de Janeiro, but it really just scratches the surface. Be sure to browse through our complete list of things to see and do in Rio when planning your trip.